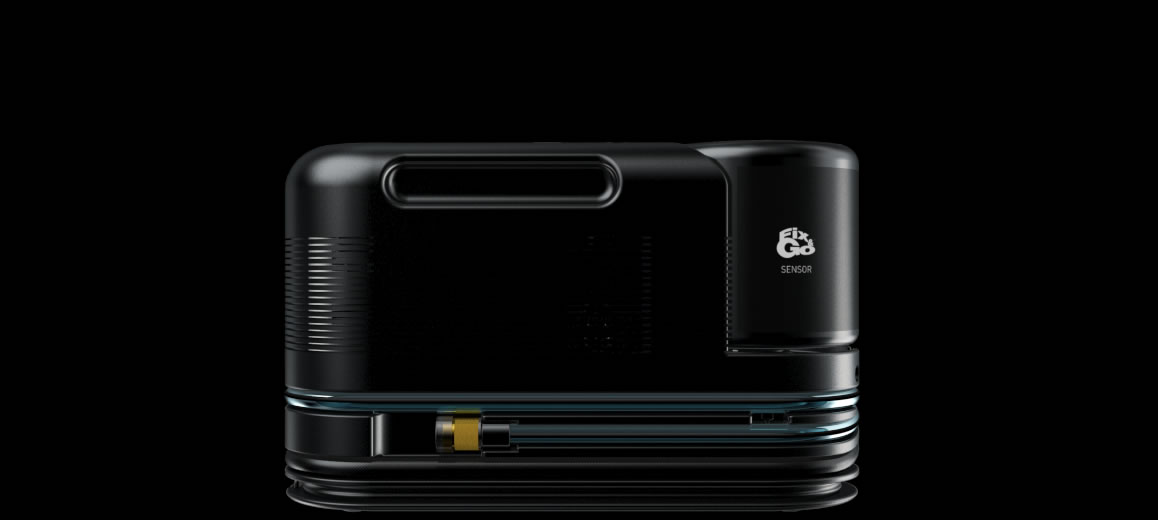 SENSOR
Car tire repair kit
The top kit of the line designed for cars, in a simple gesture Fix&Go SENSOR repairs and inflates a flat tire.
Its advanced electronic system is also able to control the dispensing of the liquid sealant inside the tire, for a repair with no setbacks .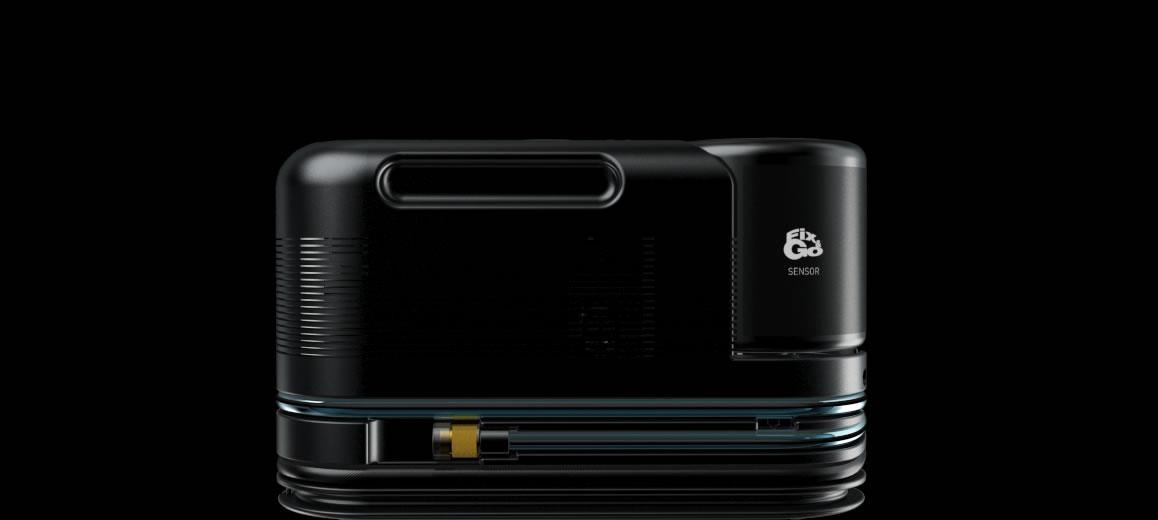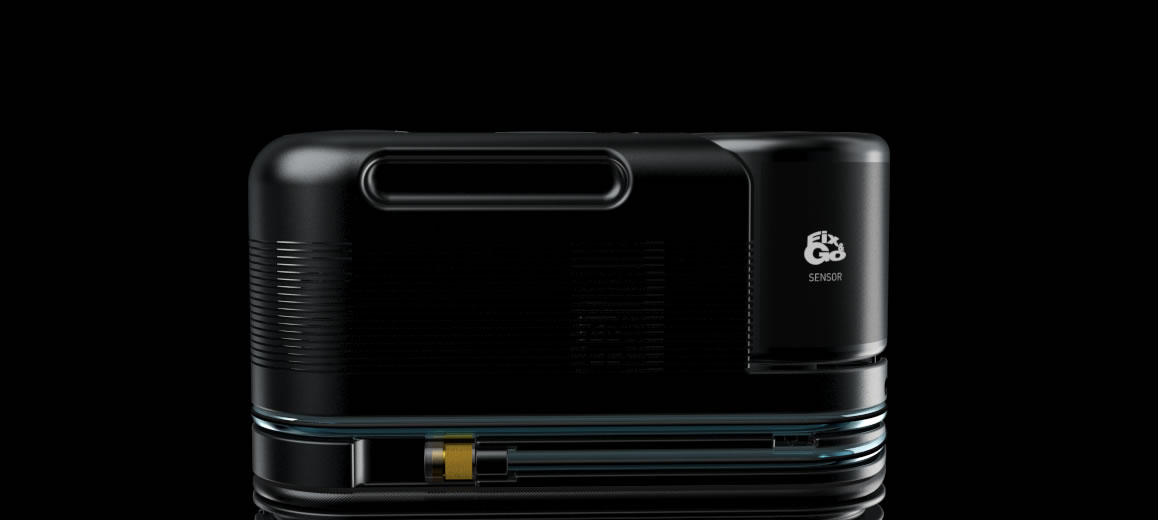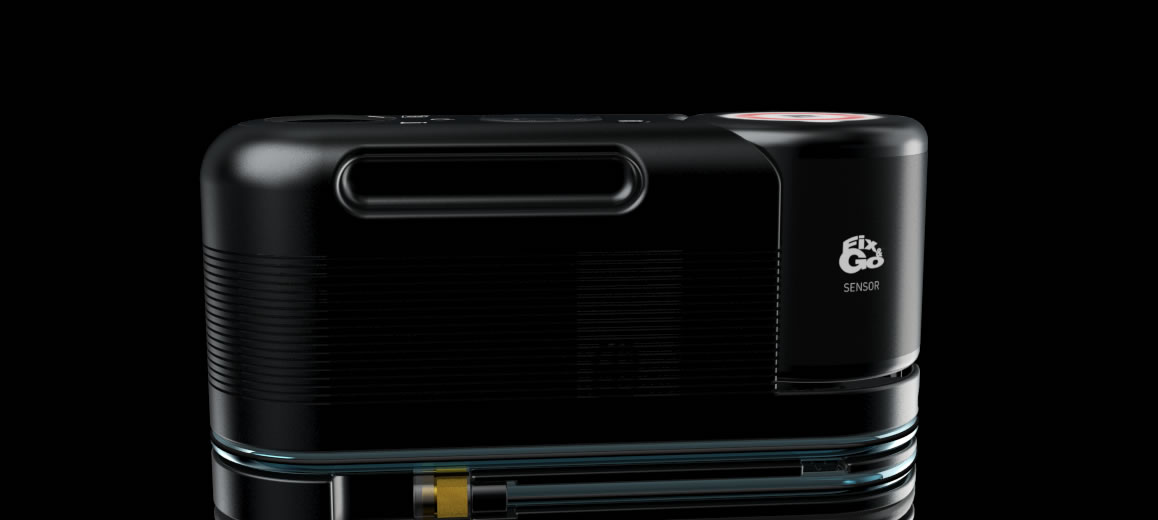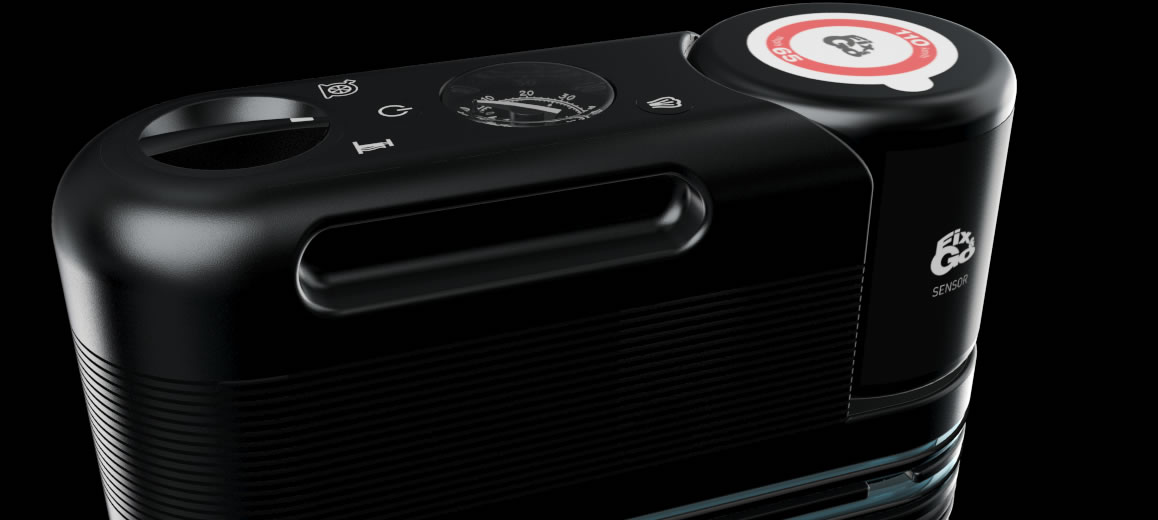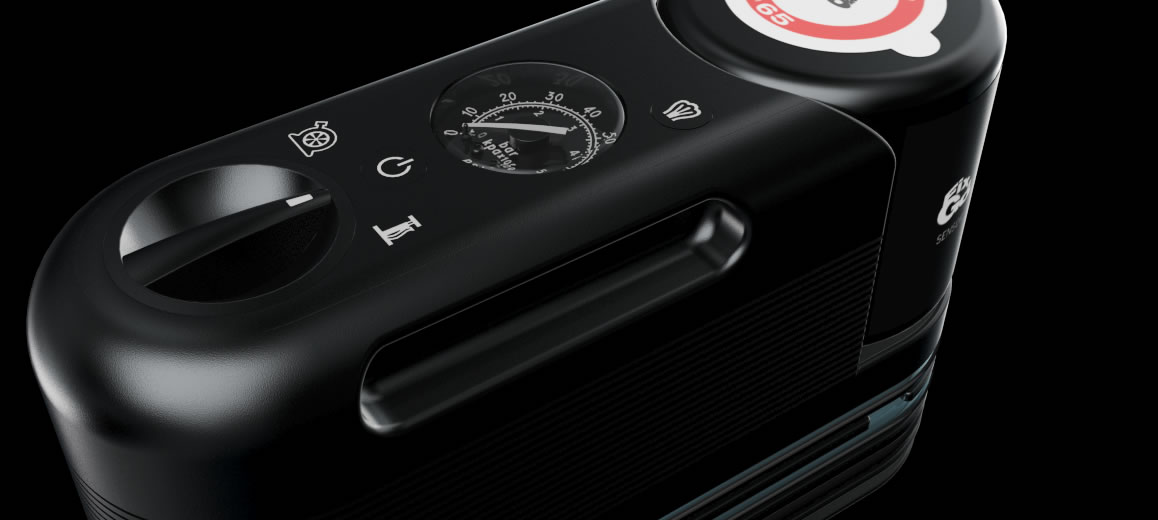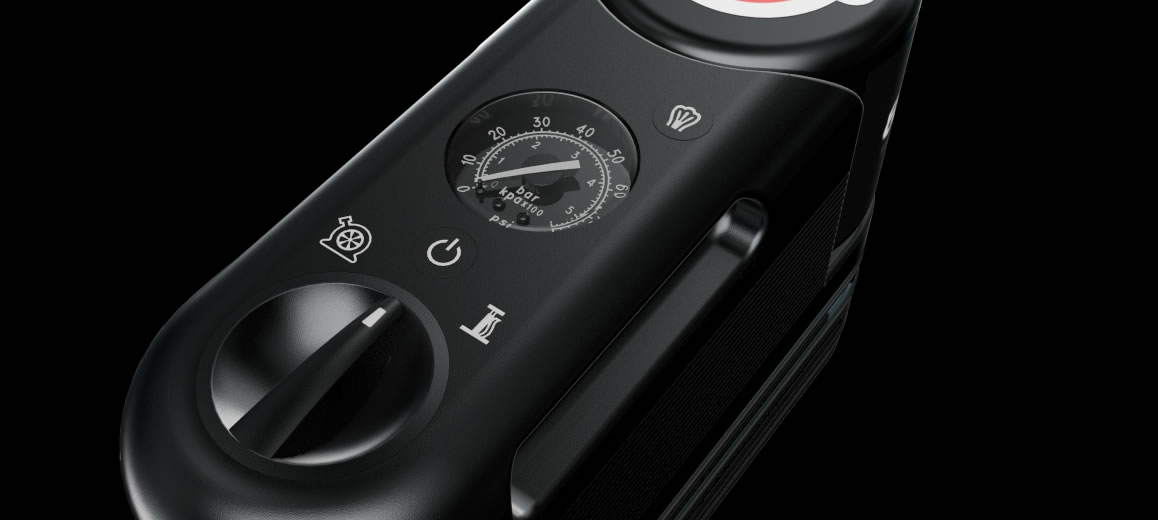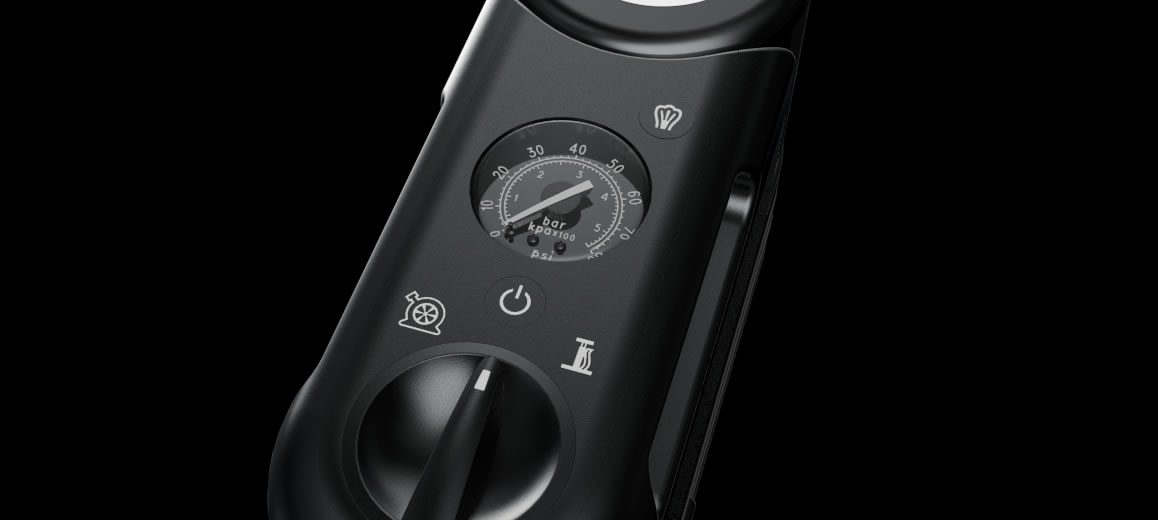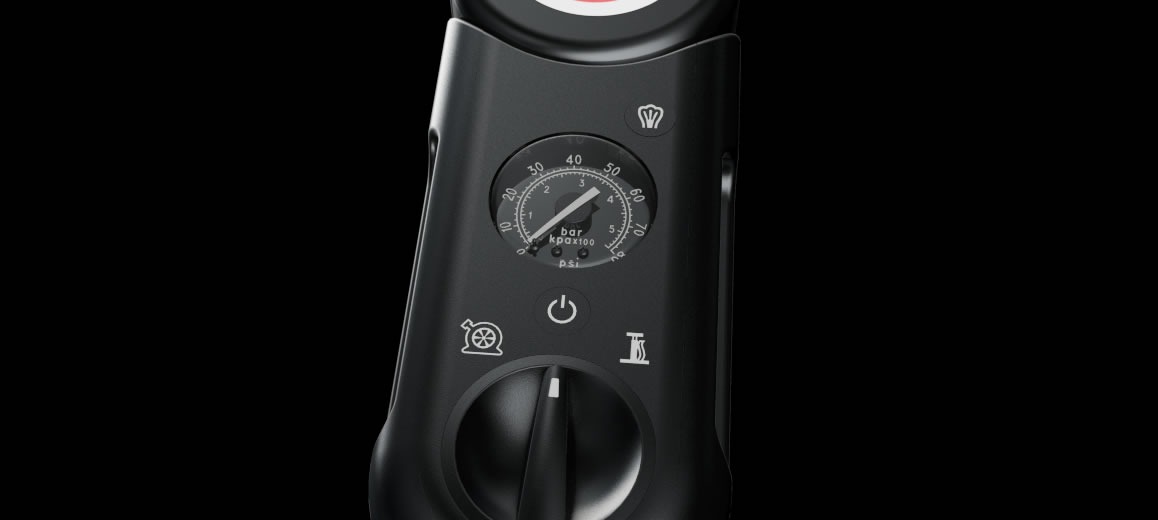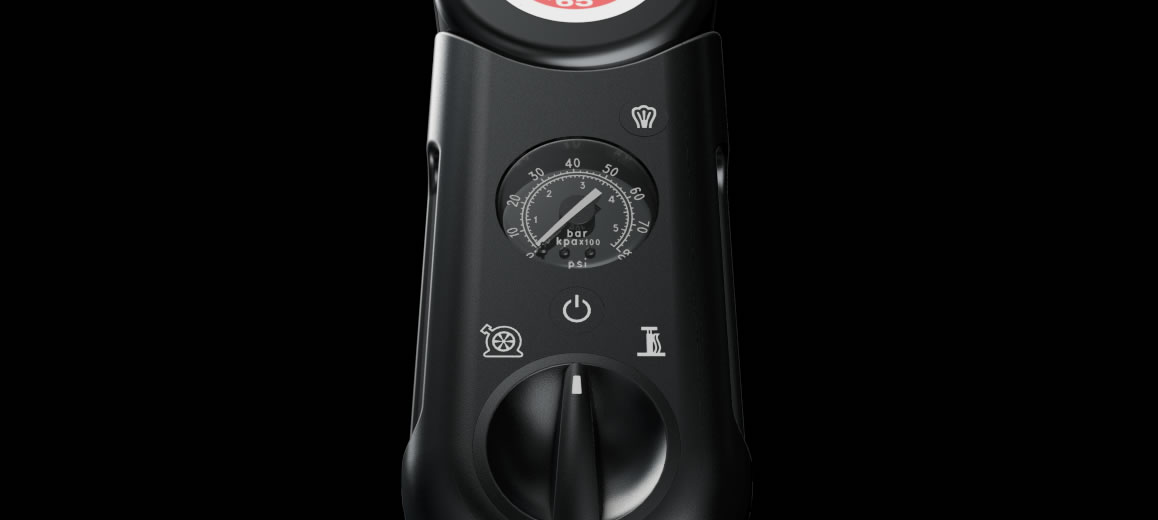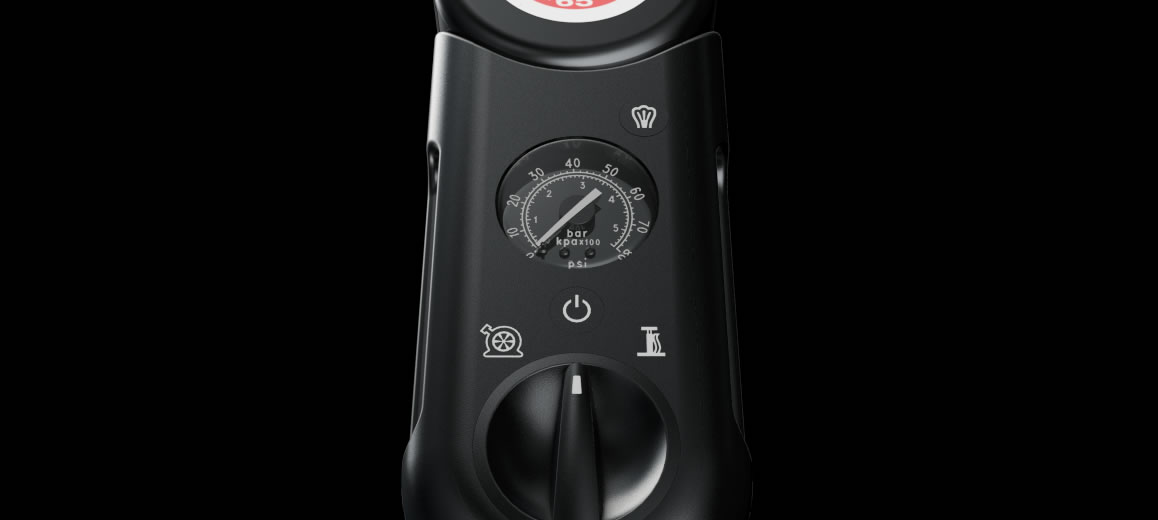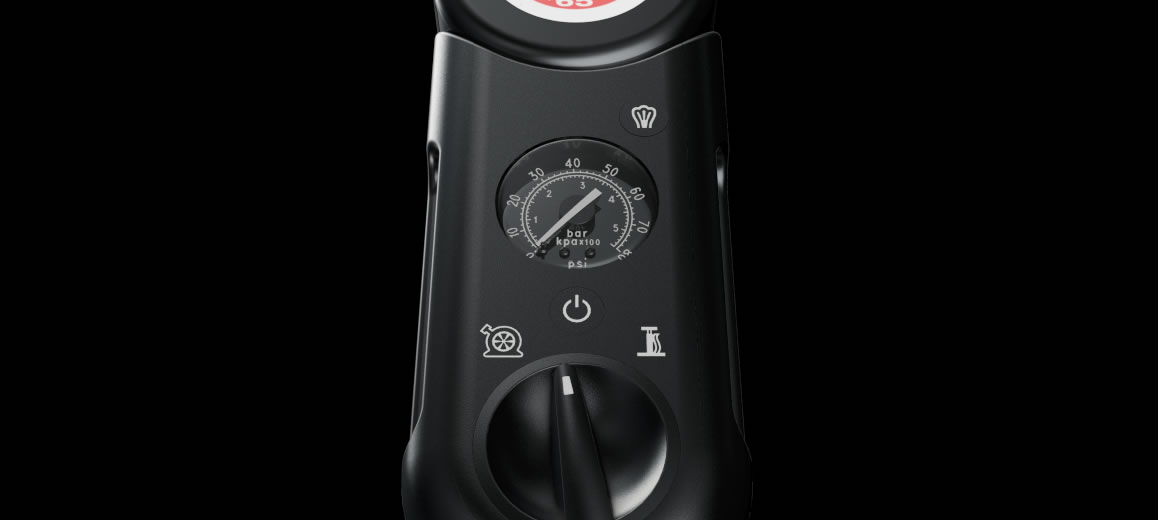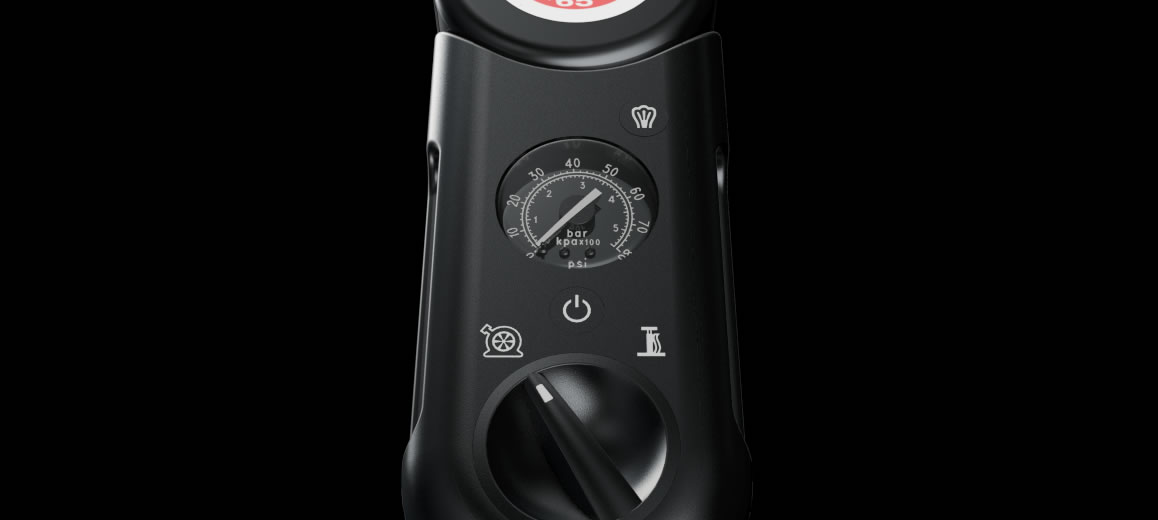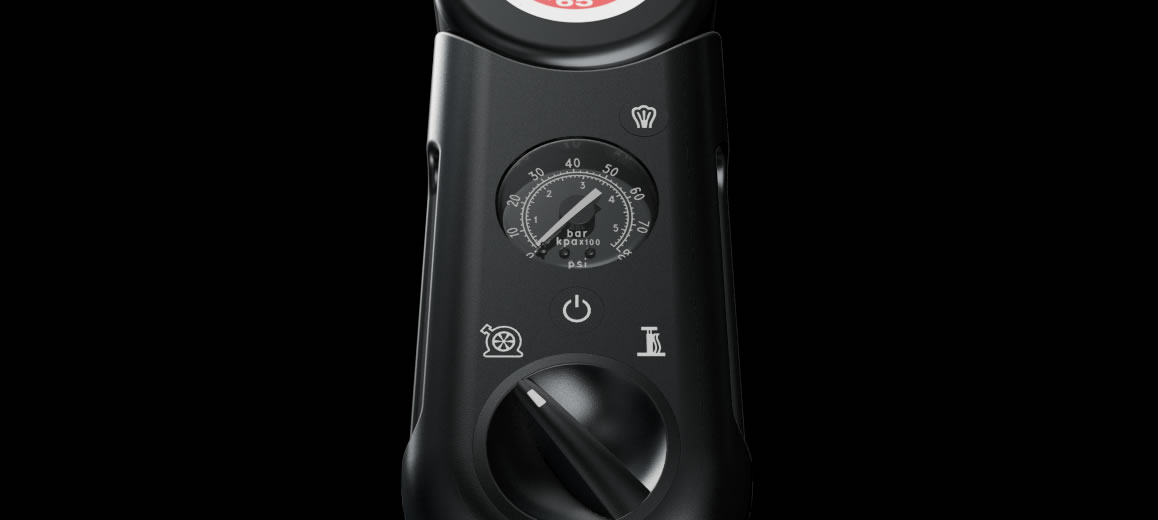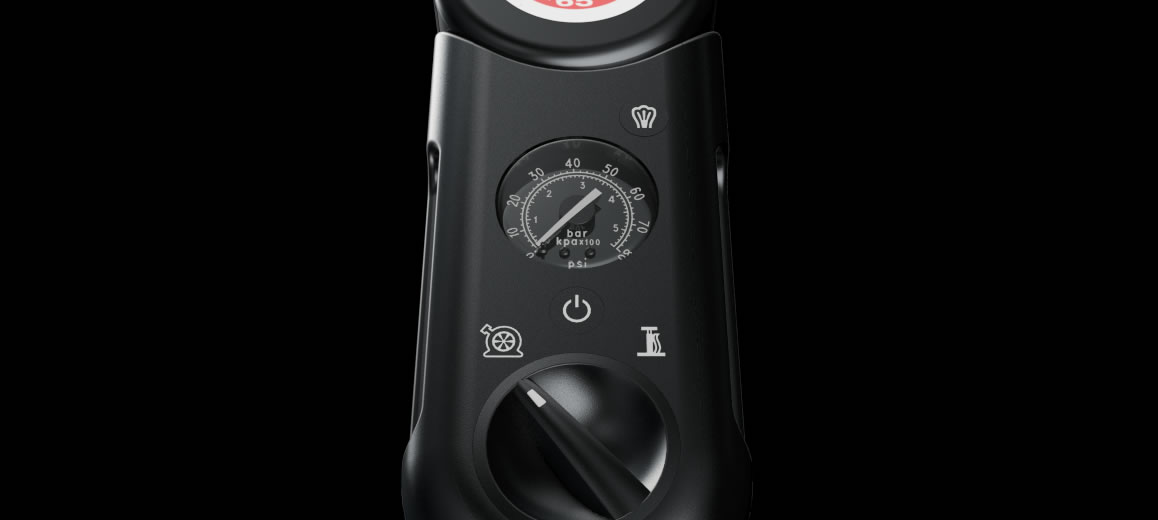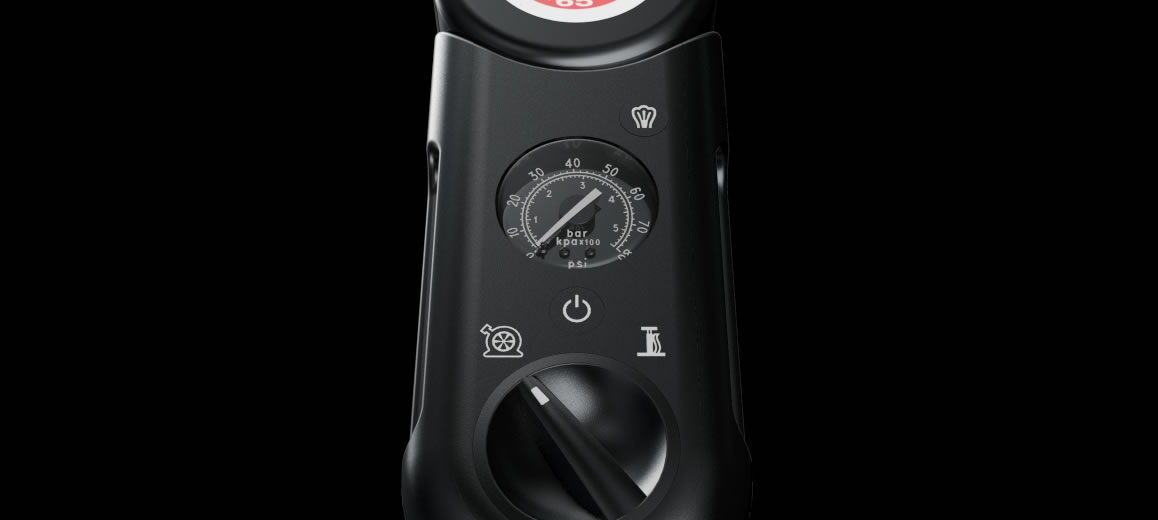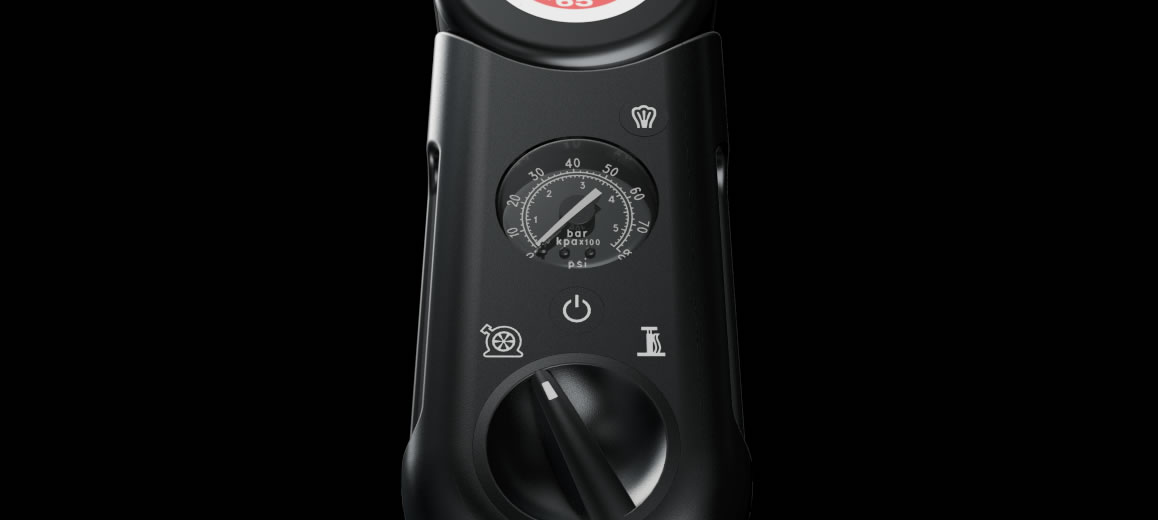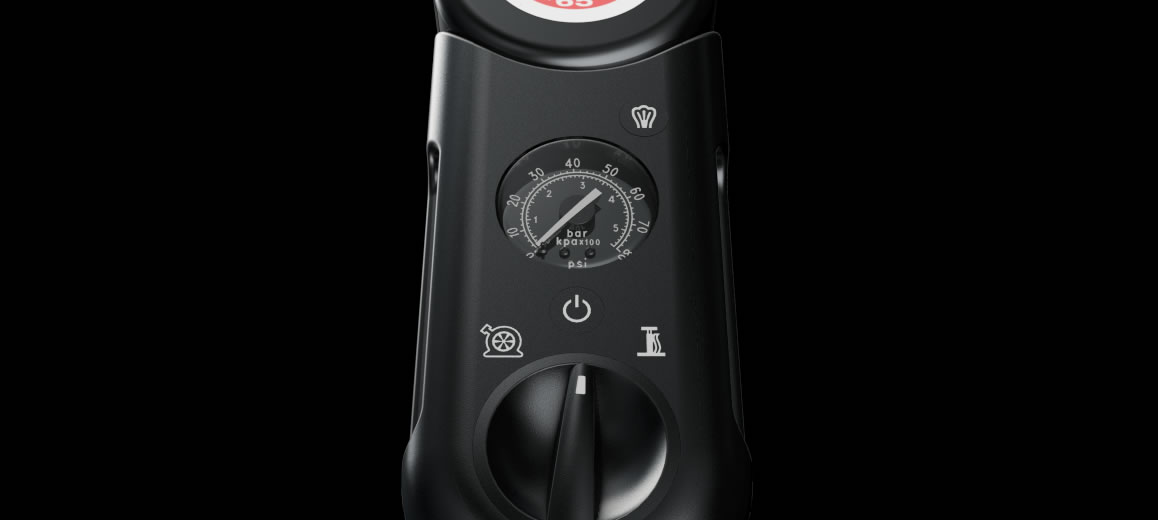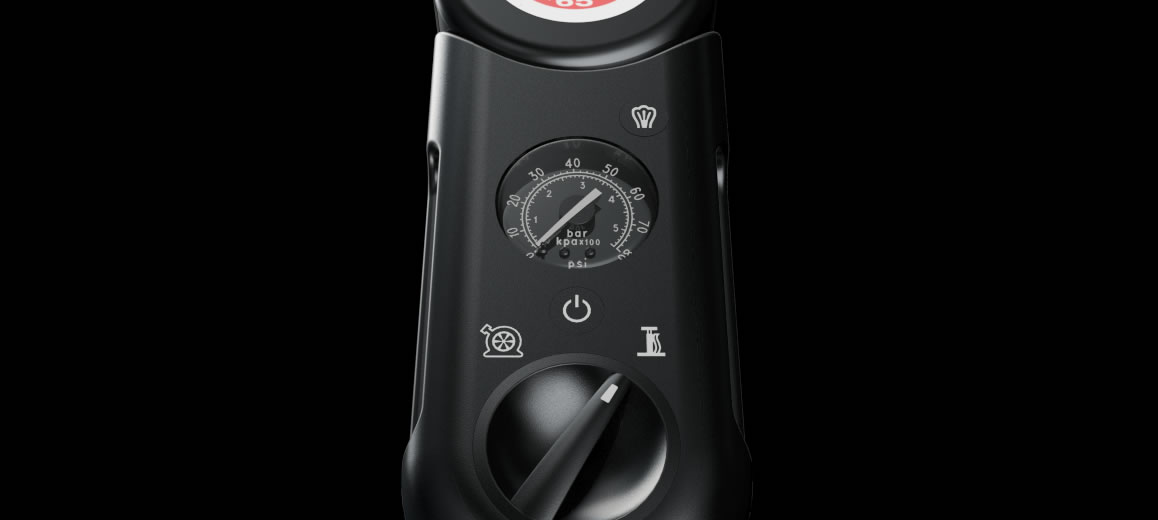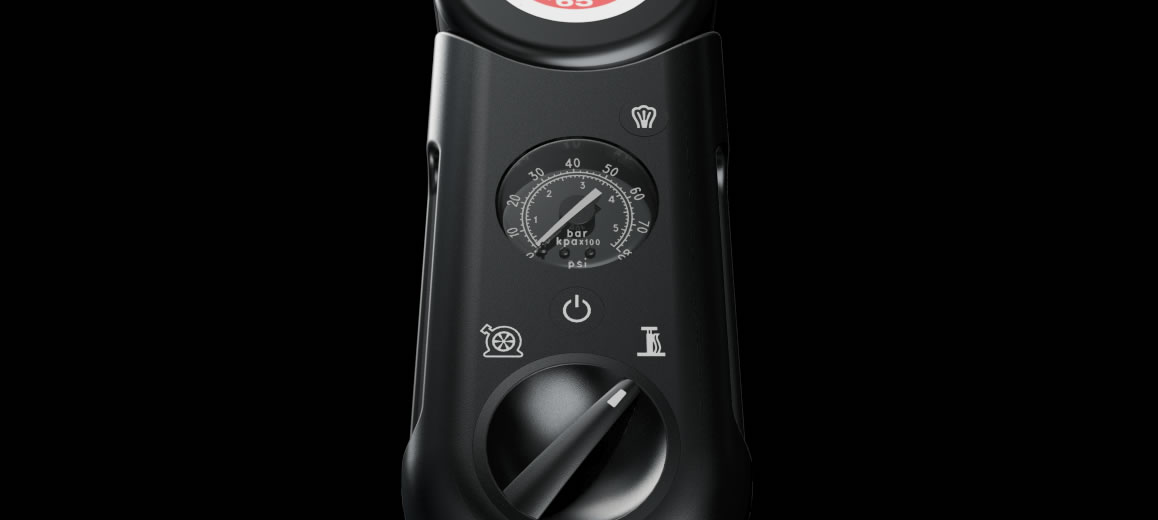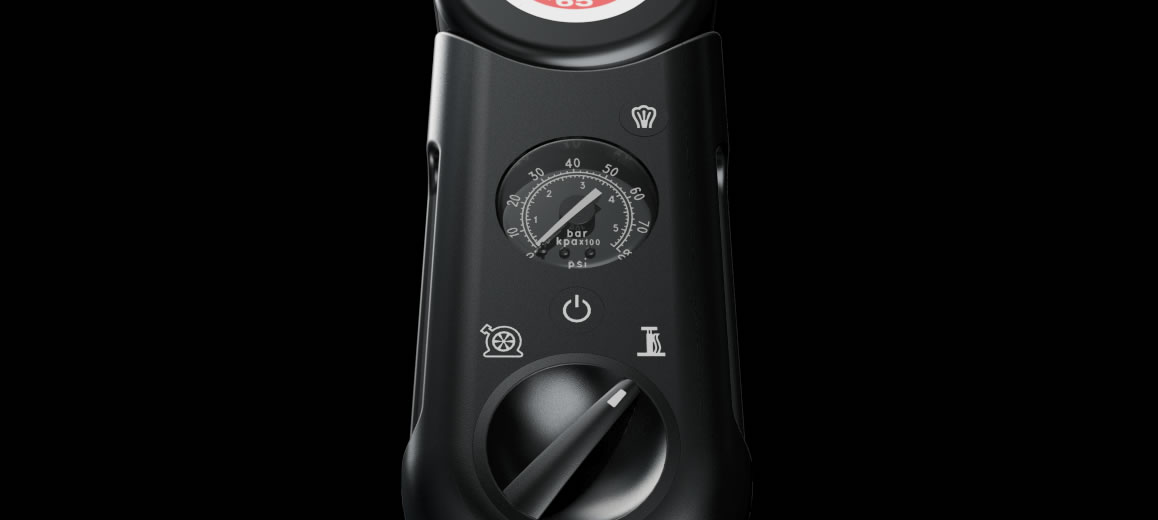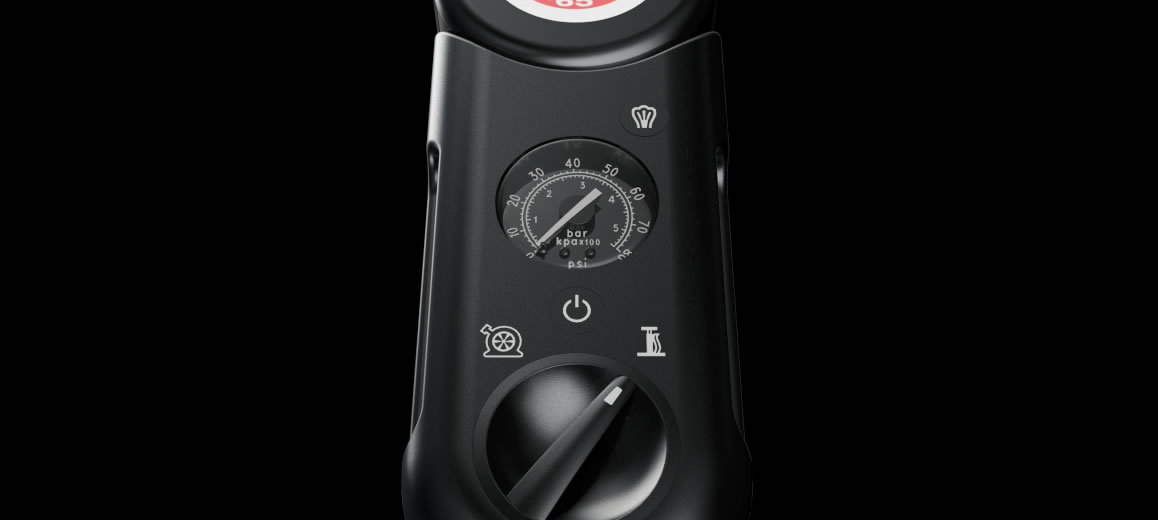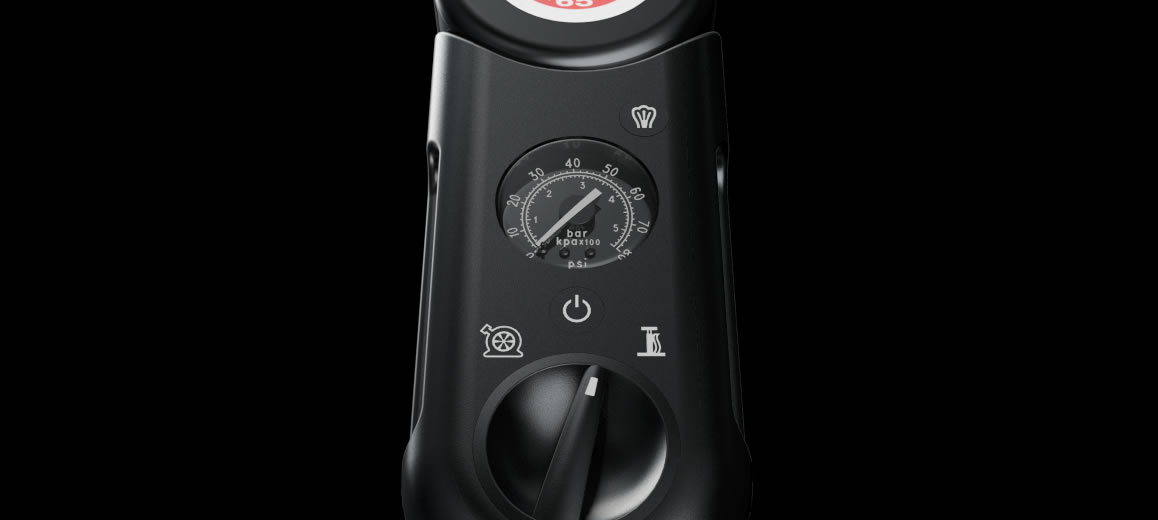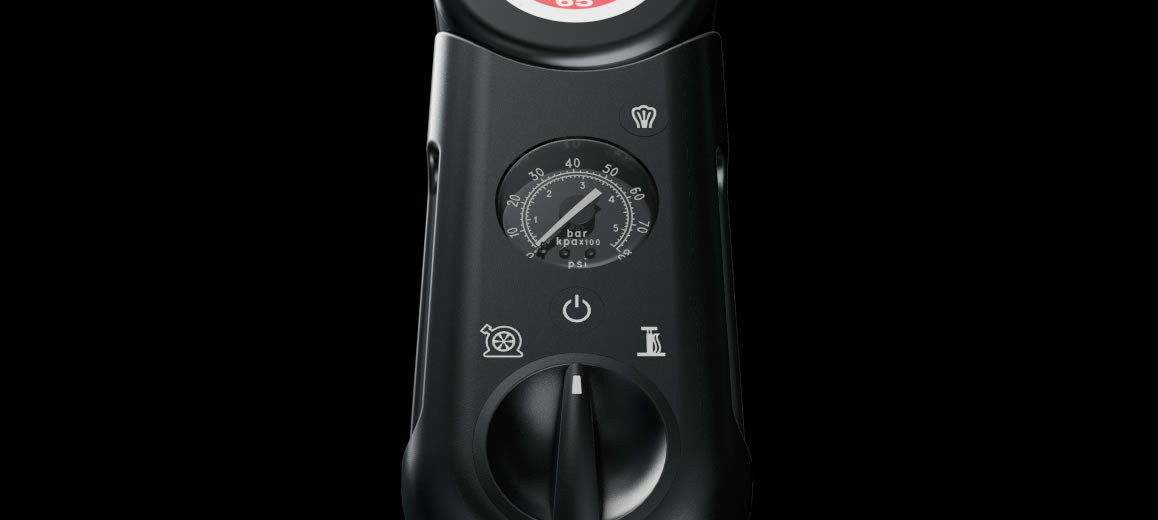 CONTROL AND PRECISION
At your service
The backlit pressure gauge allows to read the pressure in any situation.
The function selector switch has been developed to make you choose to fix a flat tire or just inflate it.
In addition, the air release bottom helps you in case of excessive inflation of the tire.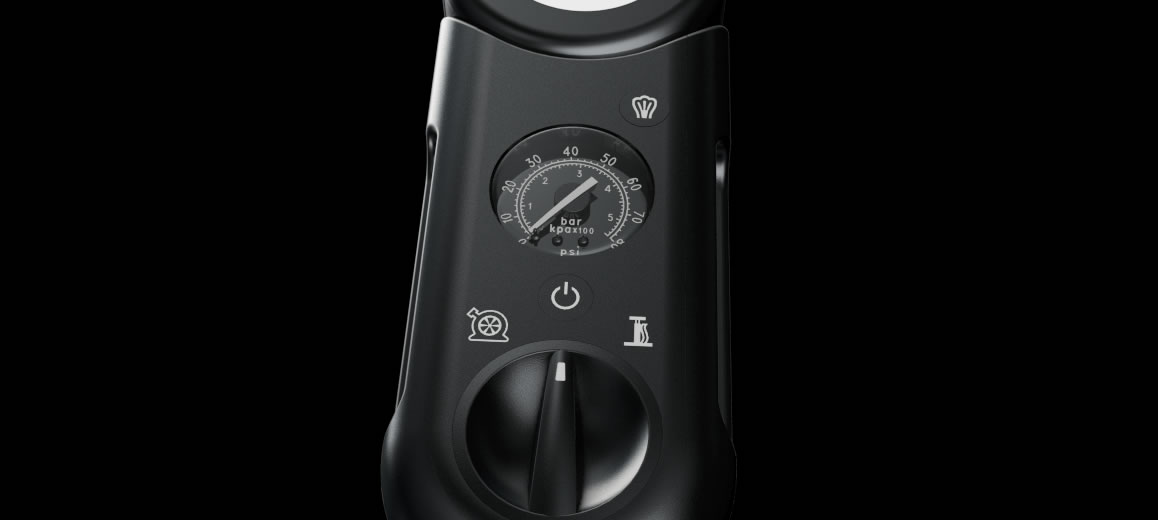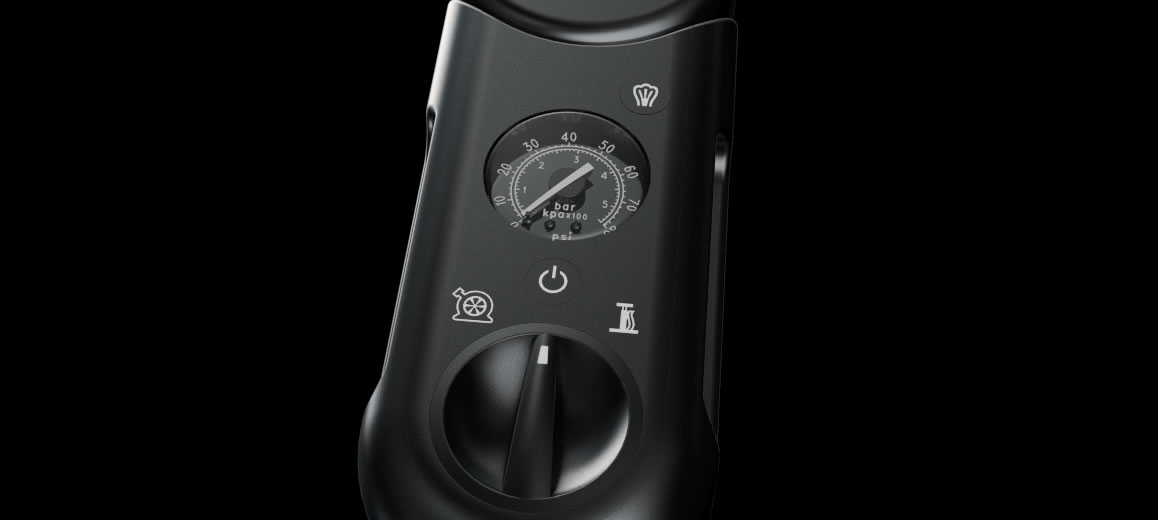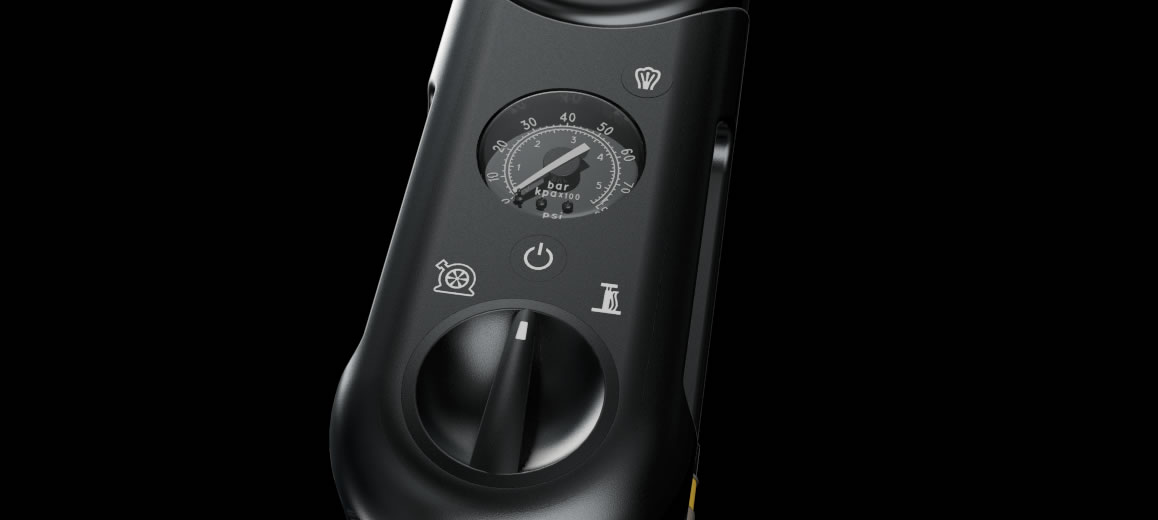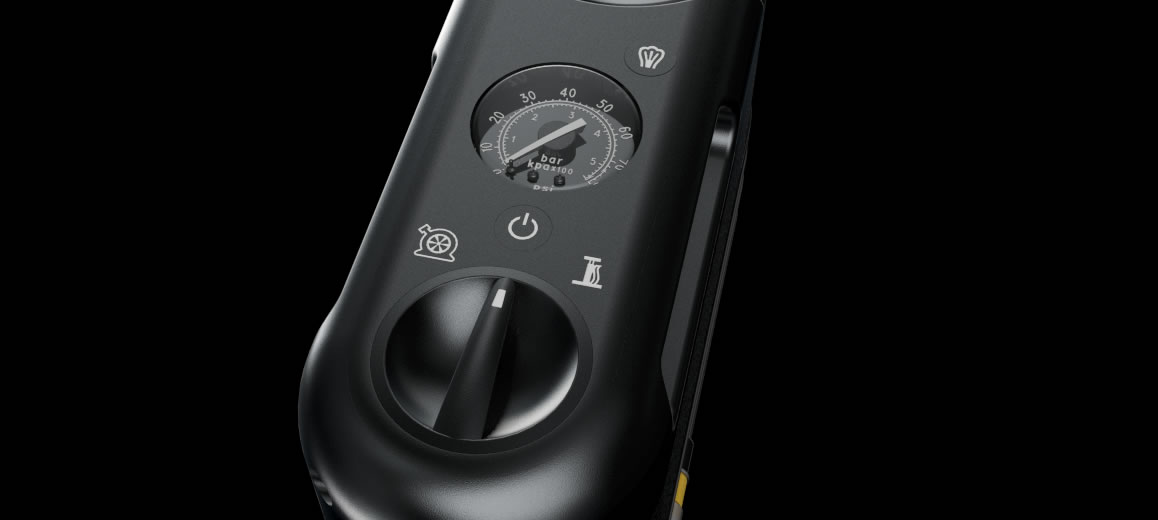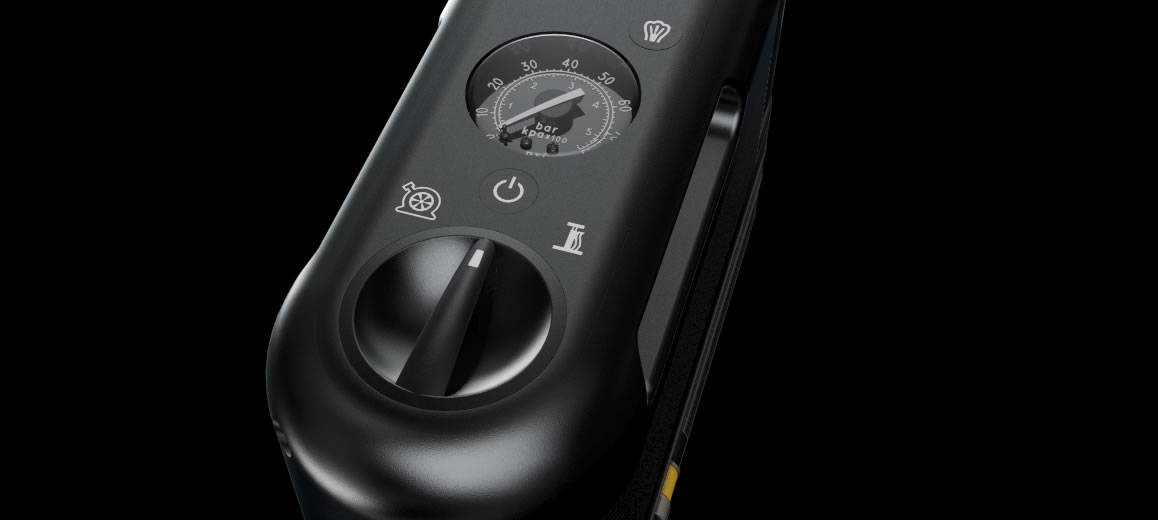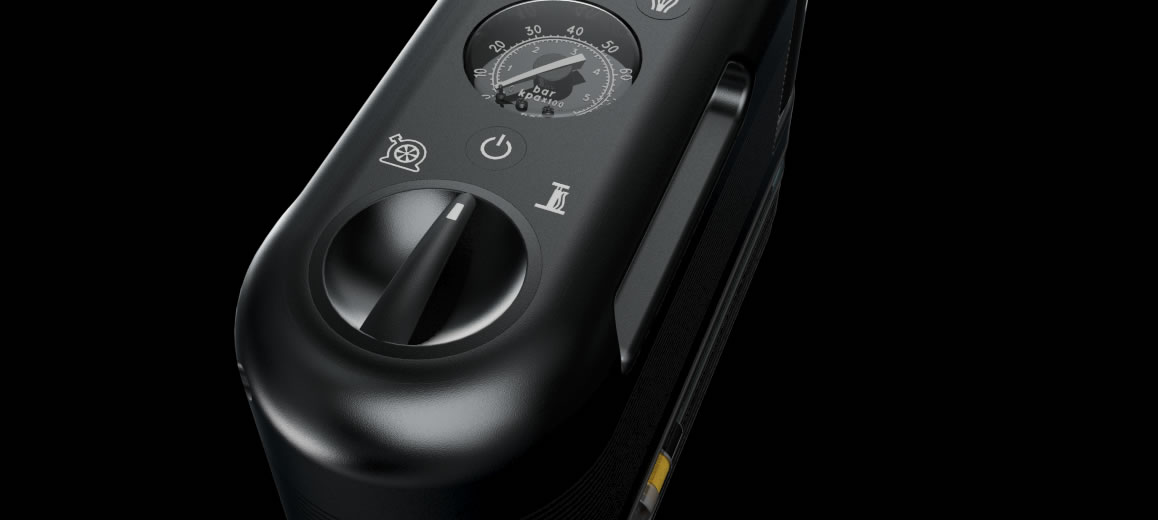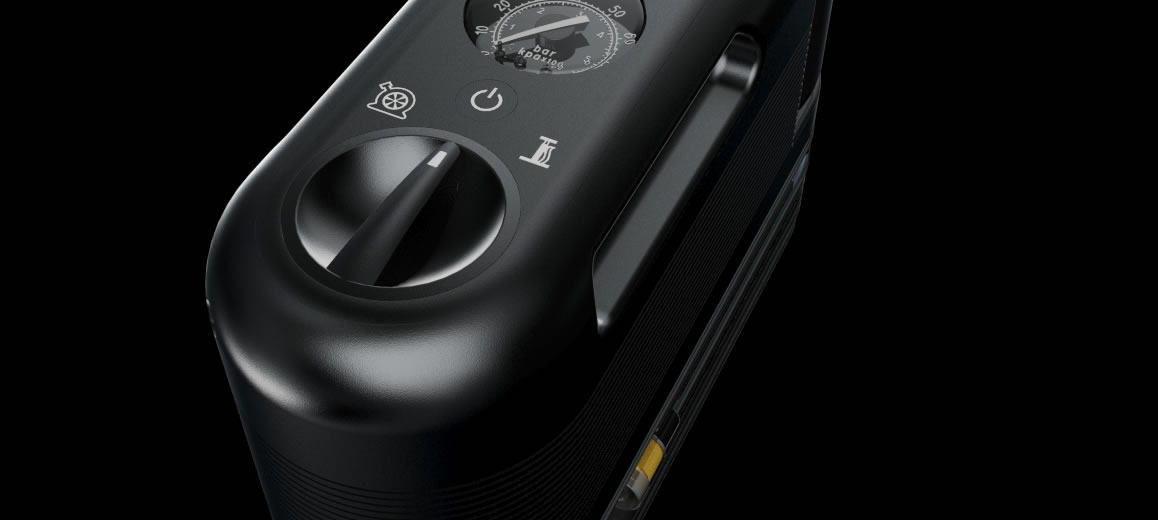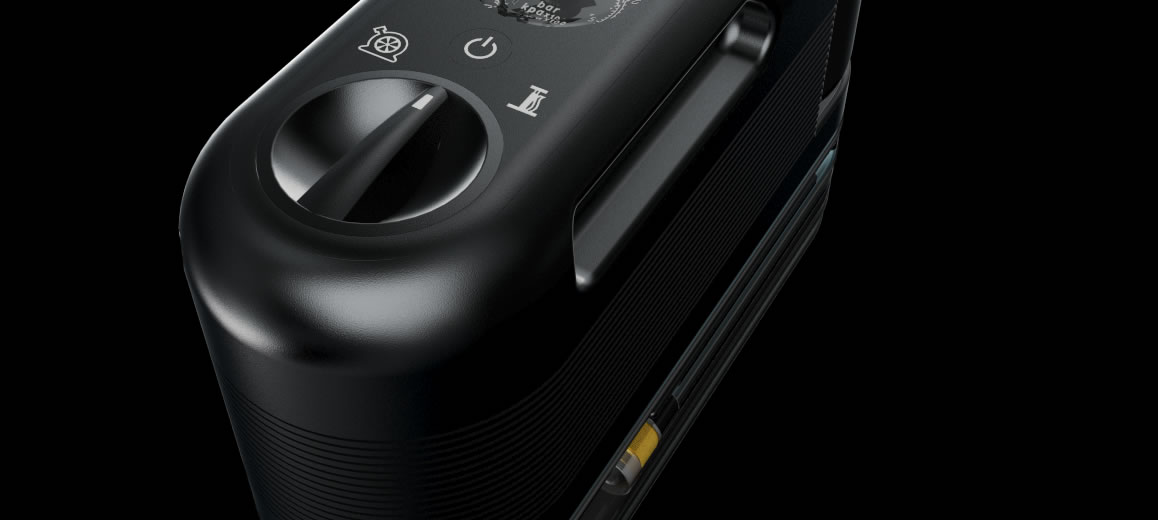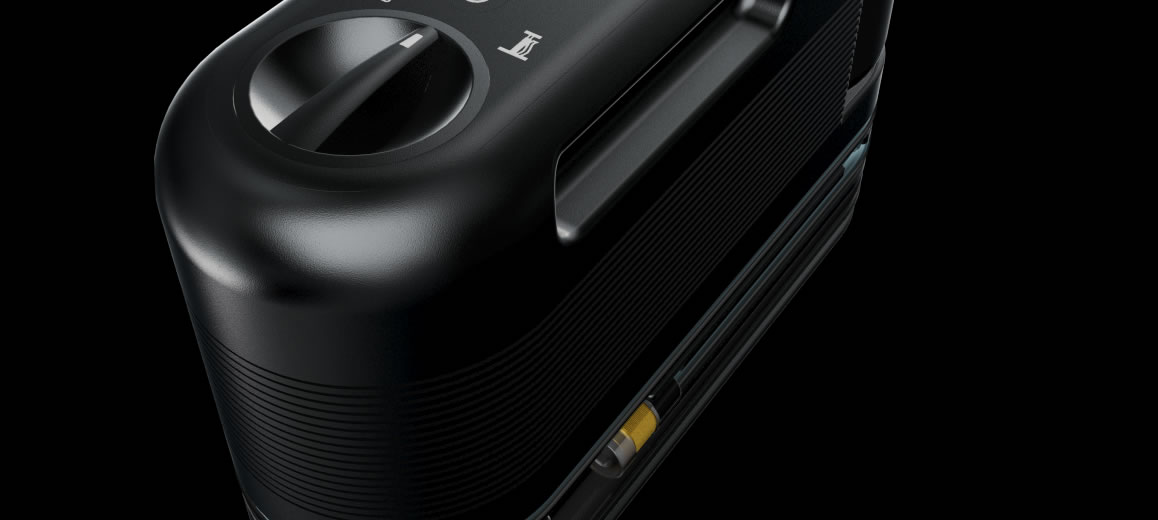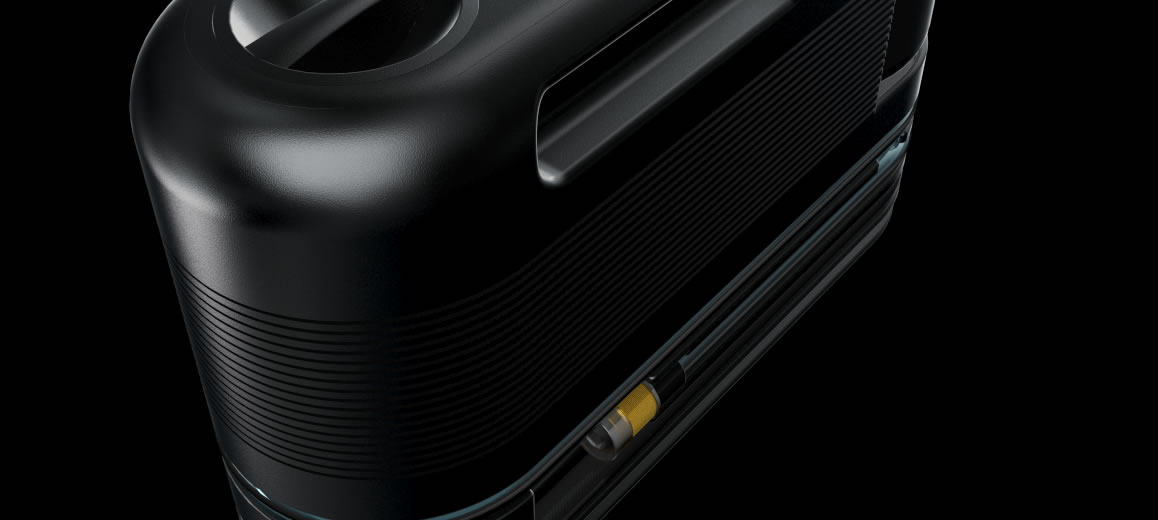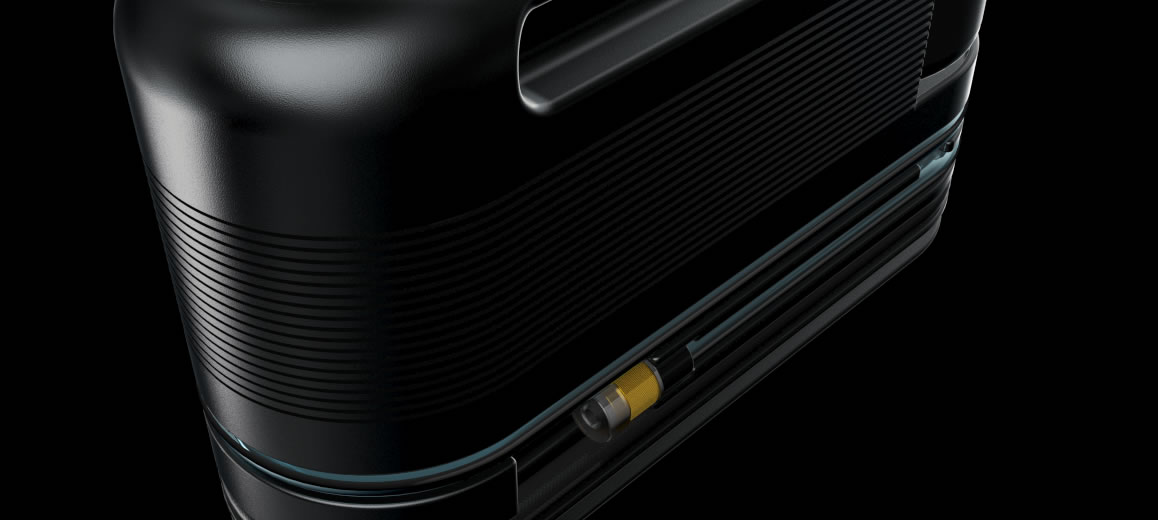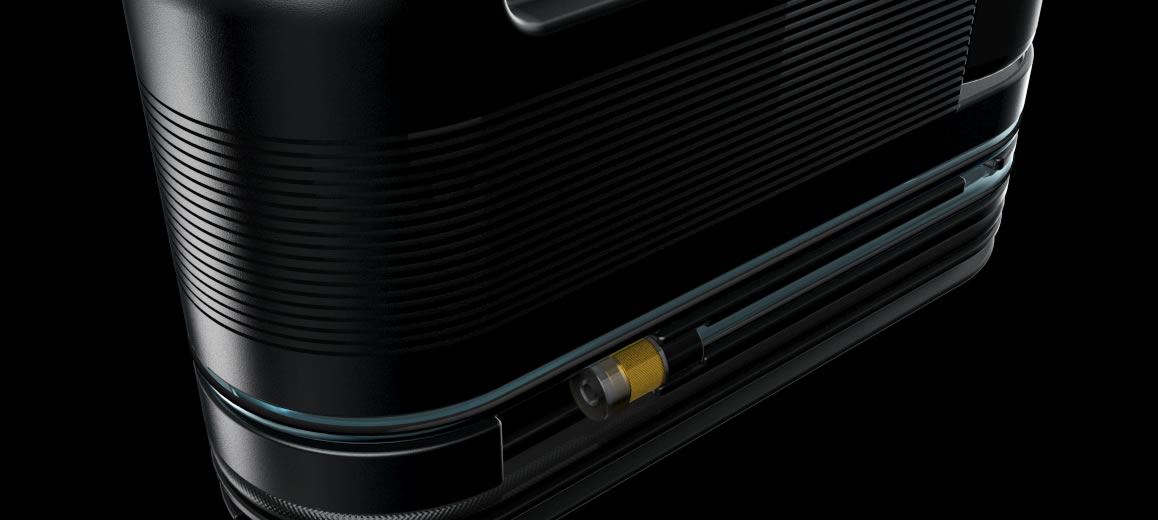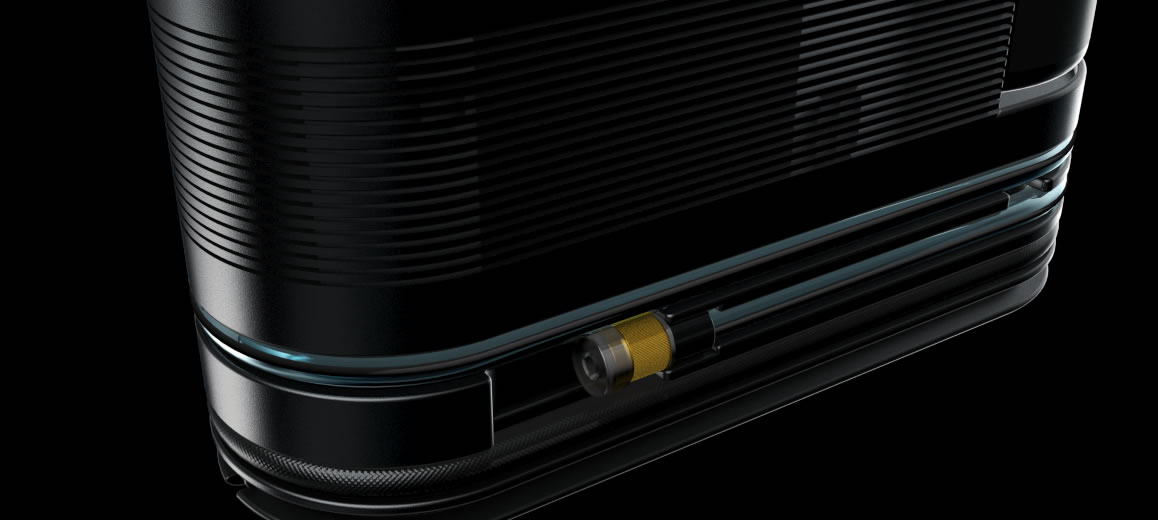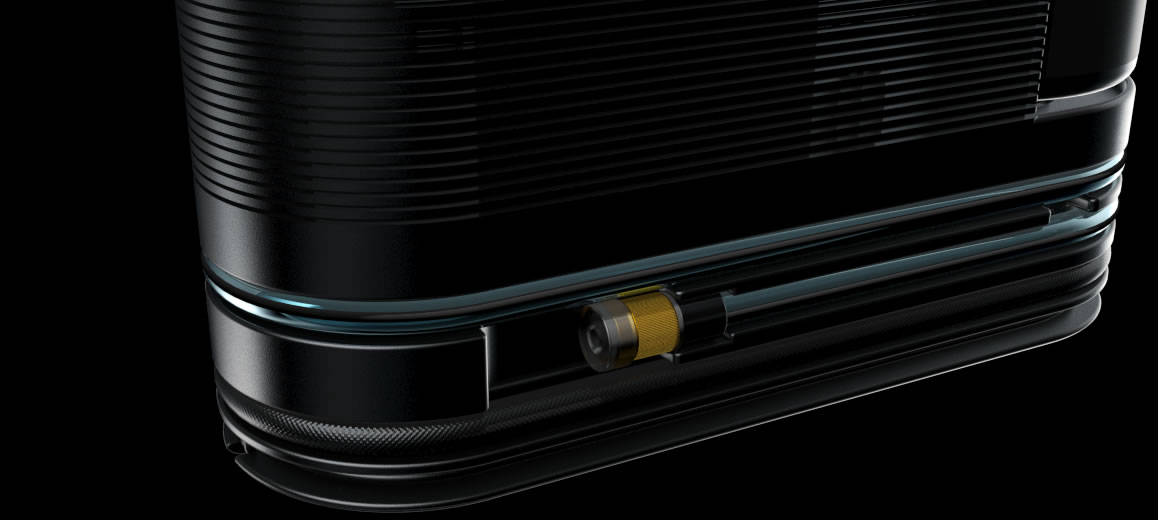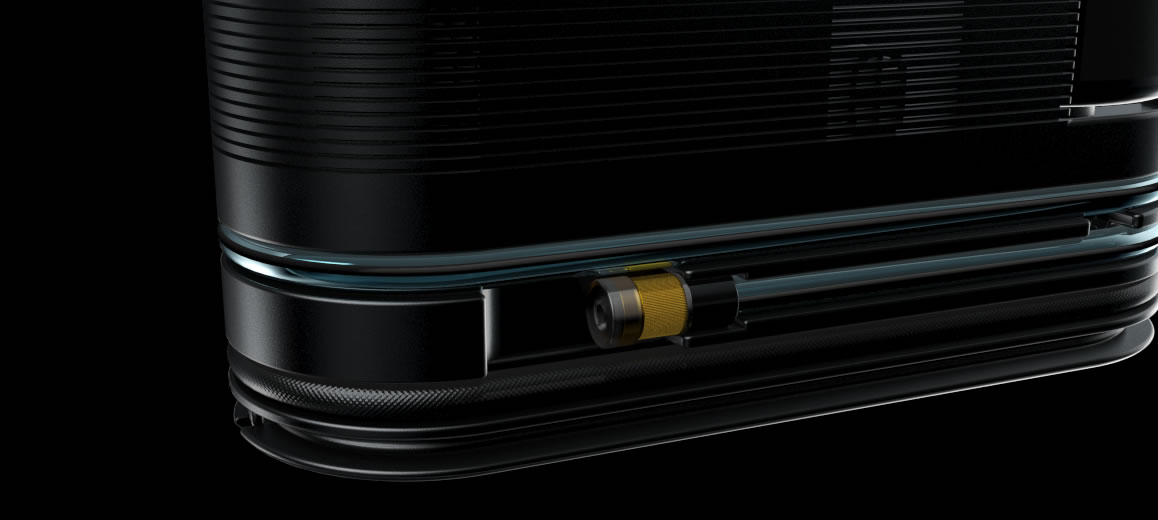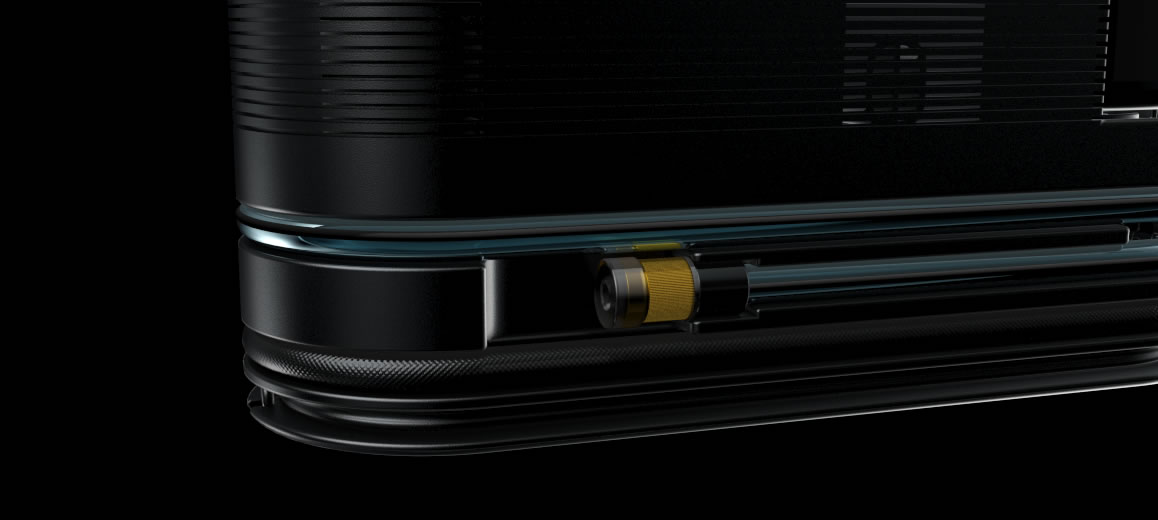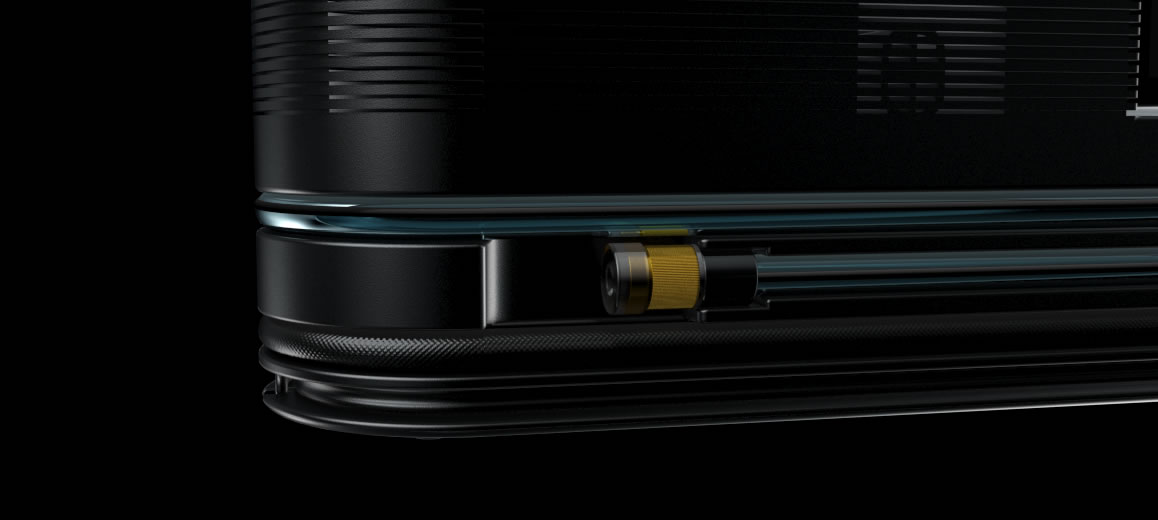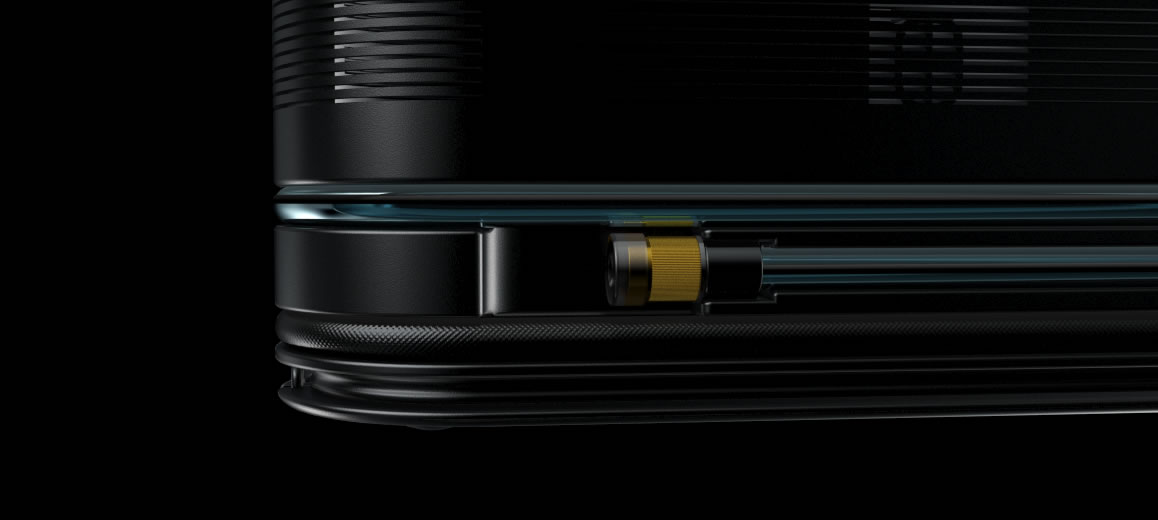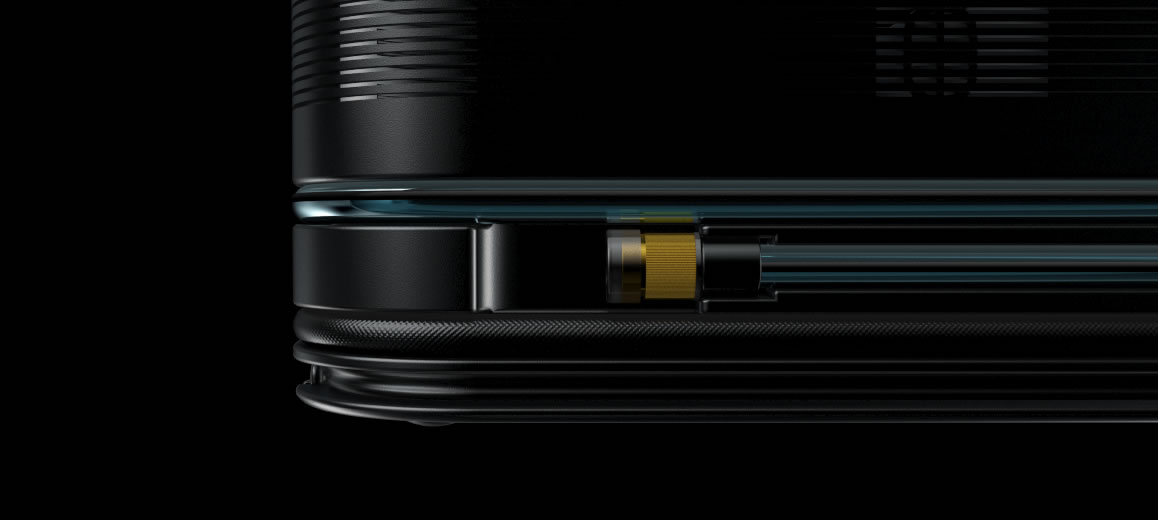 REPAIR
Guaranteed safety
SENSOR is equipped with an exclusive security system capable of electronically controlling
the correct connection of the hose to the tire, avoiding waste of the sealant and damage to your vehicle.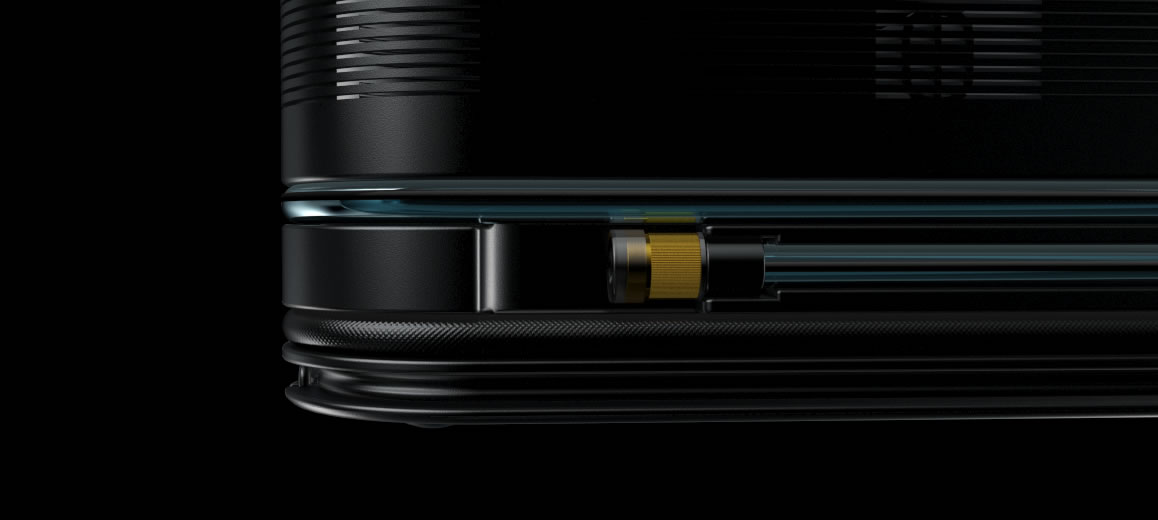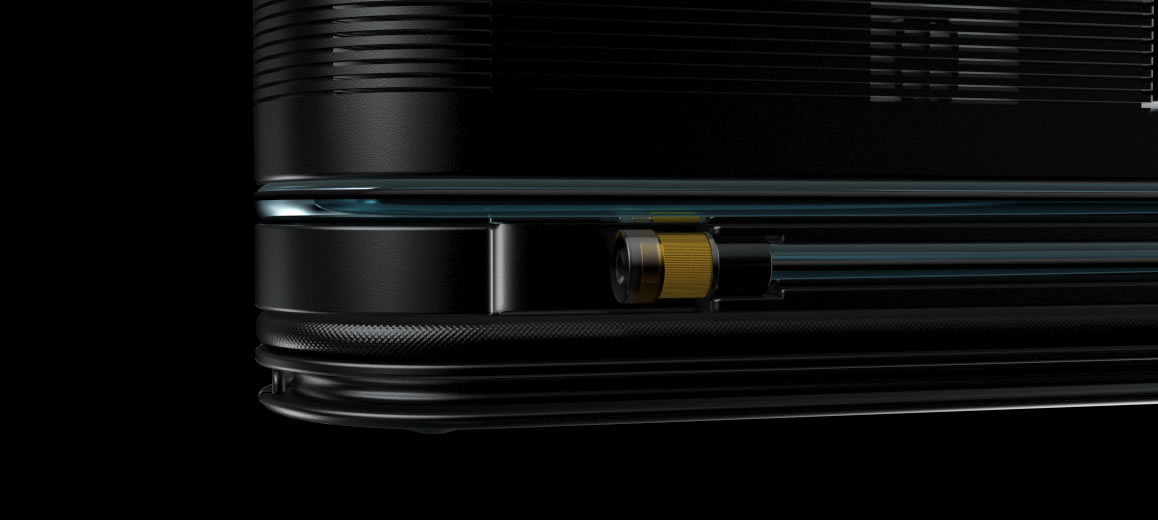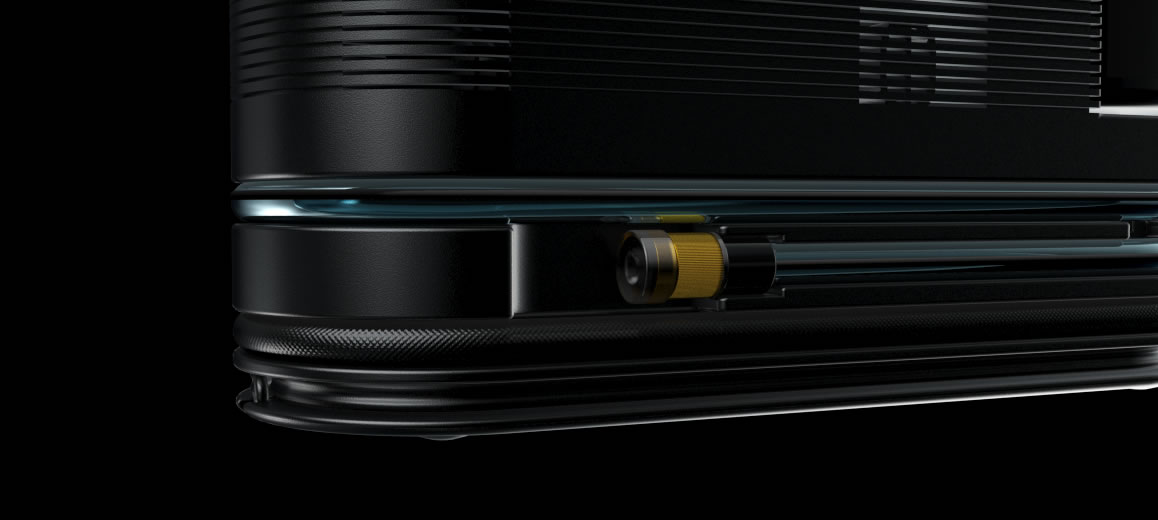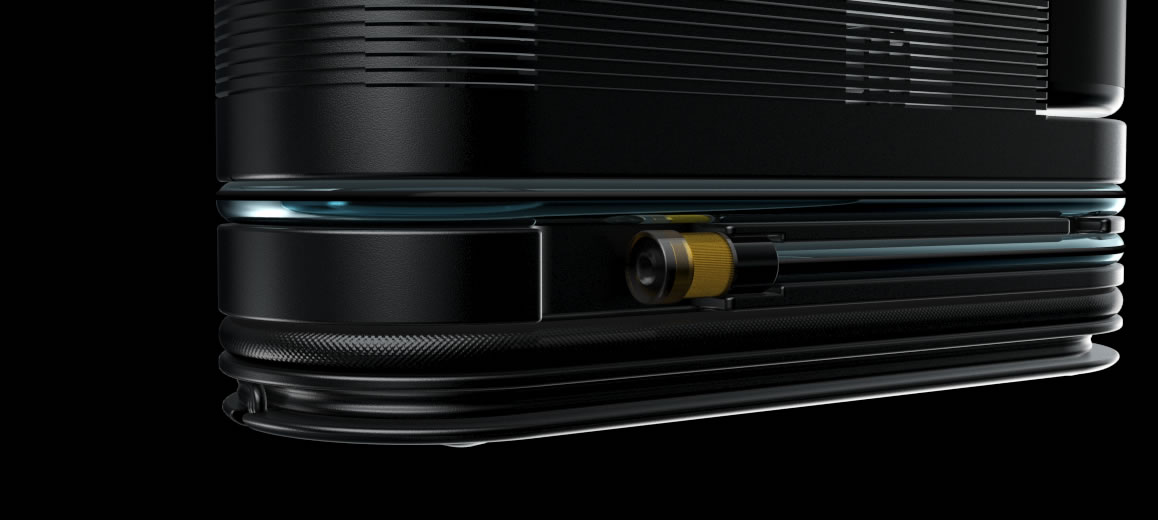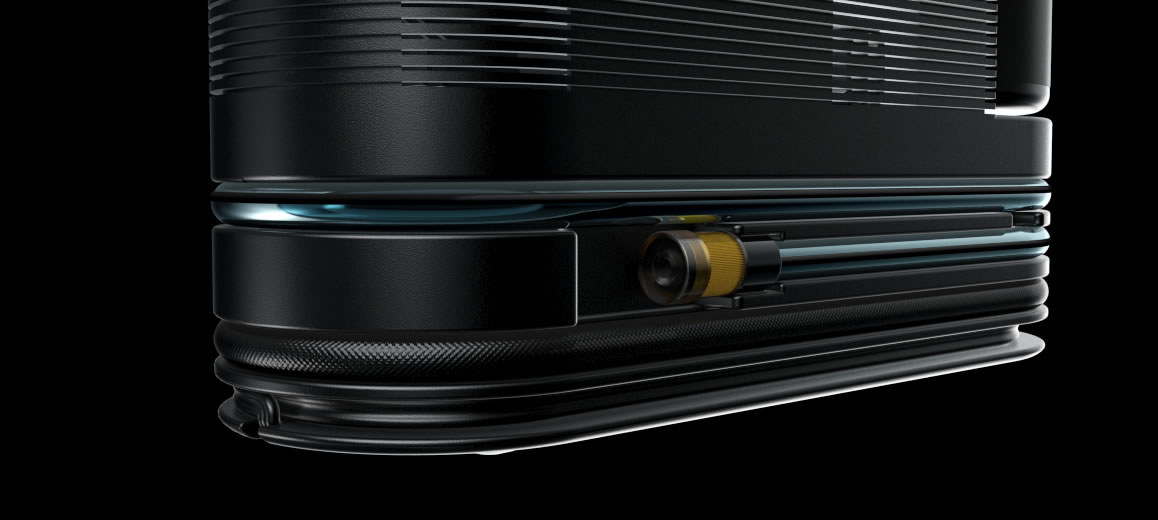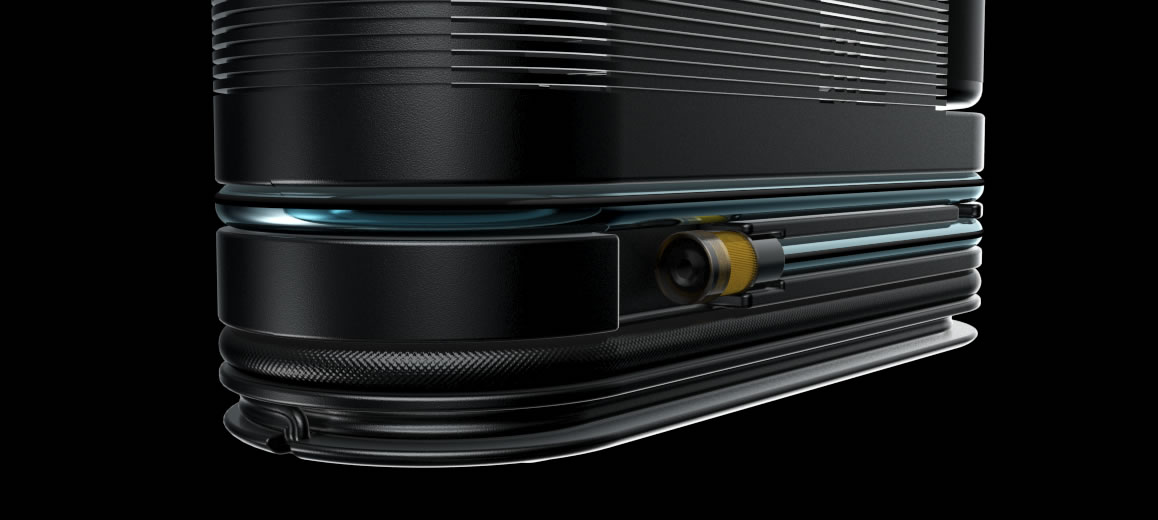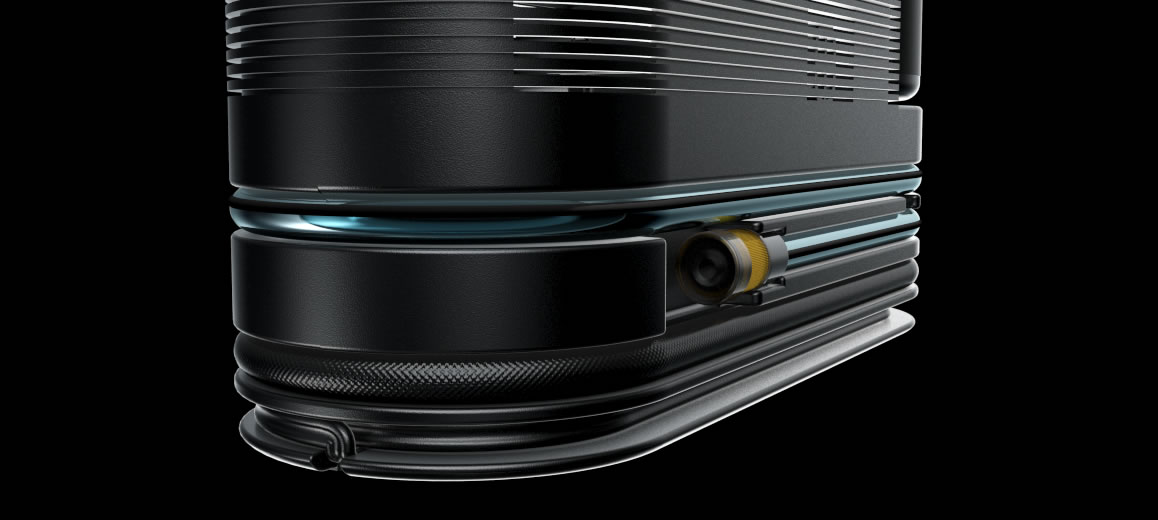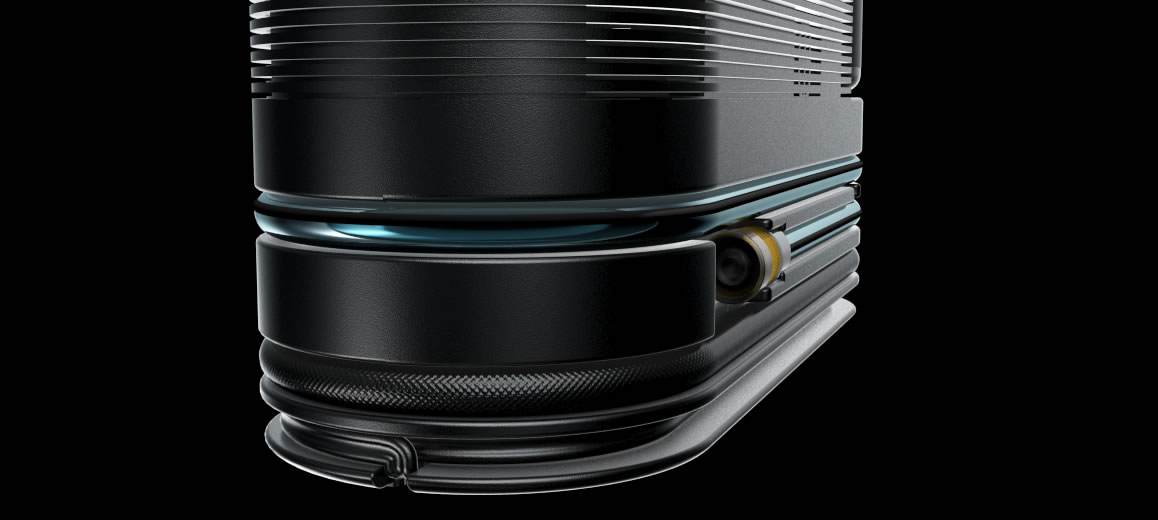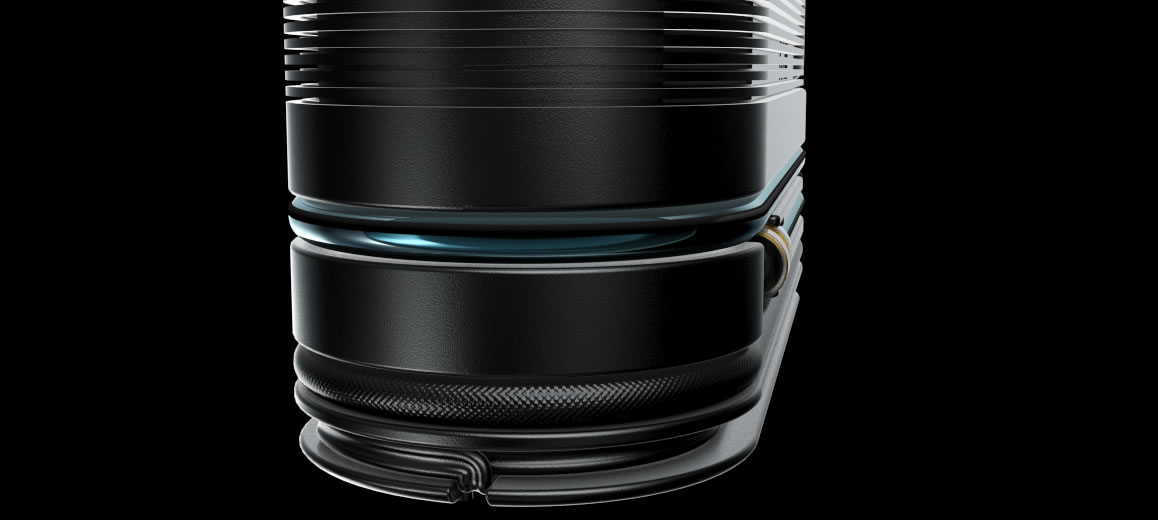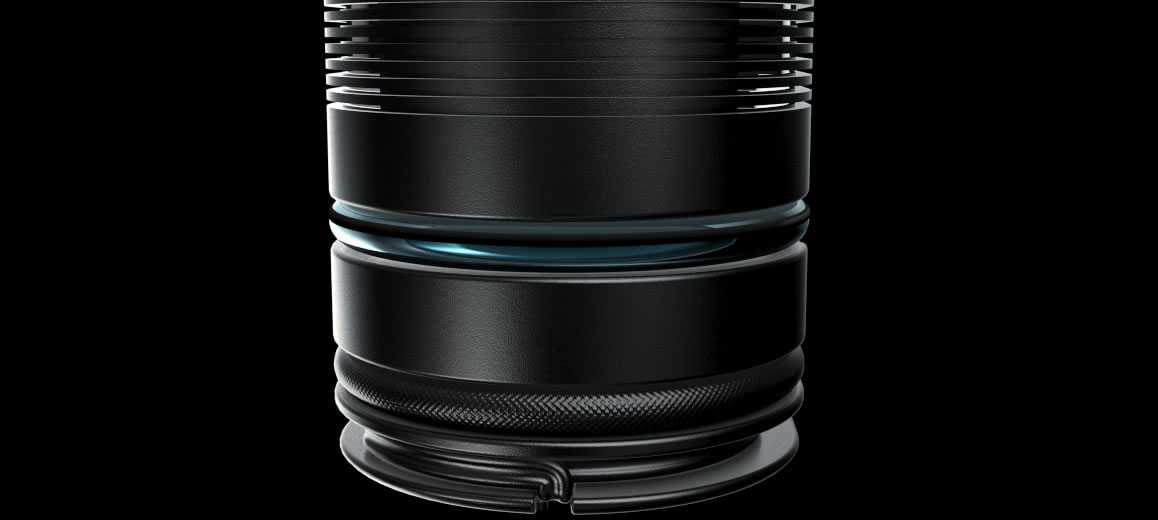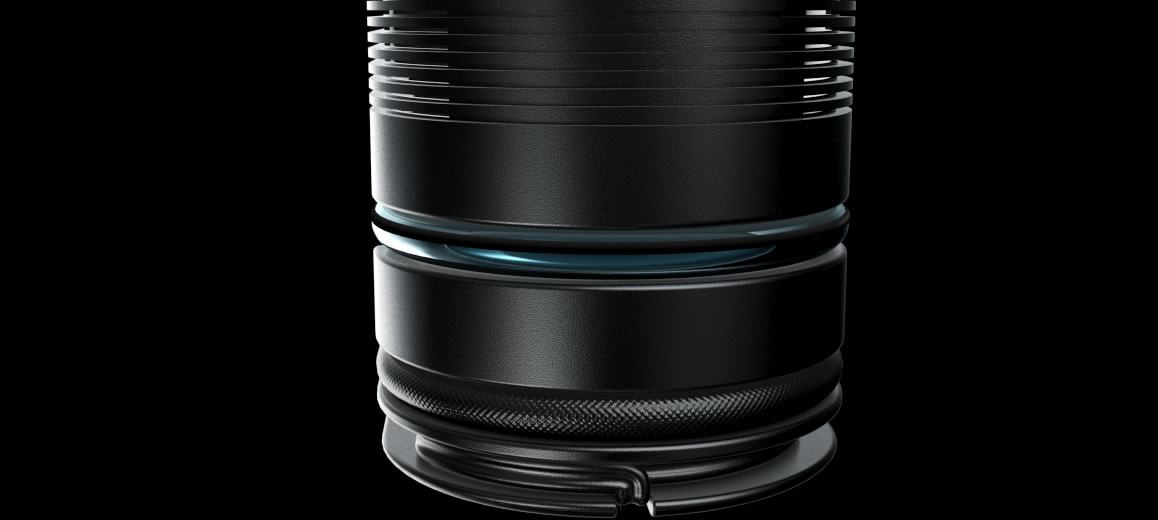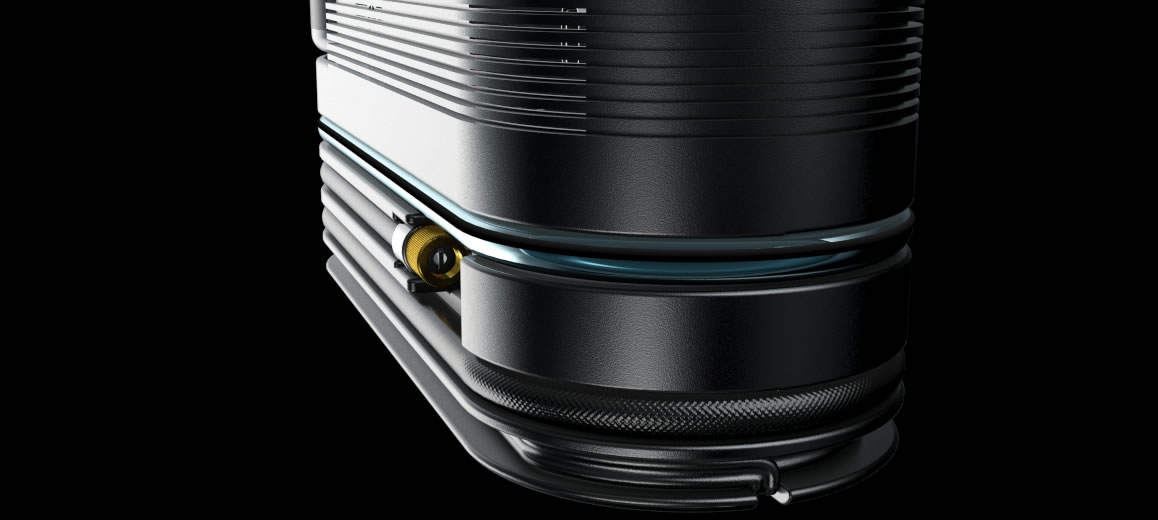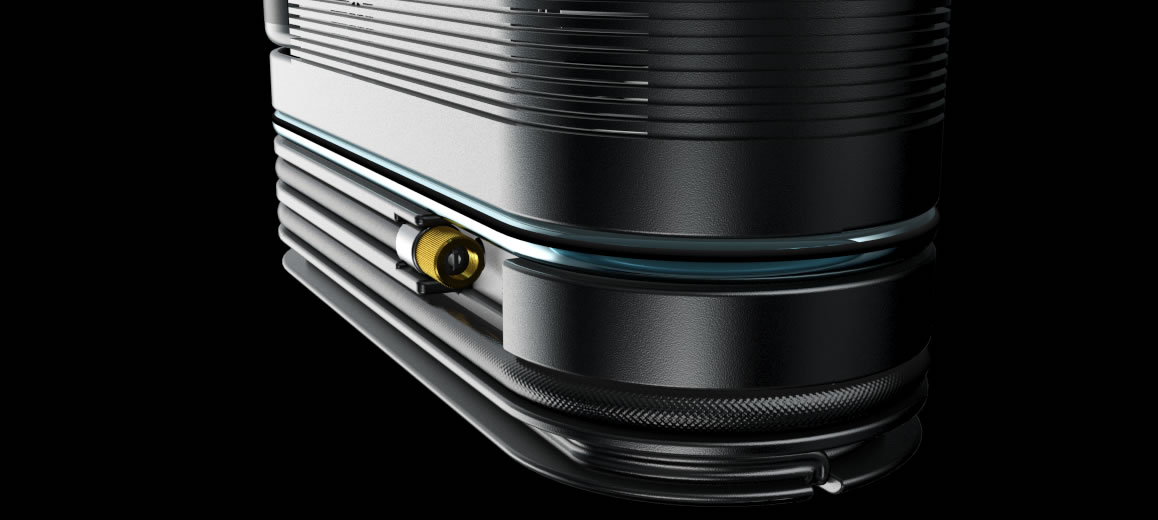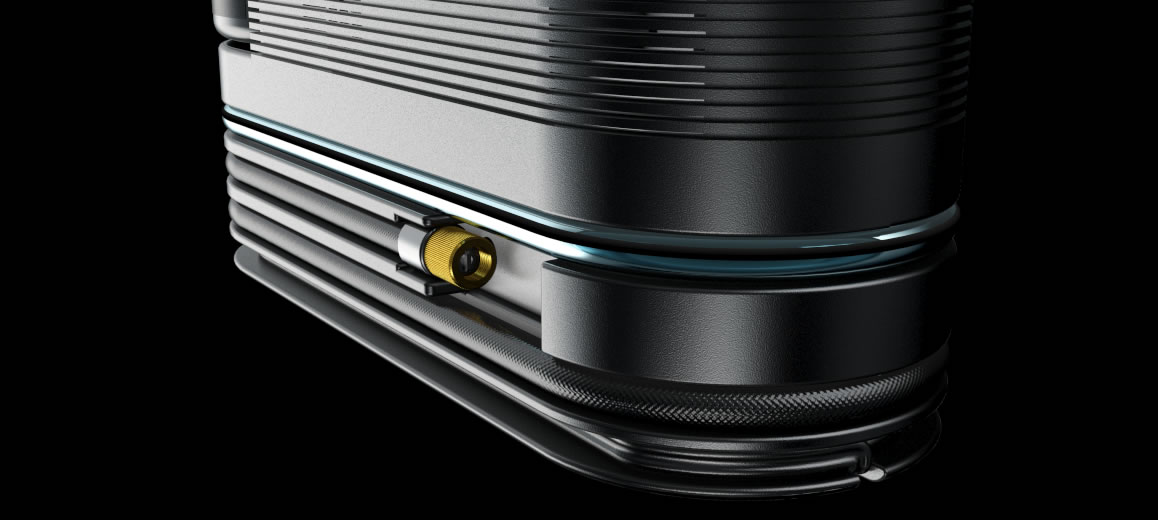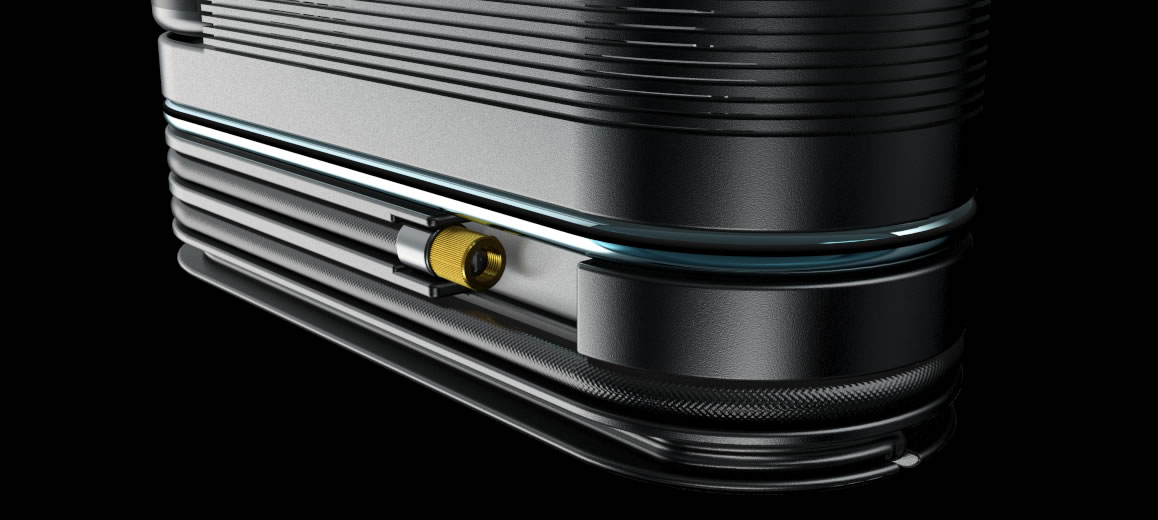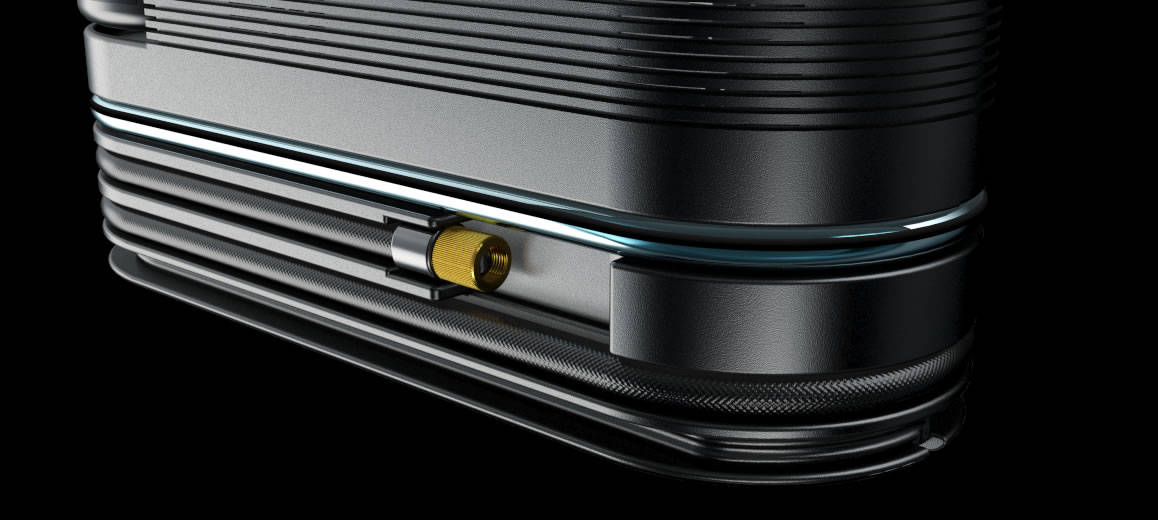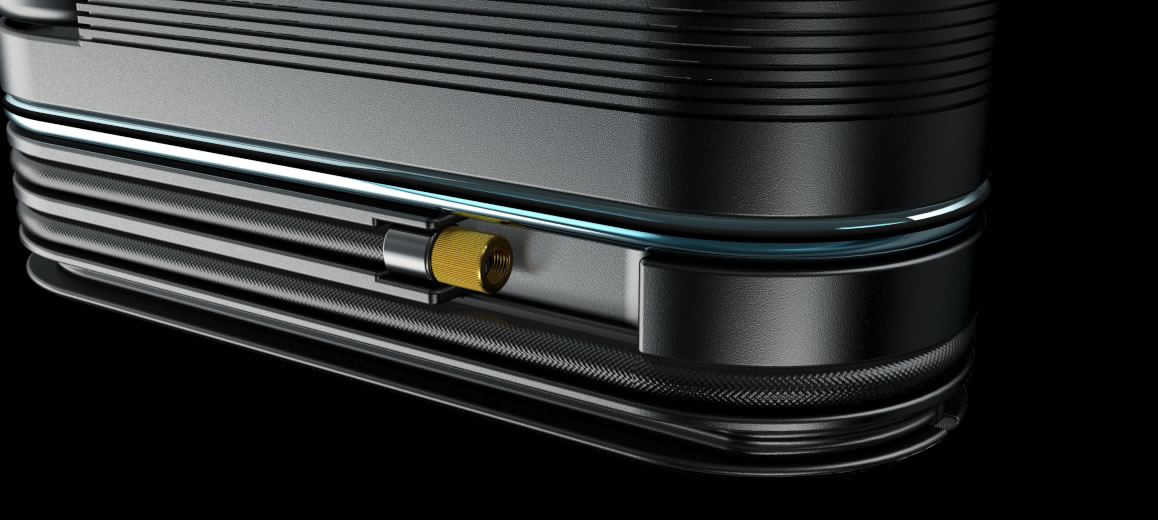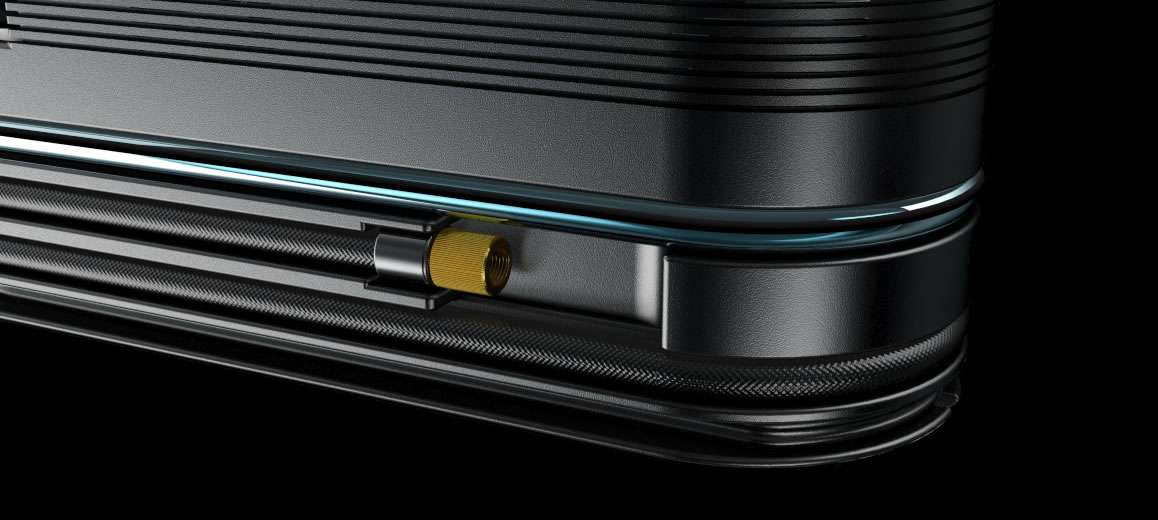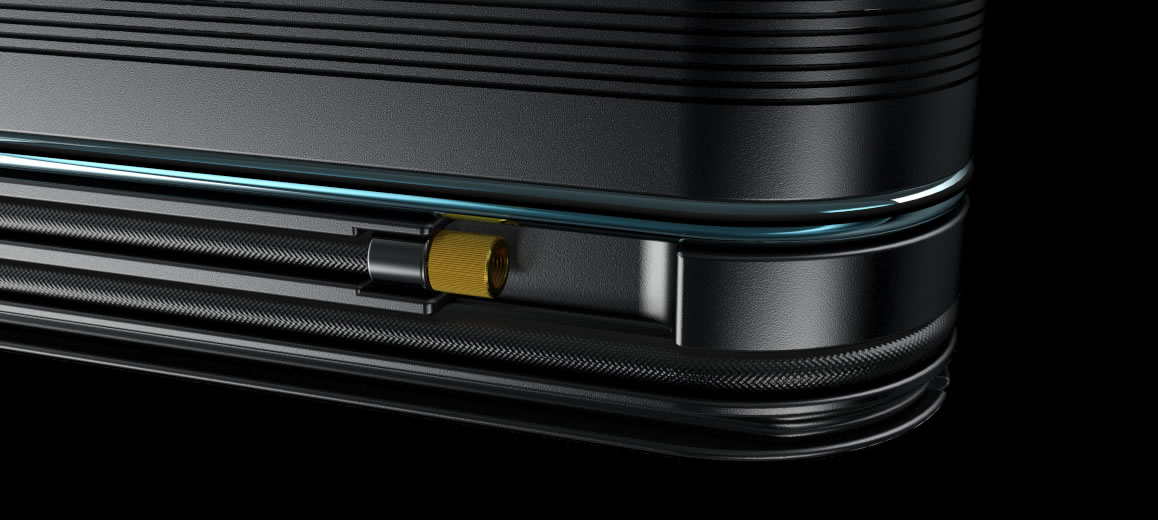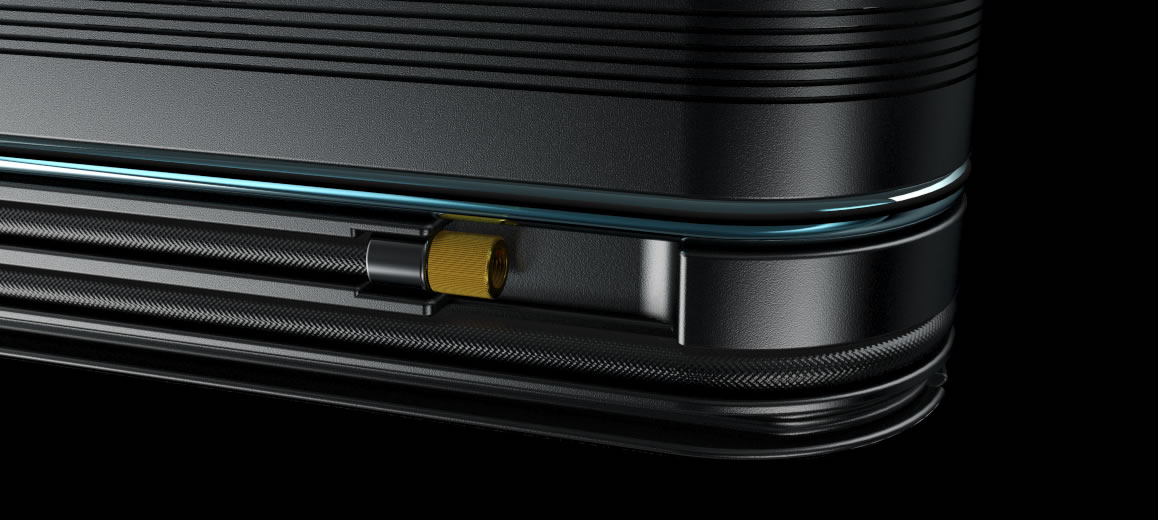 INFLATION
Fast and easy
To inflate a tire with SENSOR simply select the correct function on the control panel,
connect the hose to the tire valve and press the power button.
Heavy duty ergonomic connector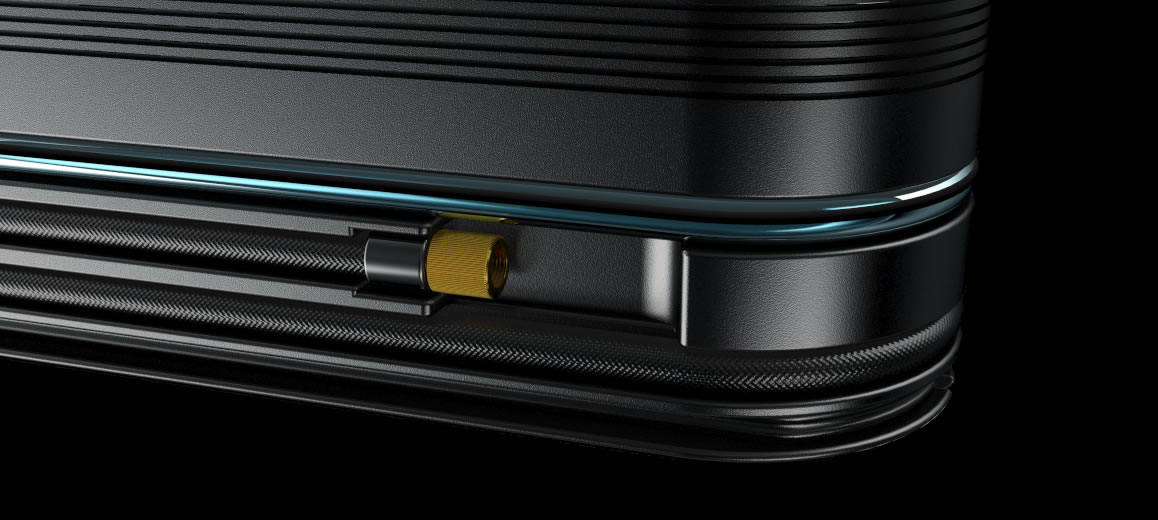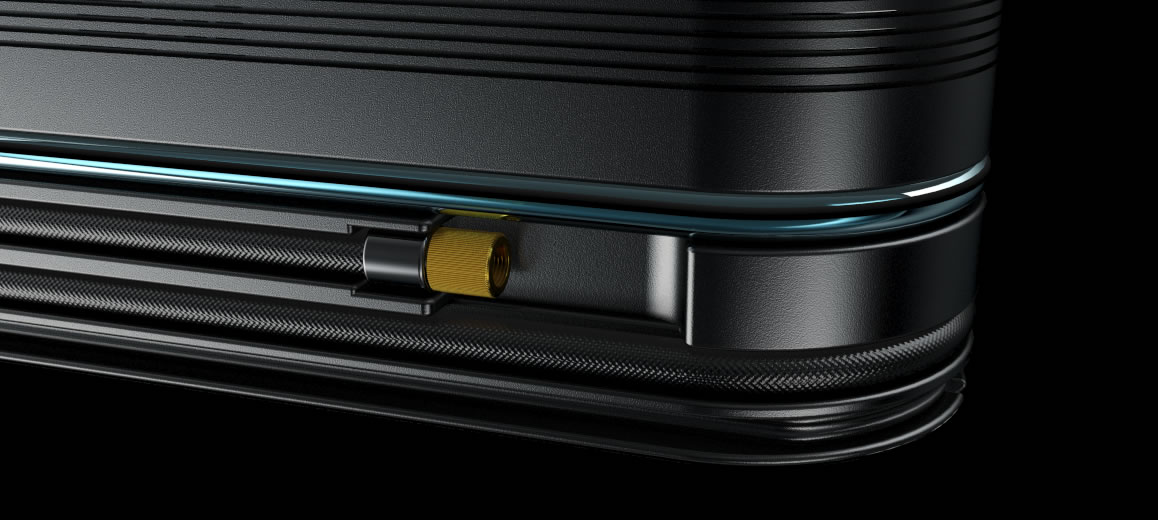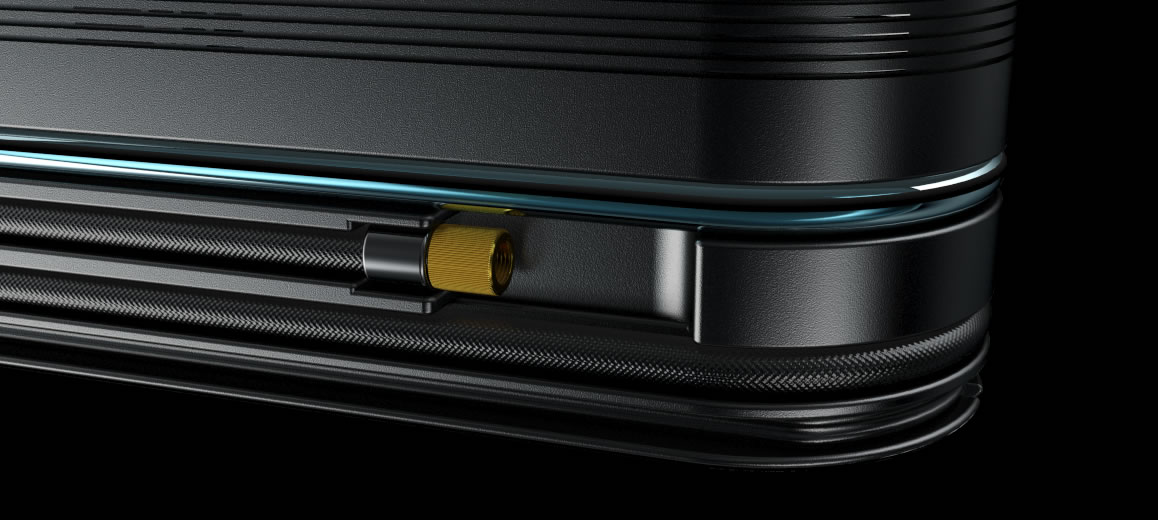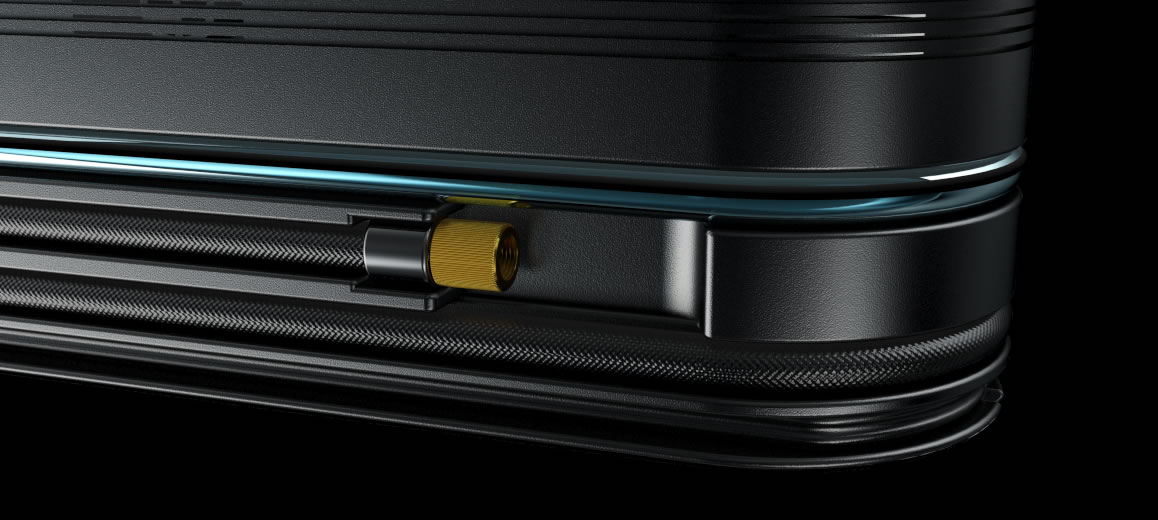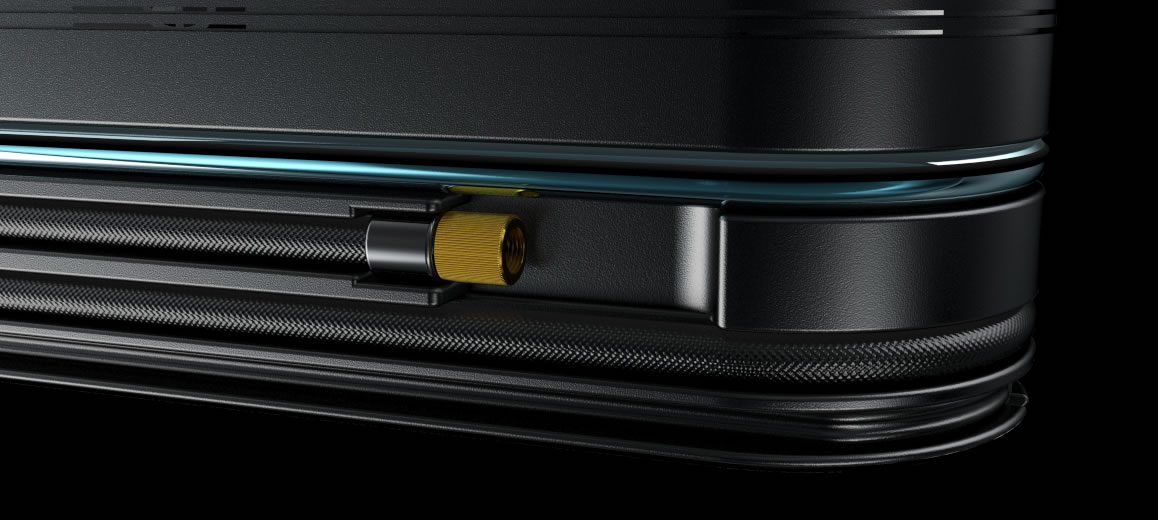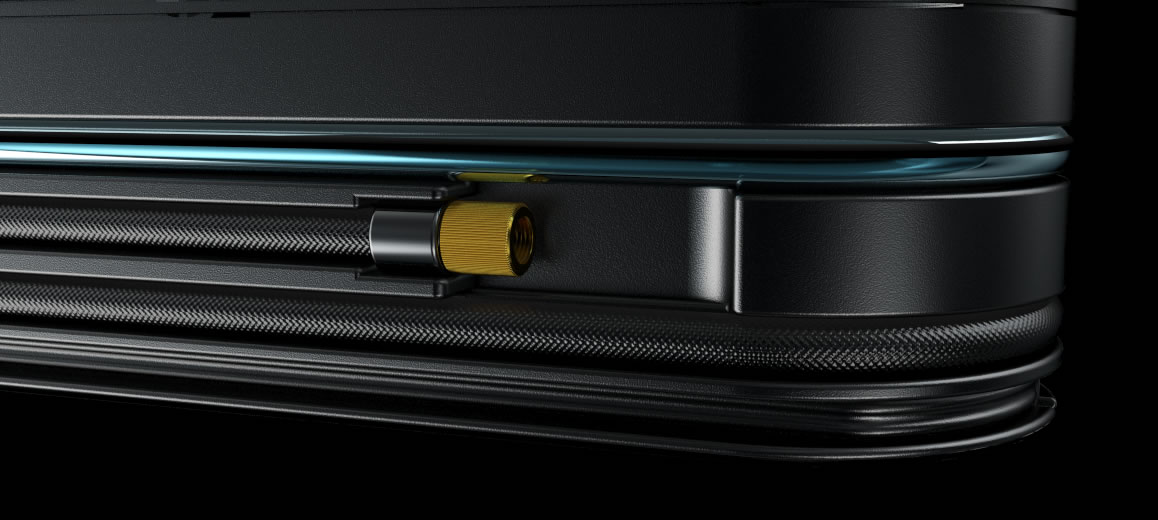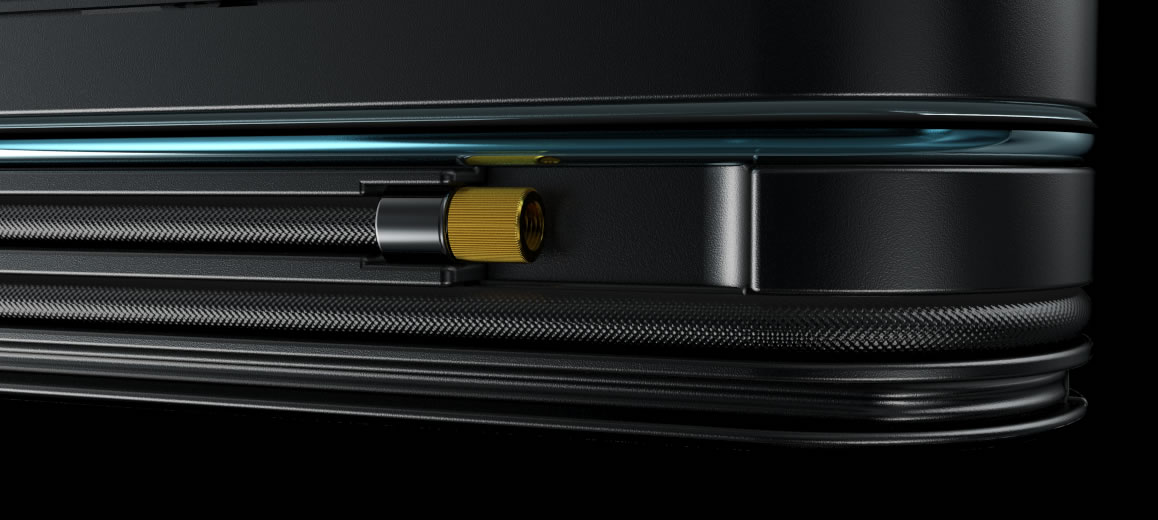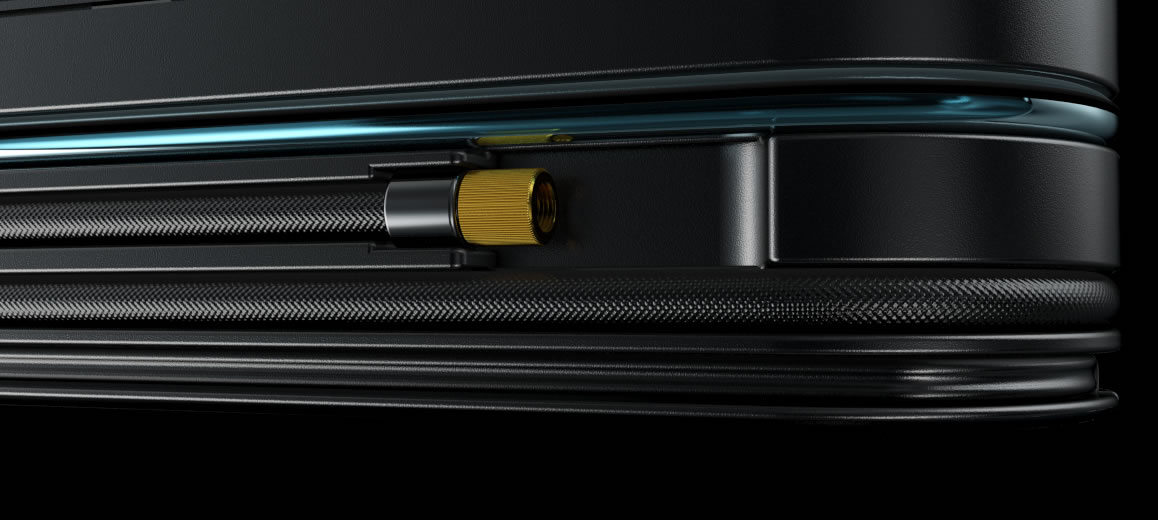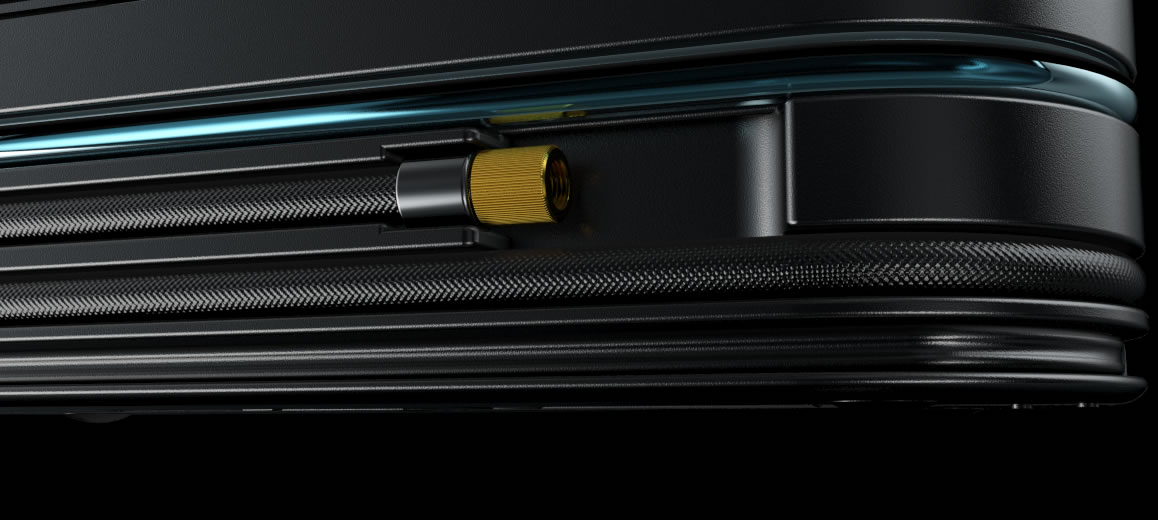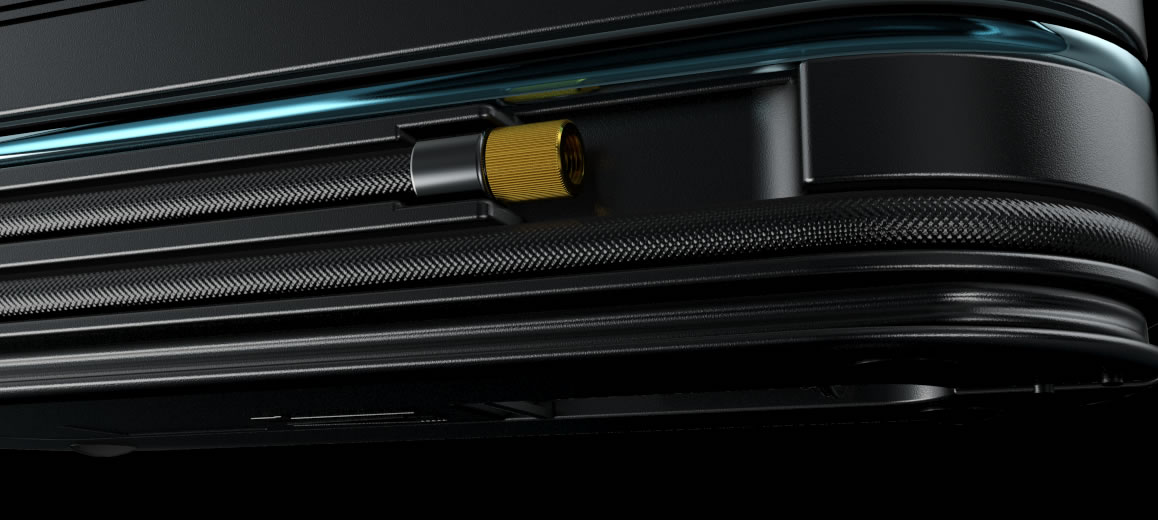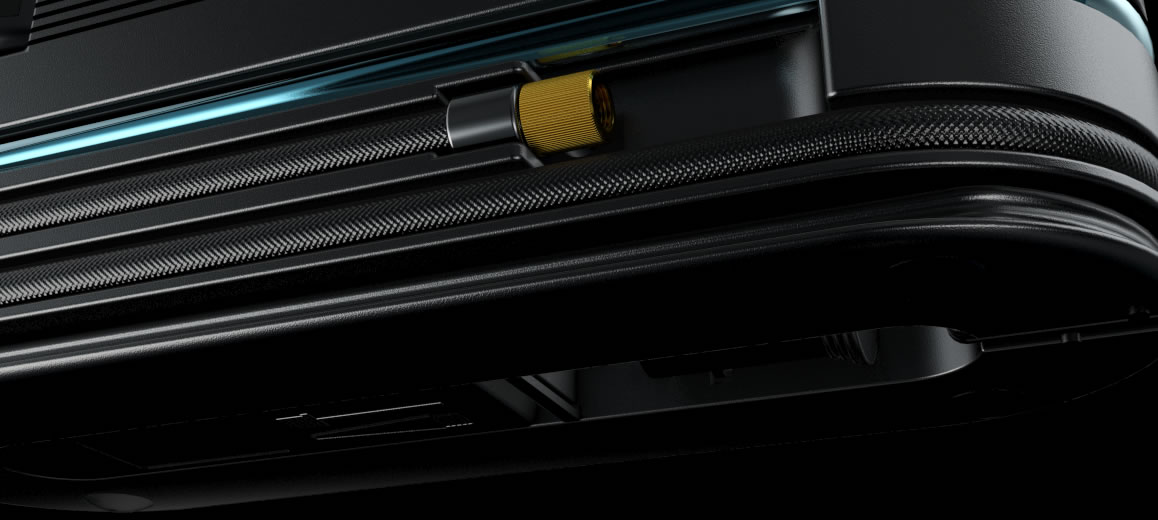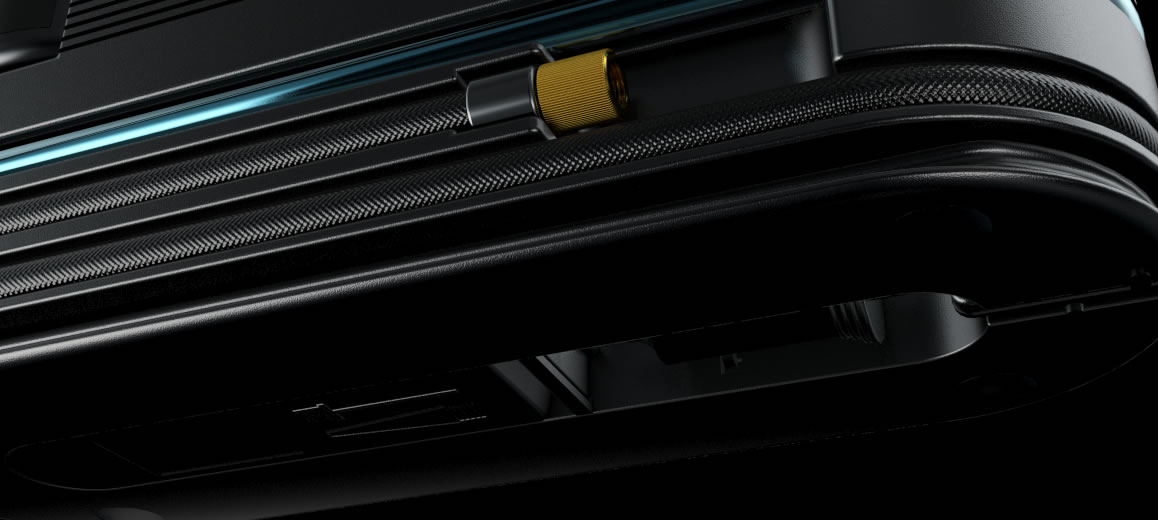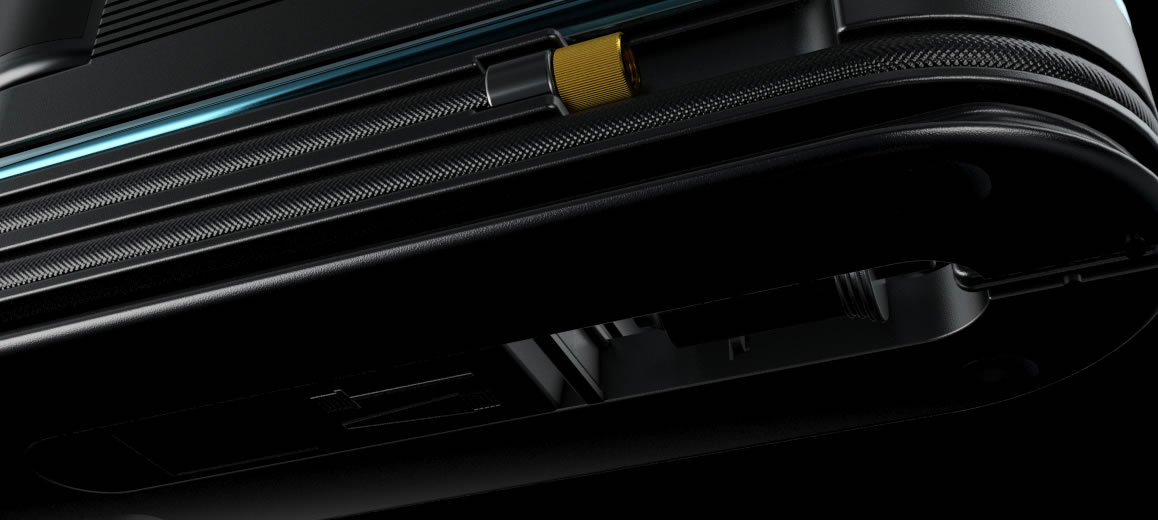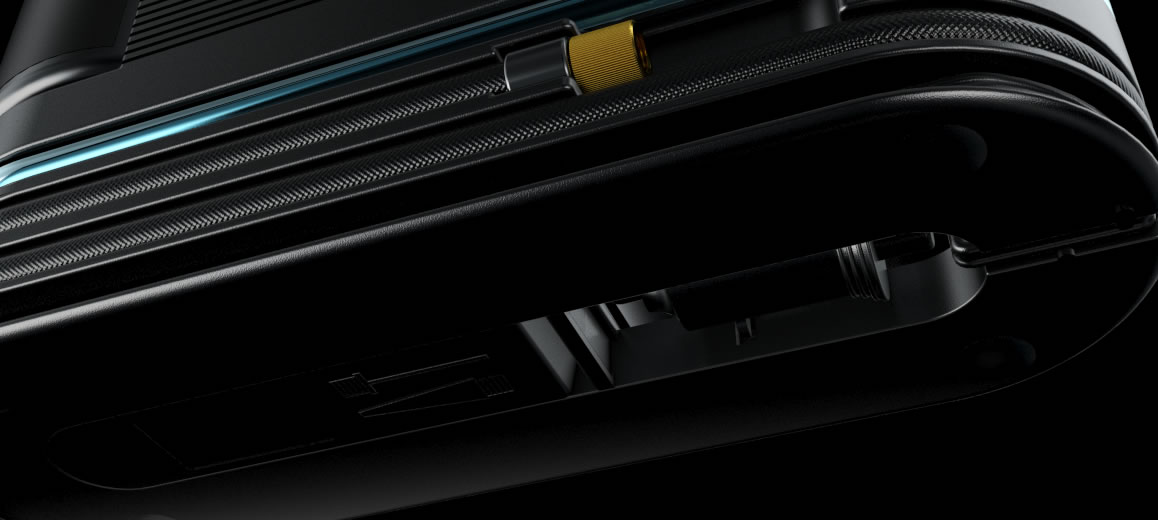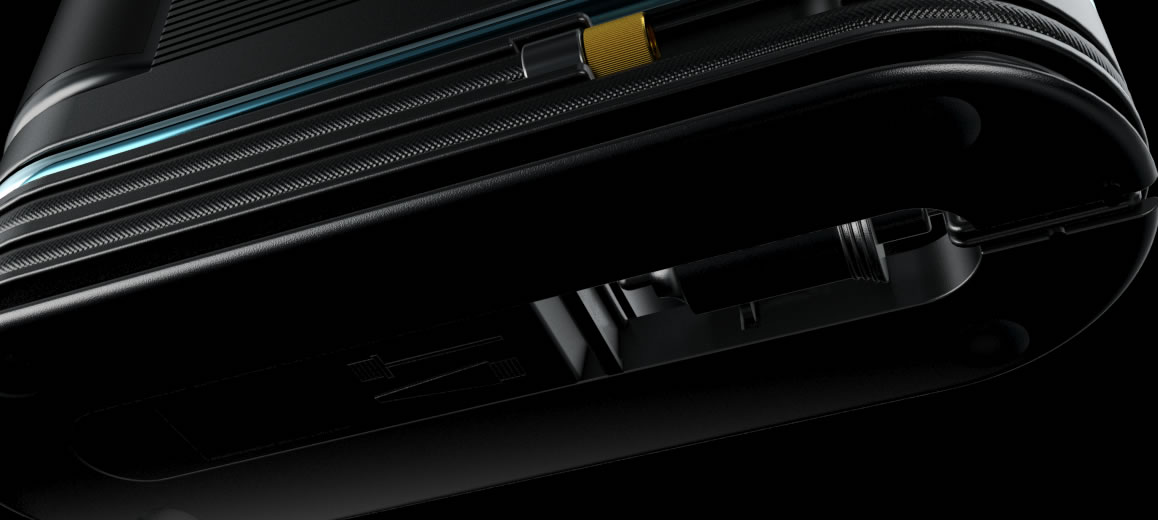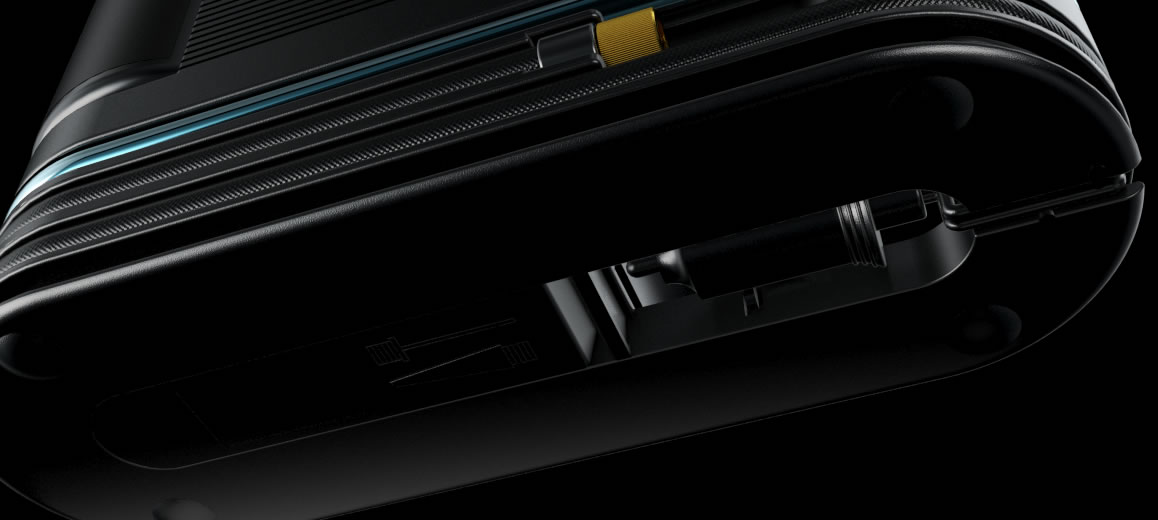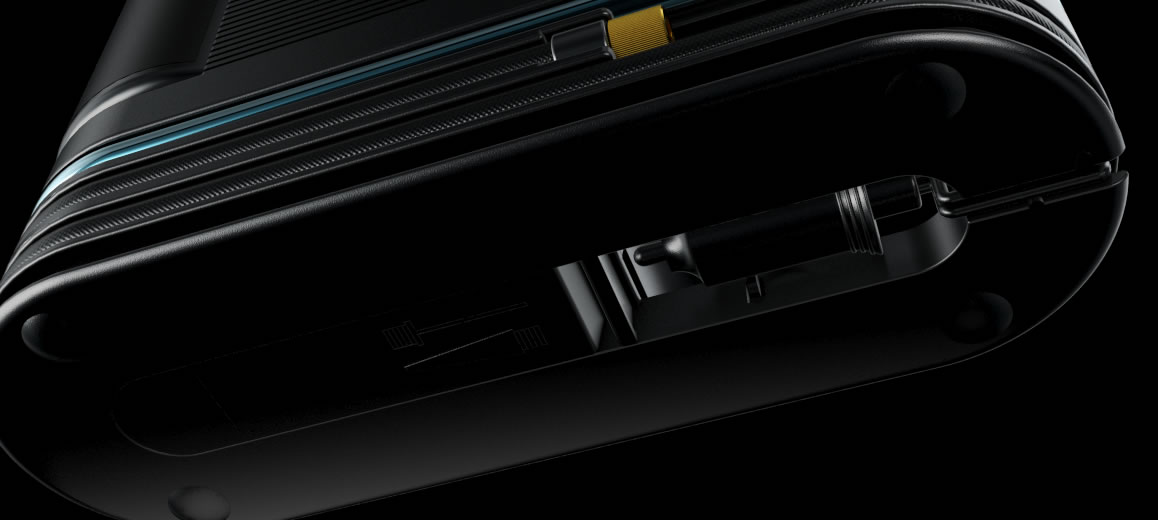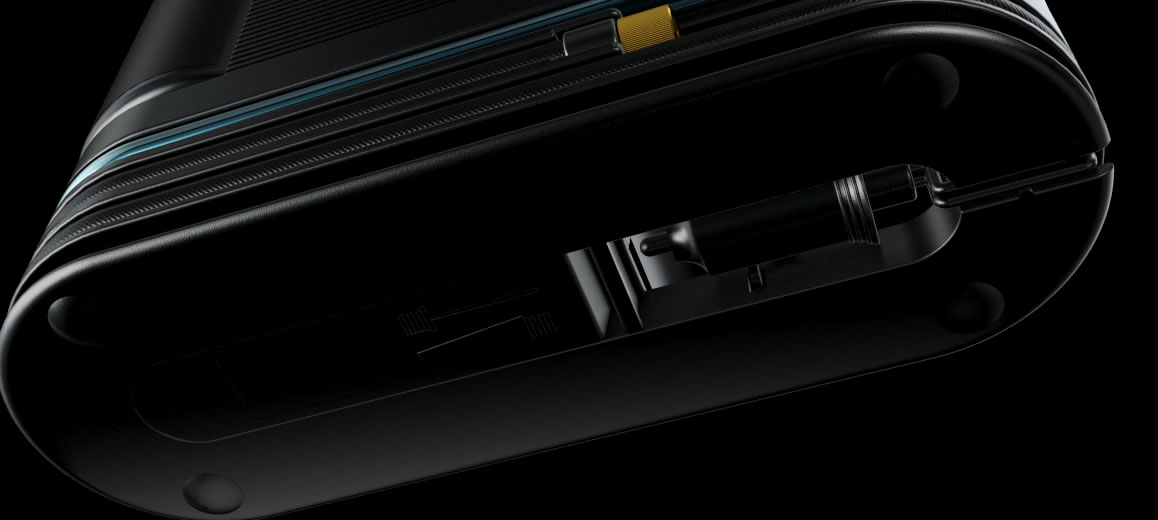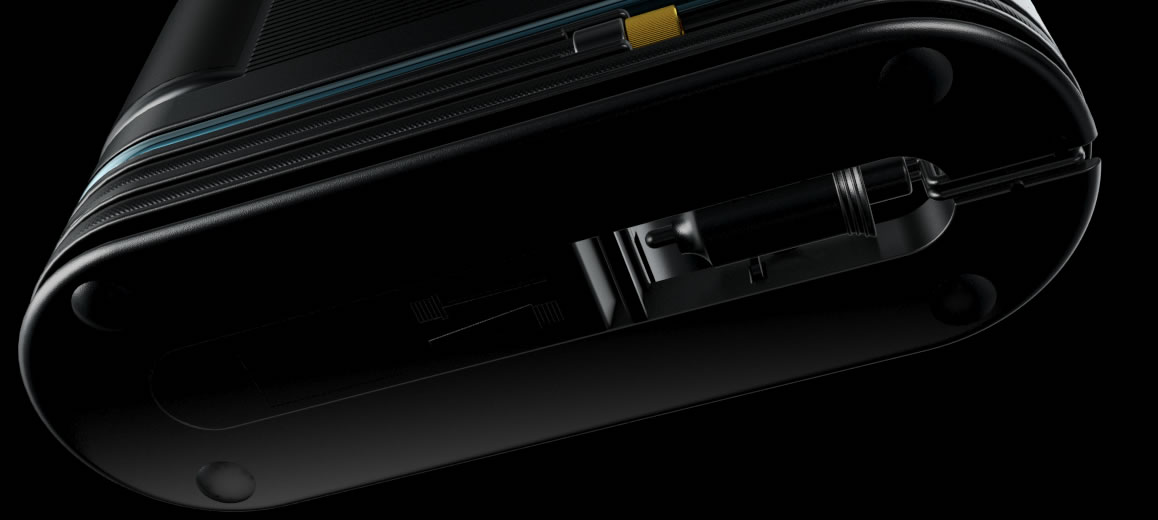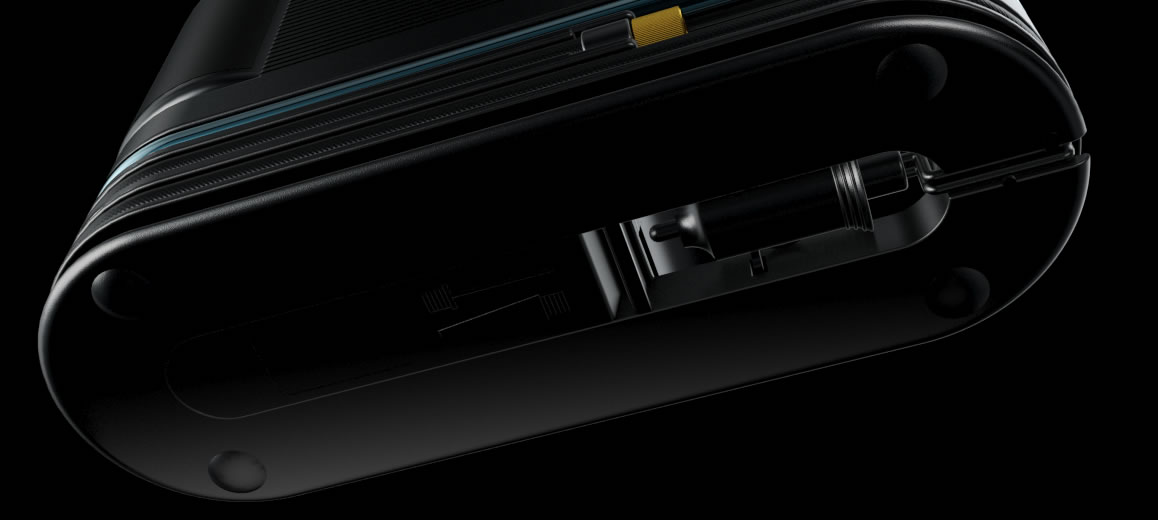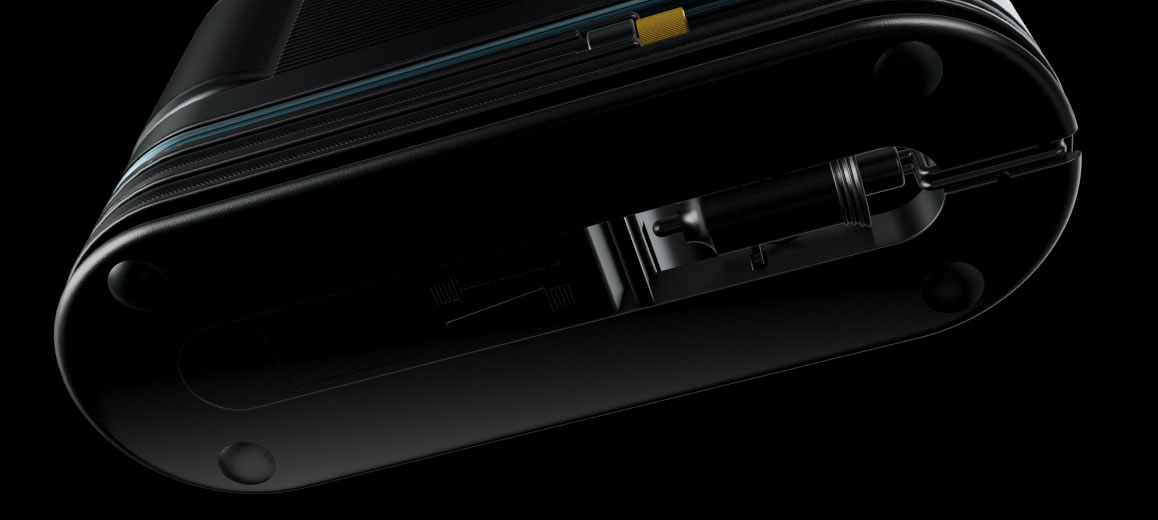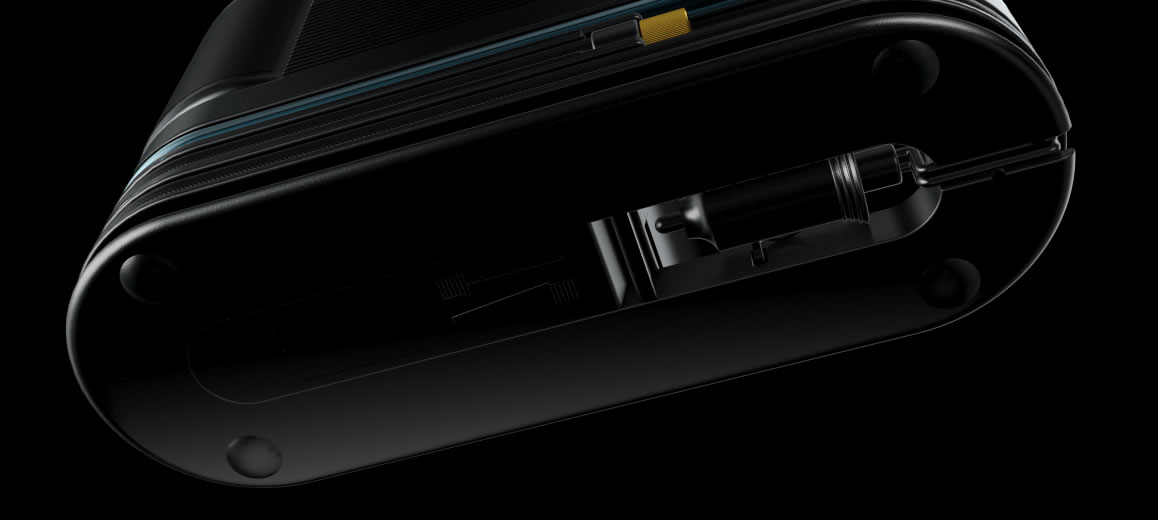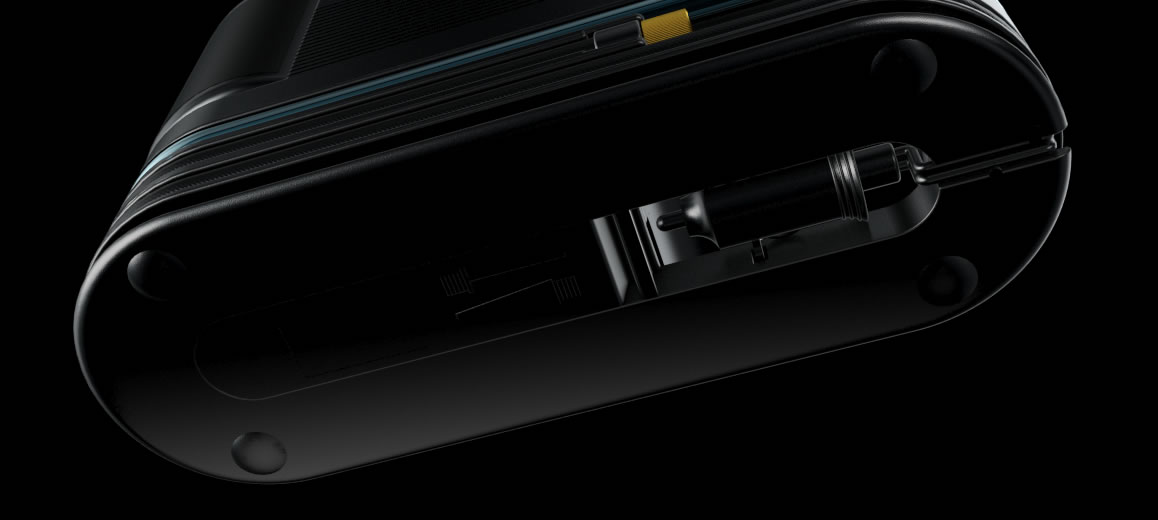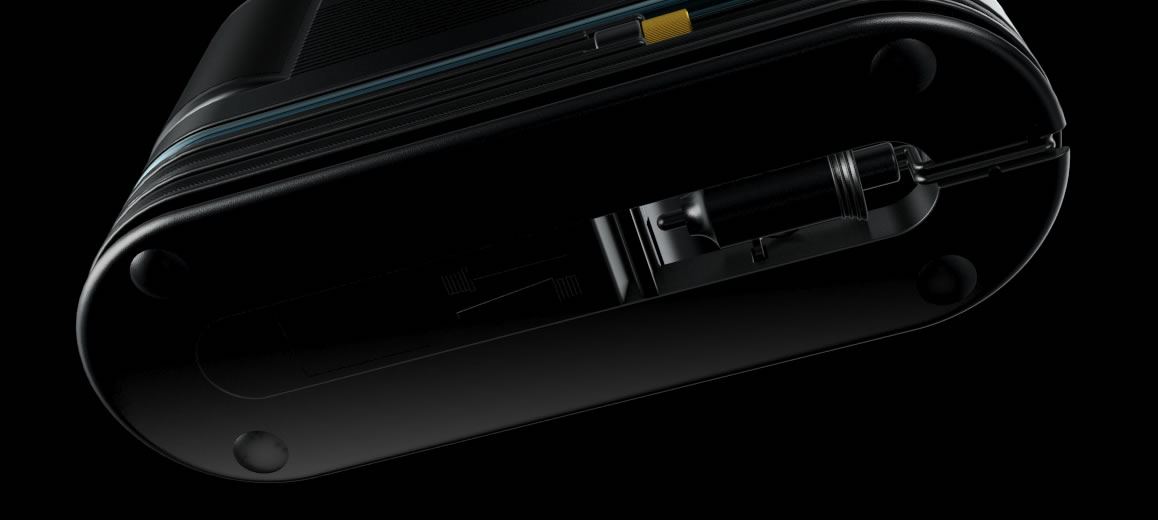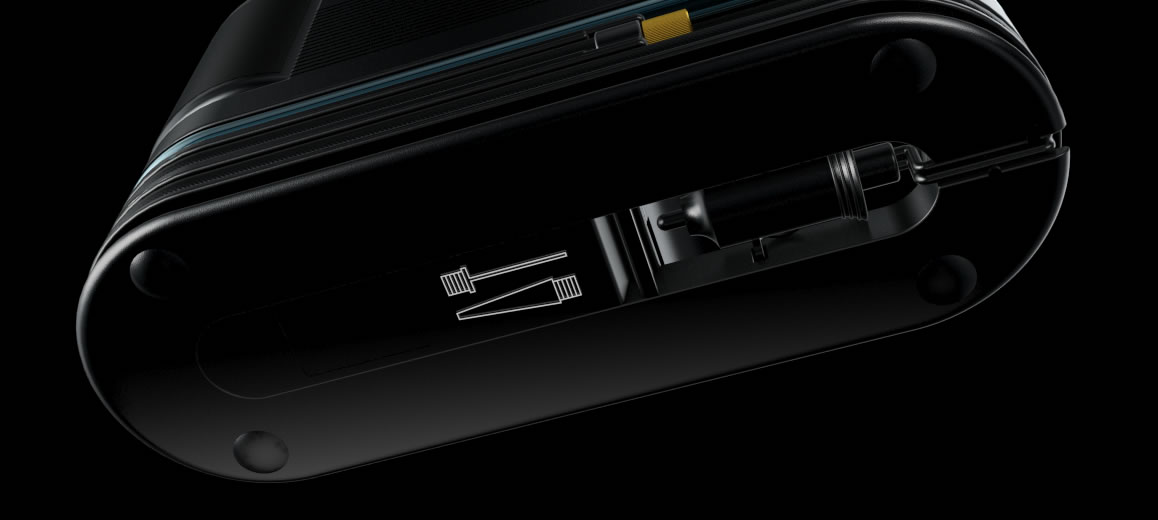 ACCESSORIES
Details that make the difference
Each SENSOR kit is equipped with adapters for the inflation of bicycle tires, balls, air mattresses, etc.
Simple and convenient.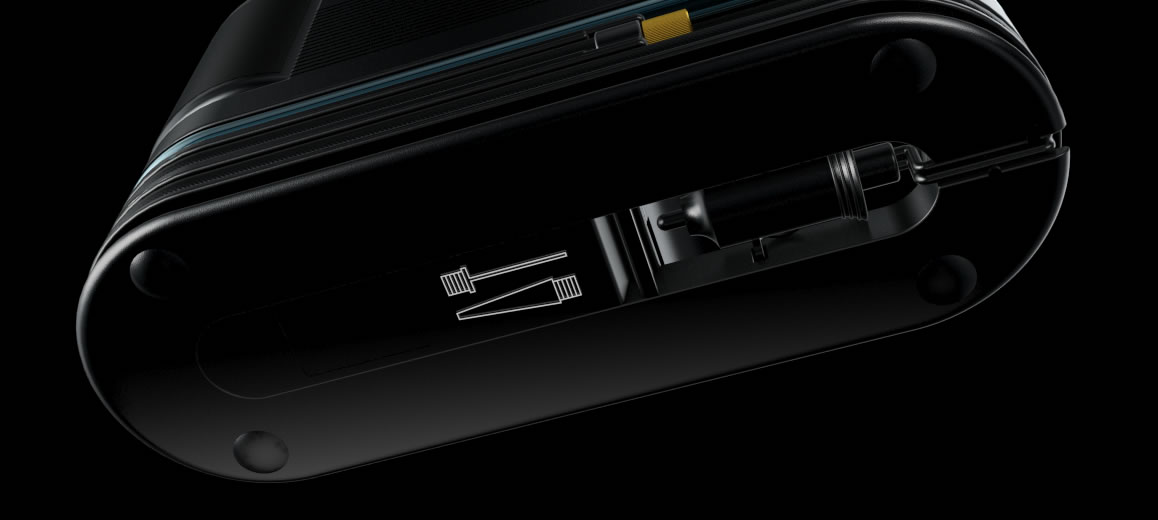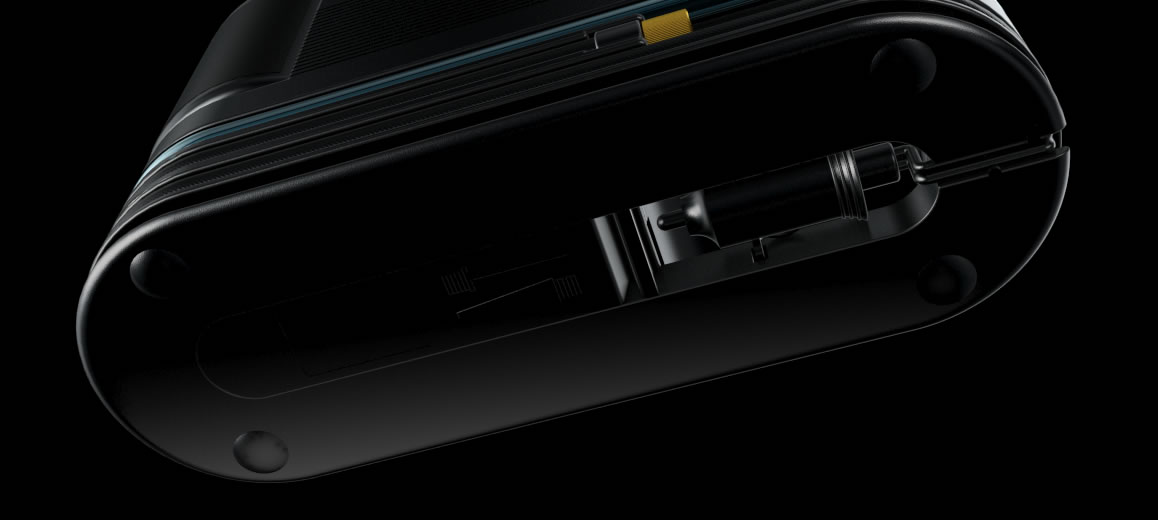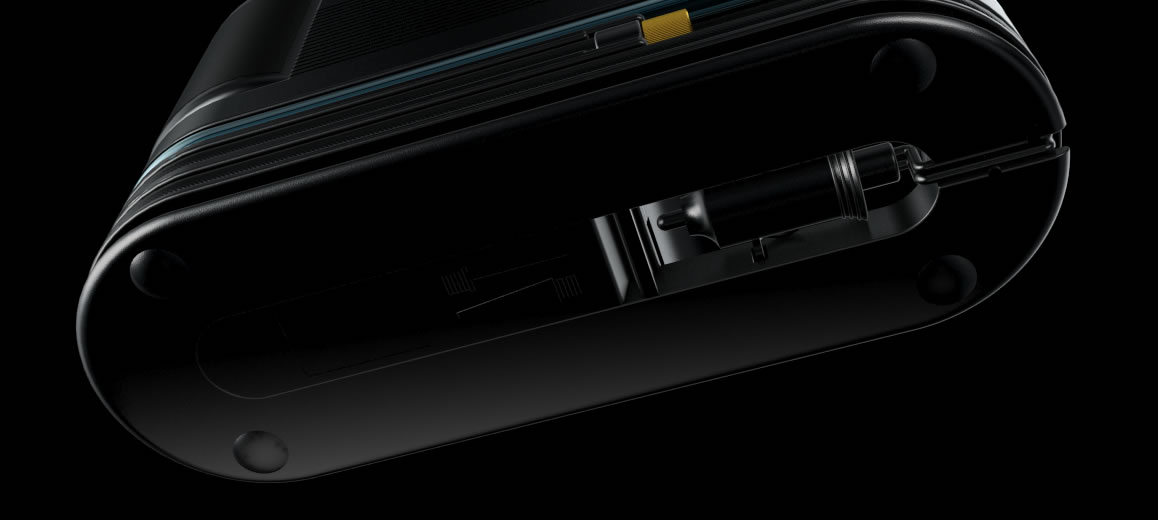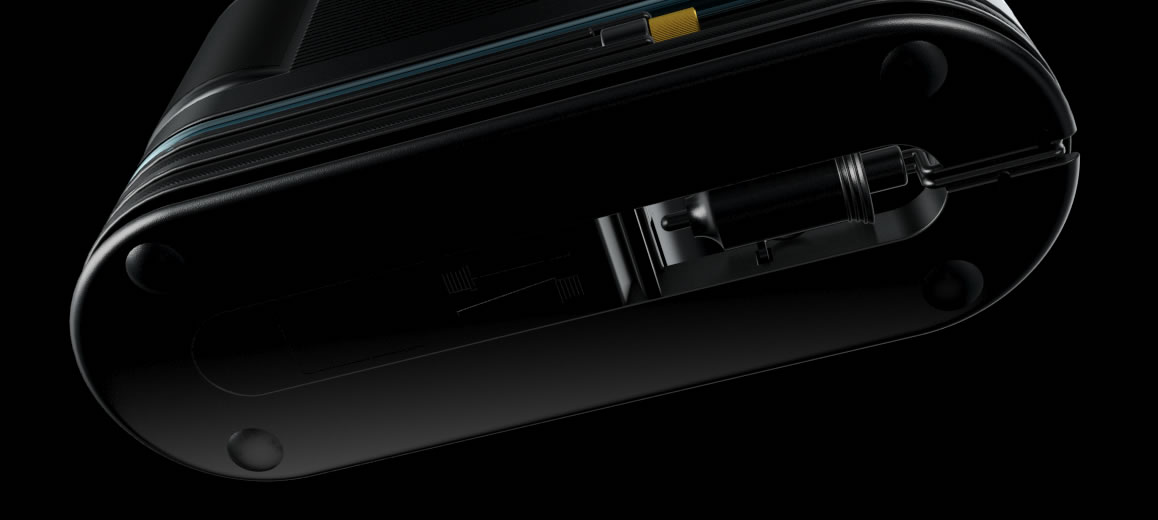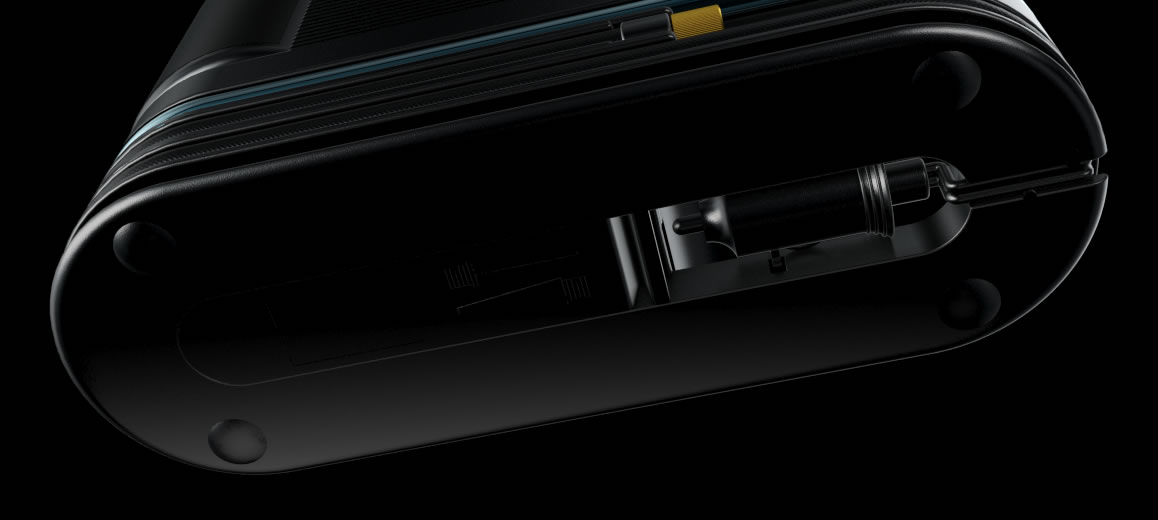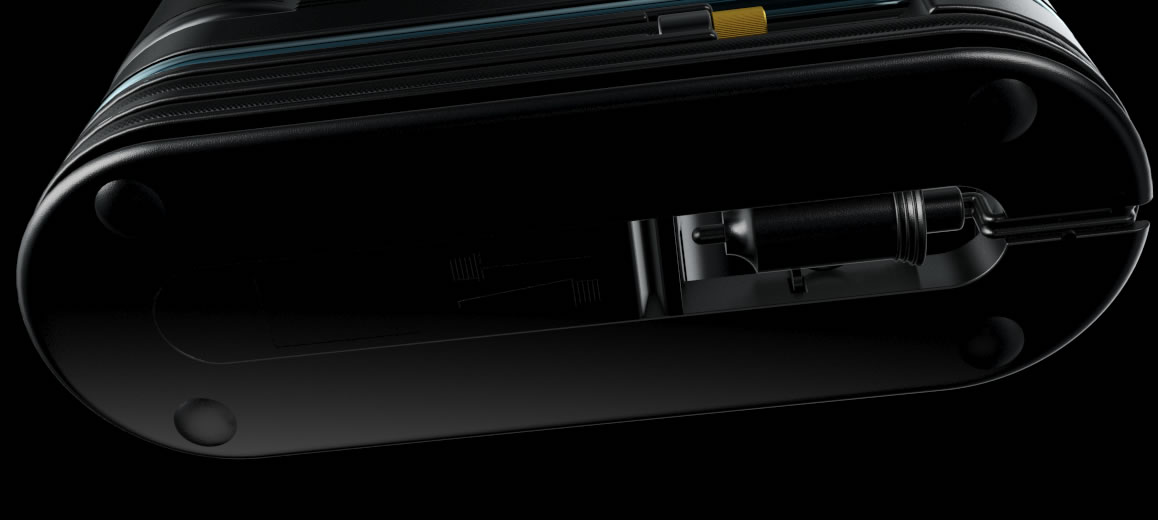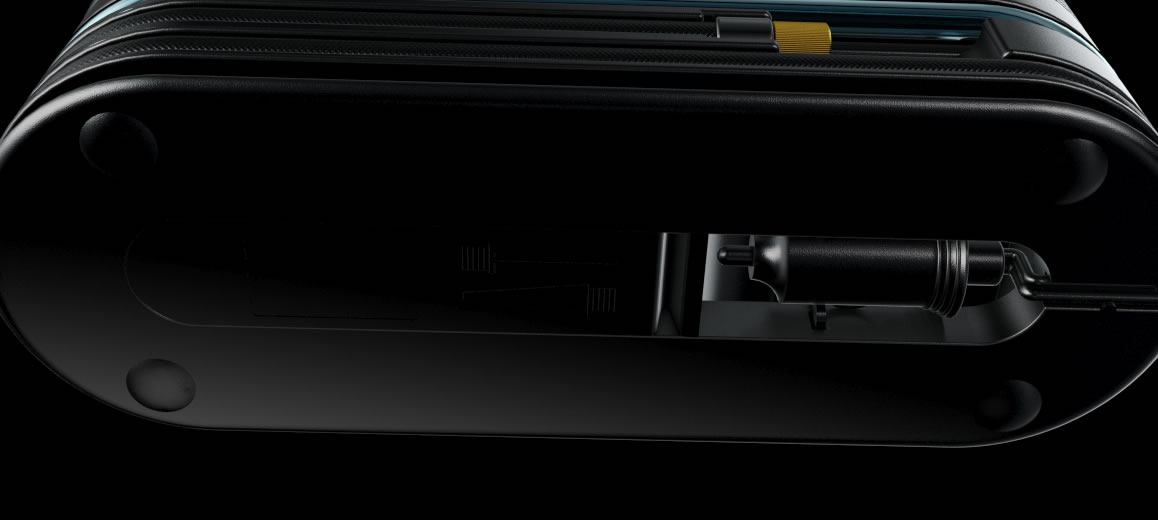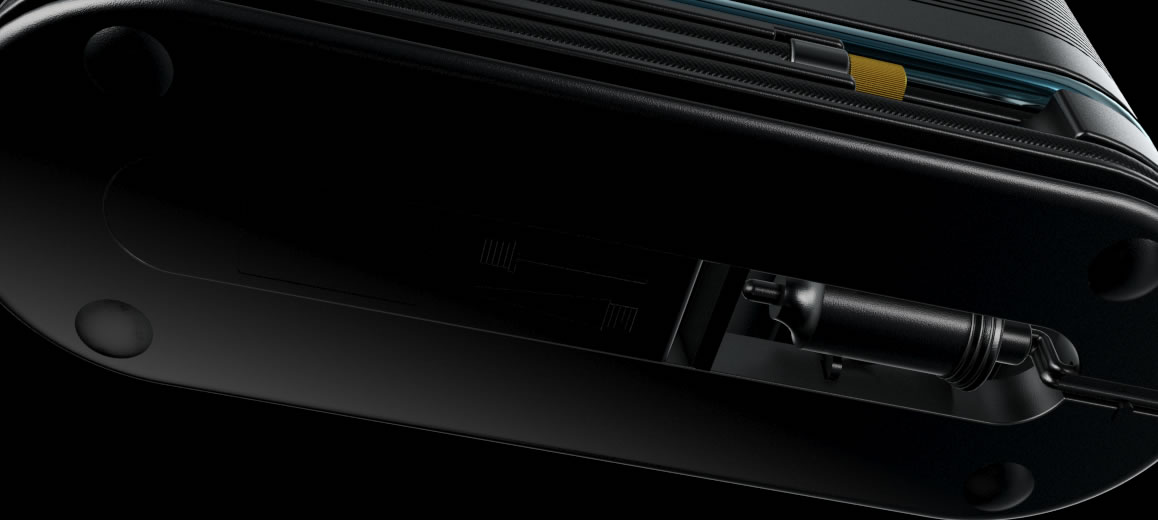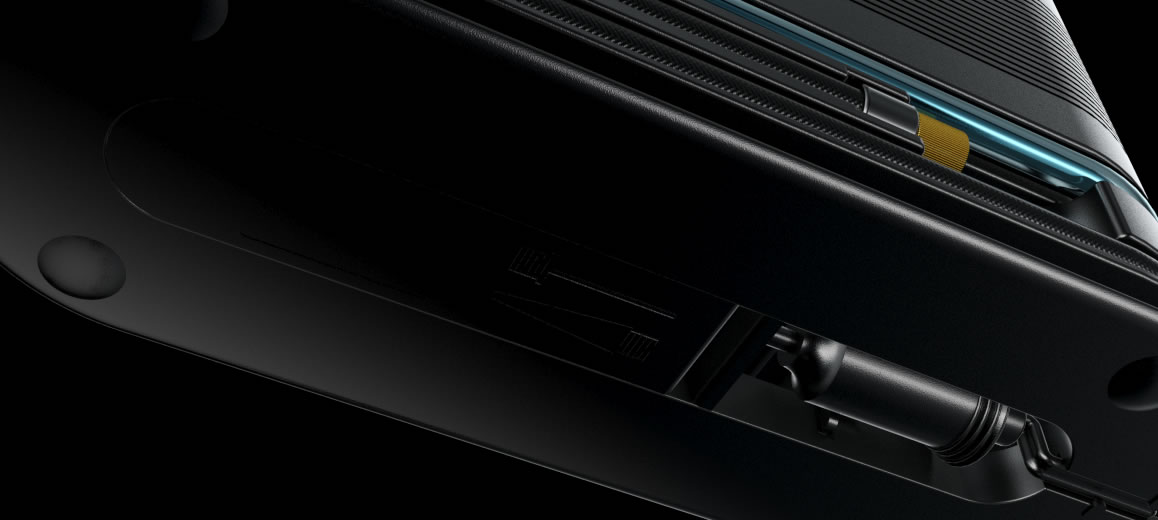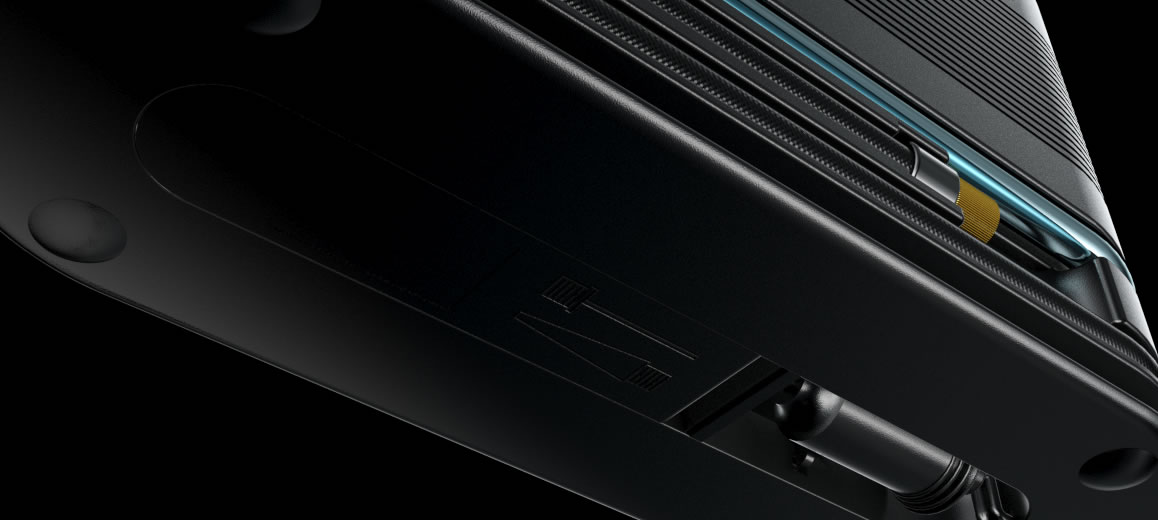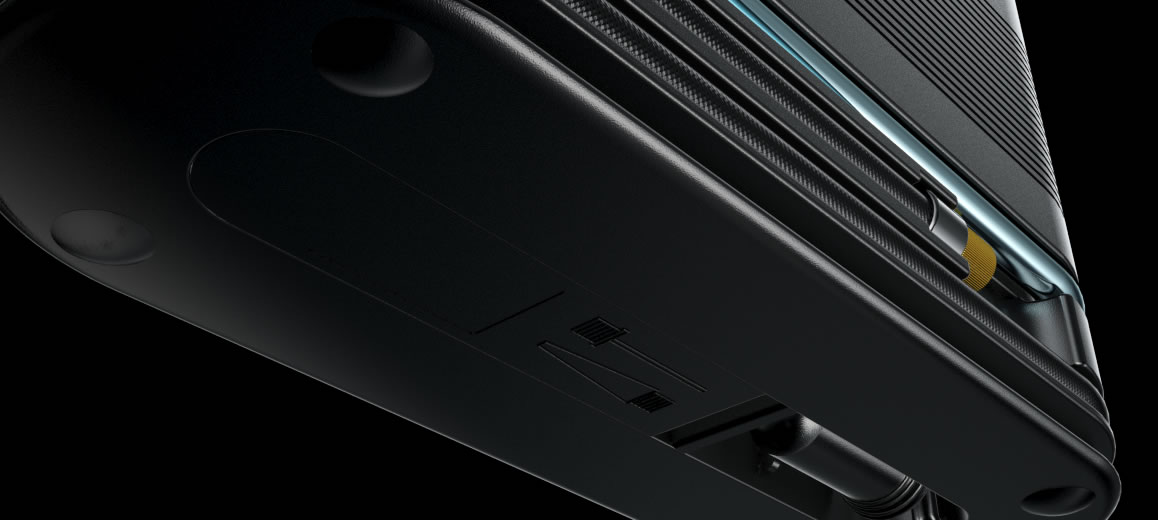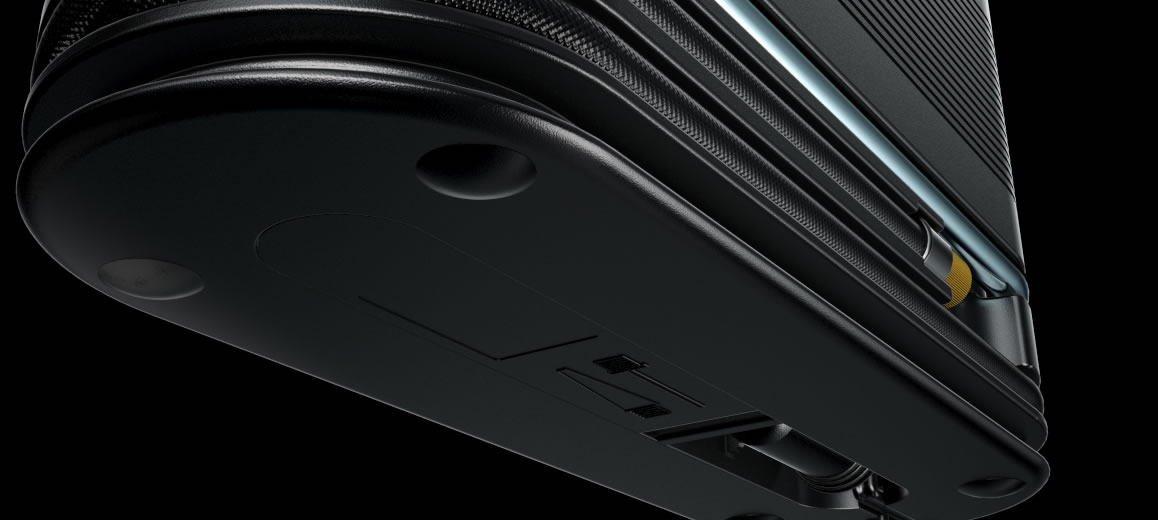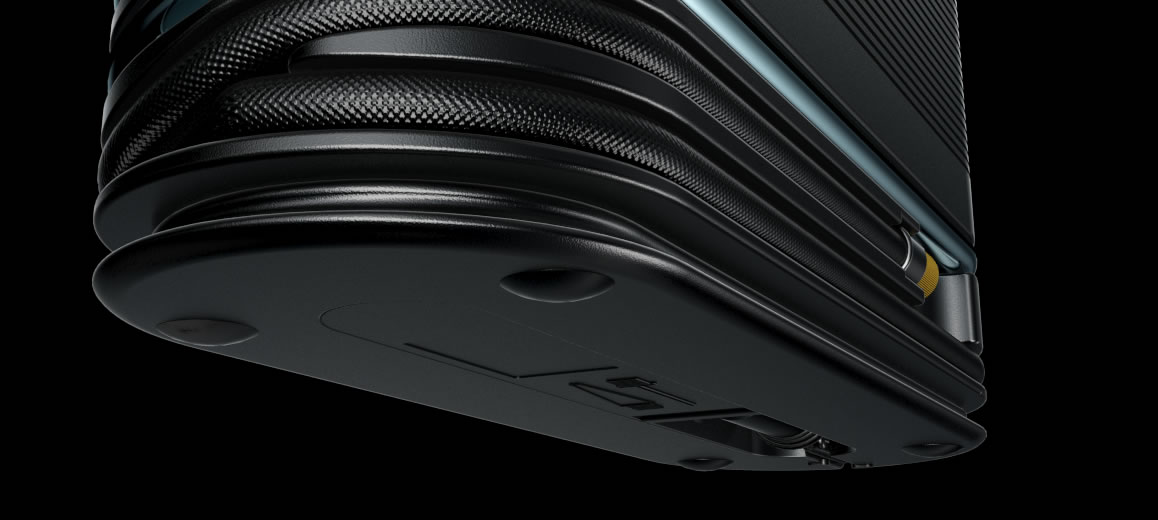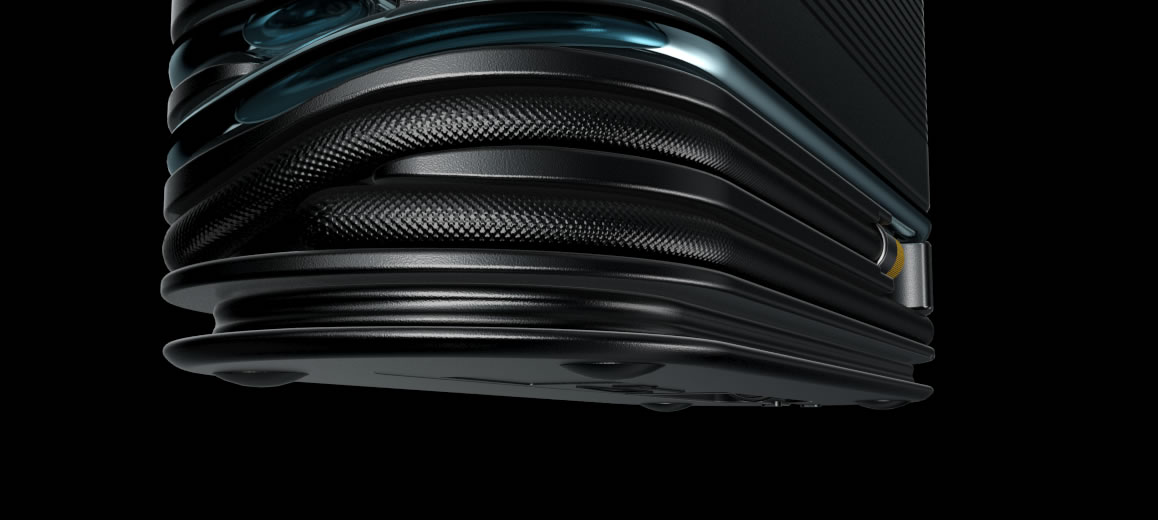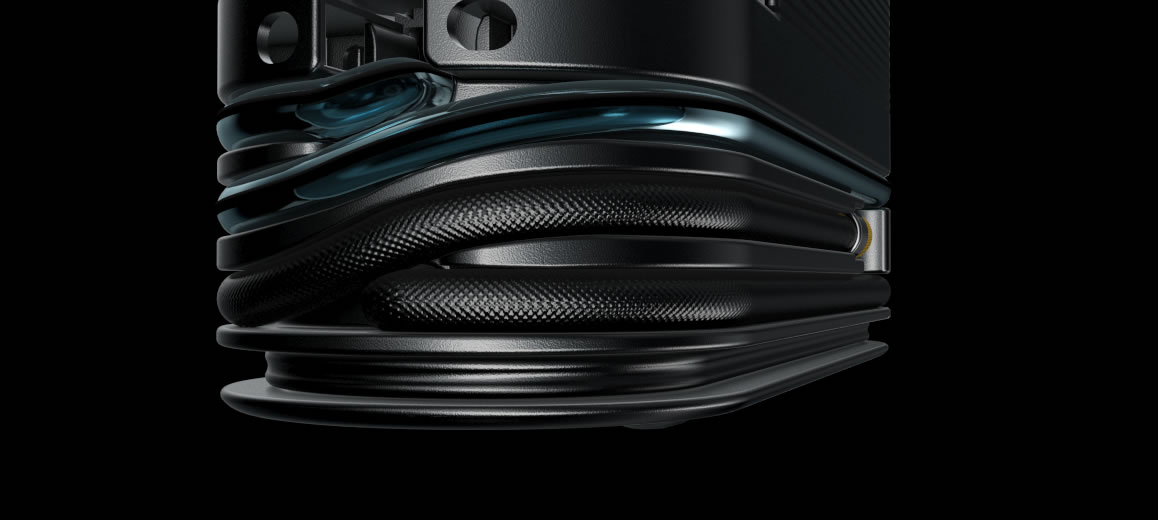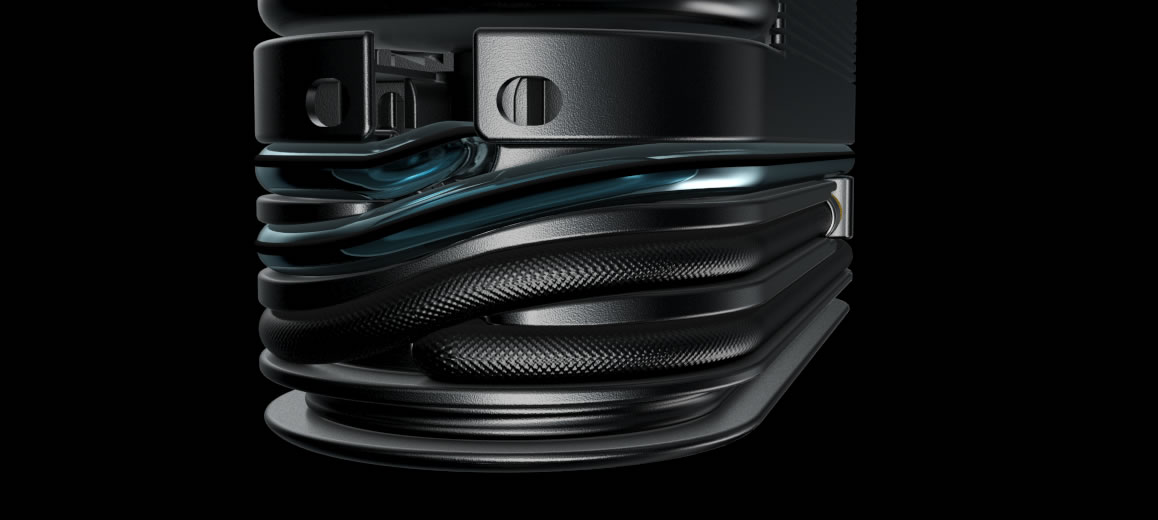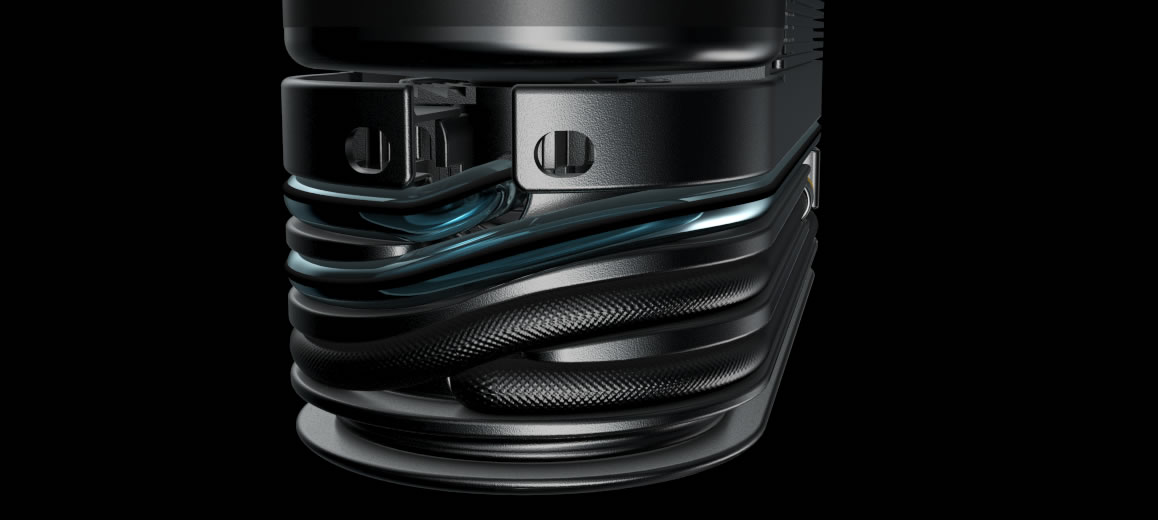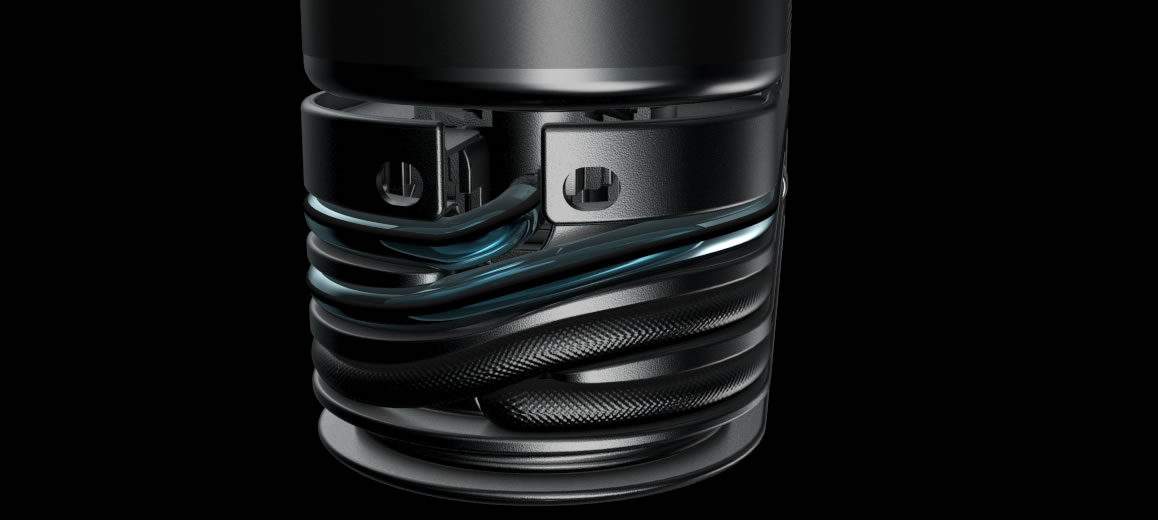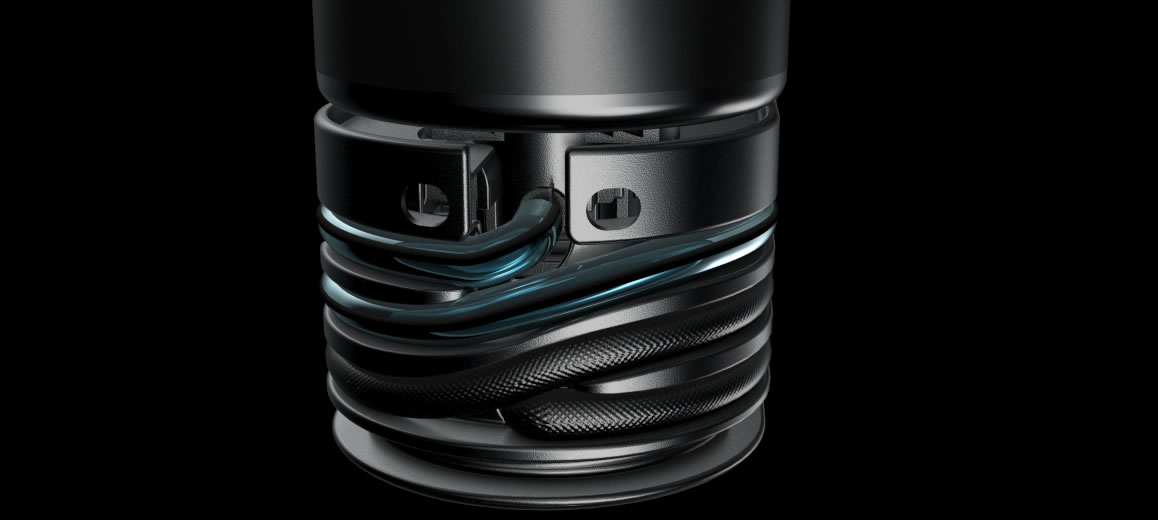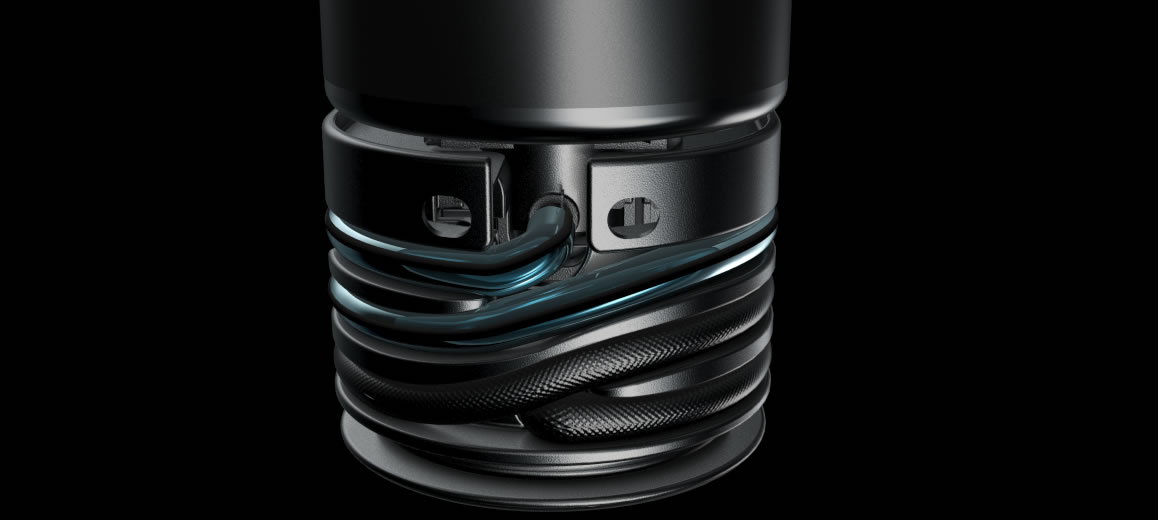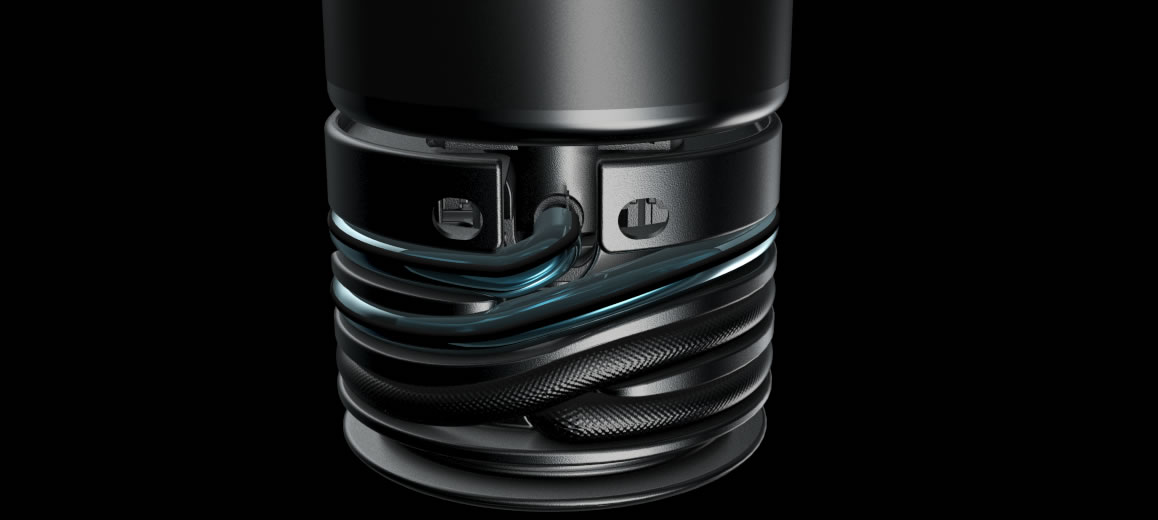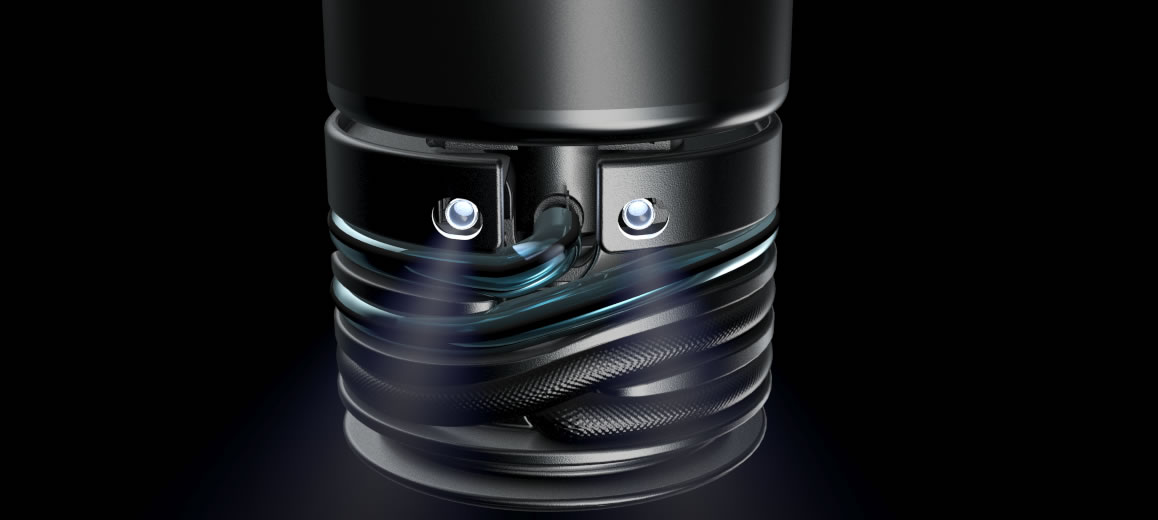 SERVICE LIGHTS
Visibility even under difficult conditions
The two LED lights positioned in the front part of the SENSOR allows maximum visibility
even in low light situations, for a repair without inconveniences.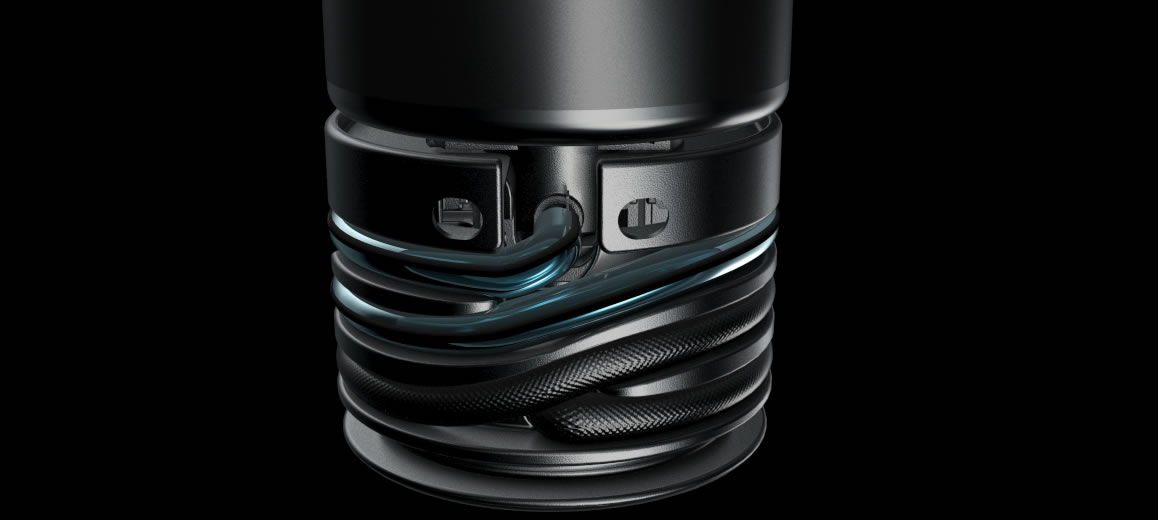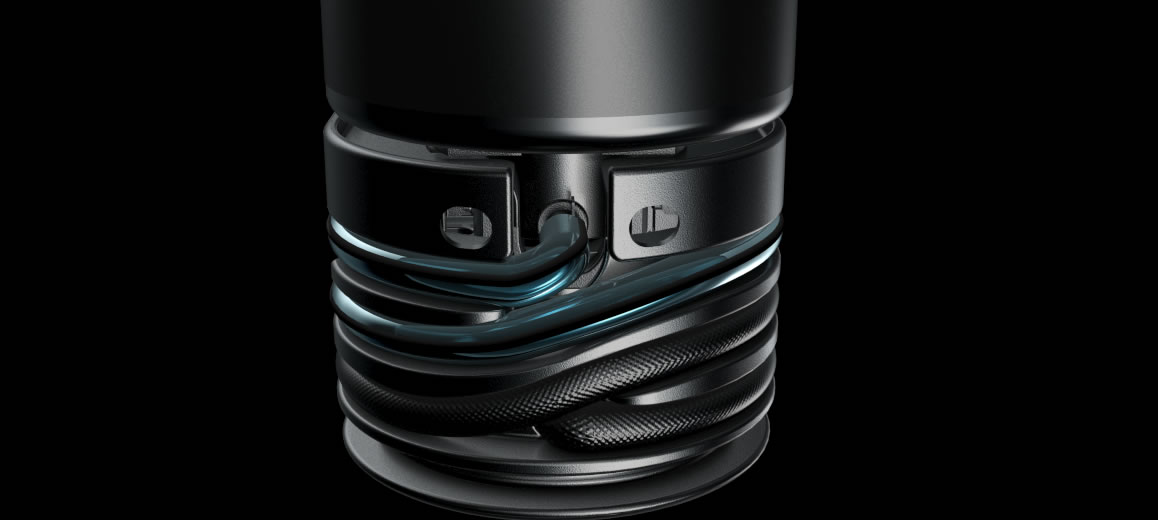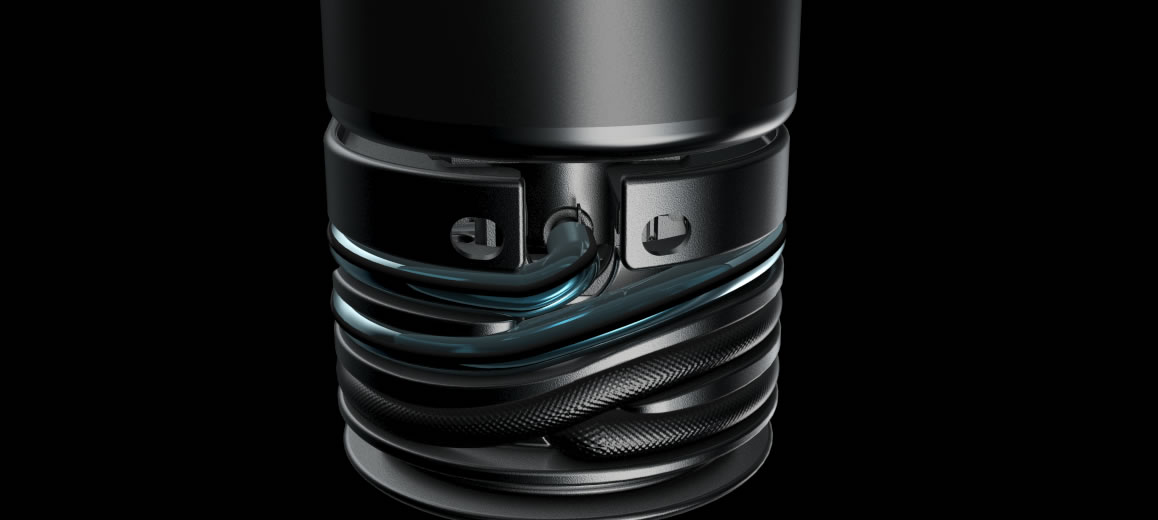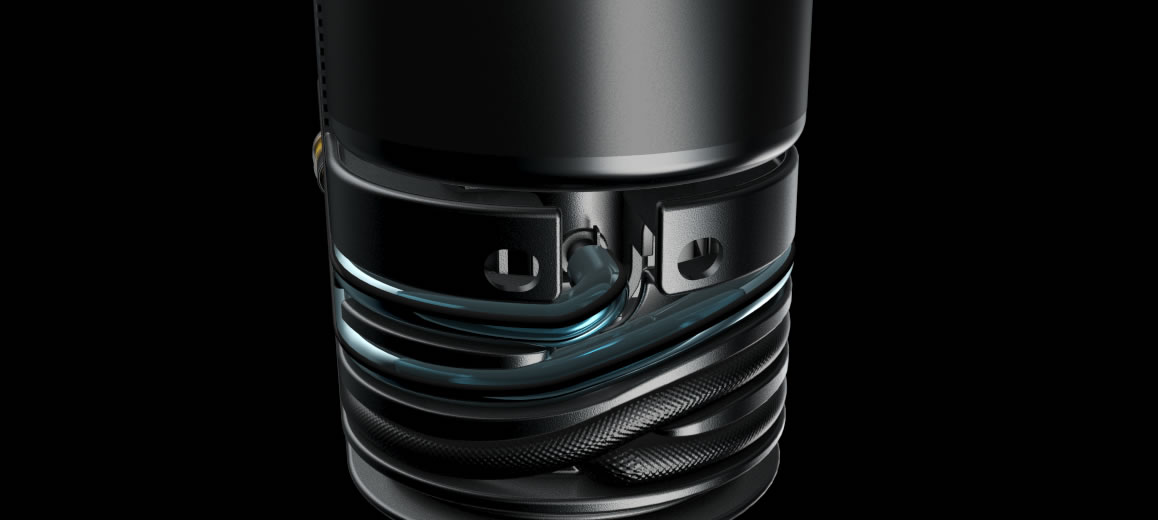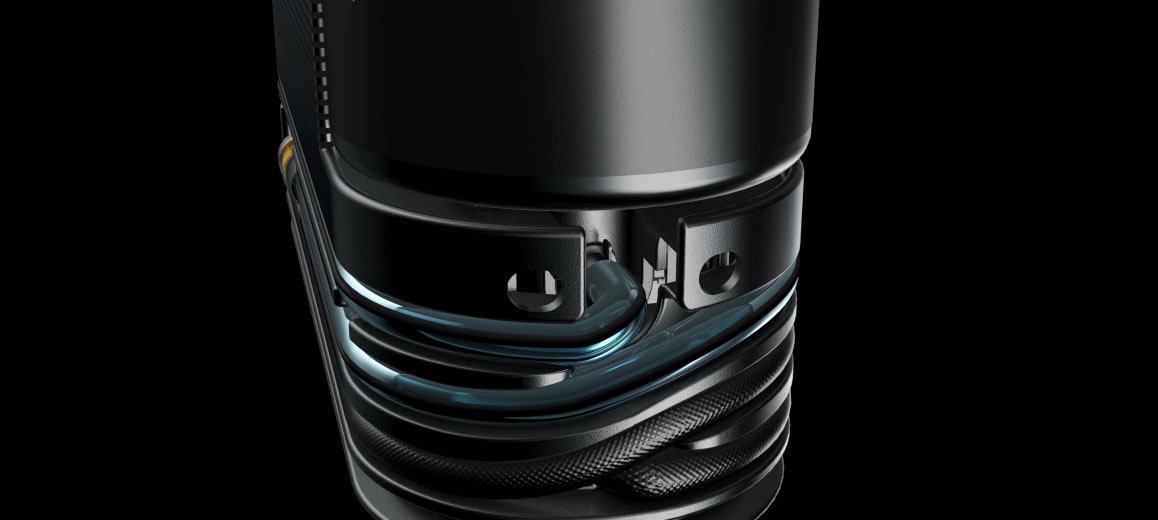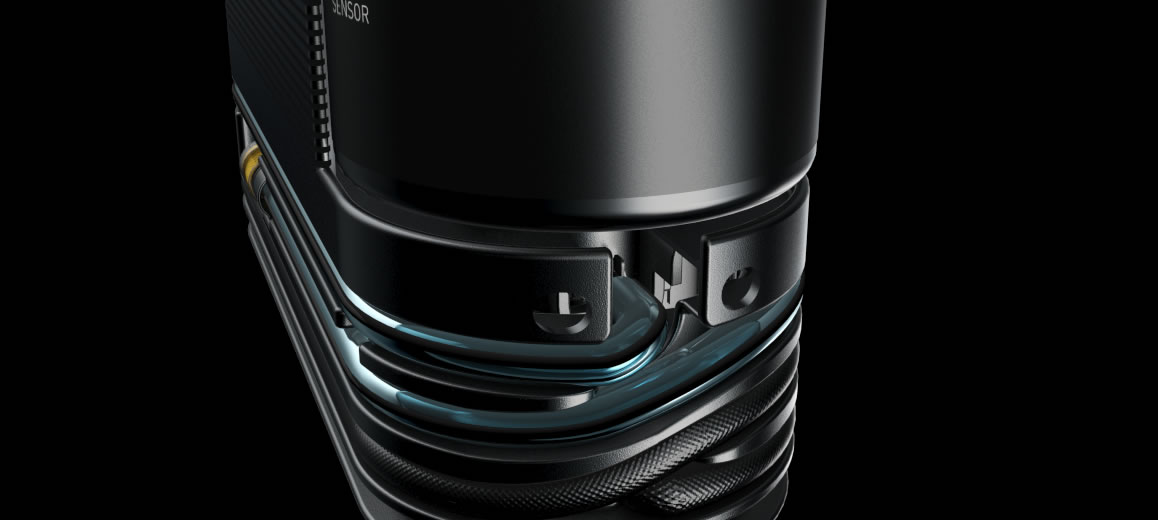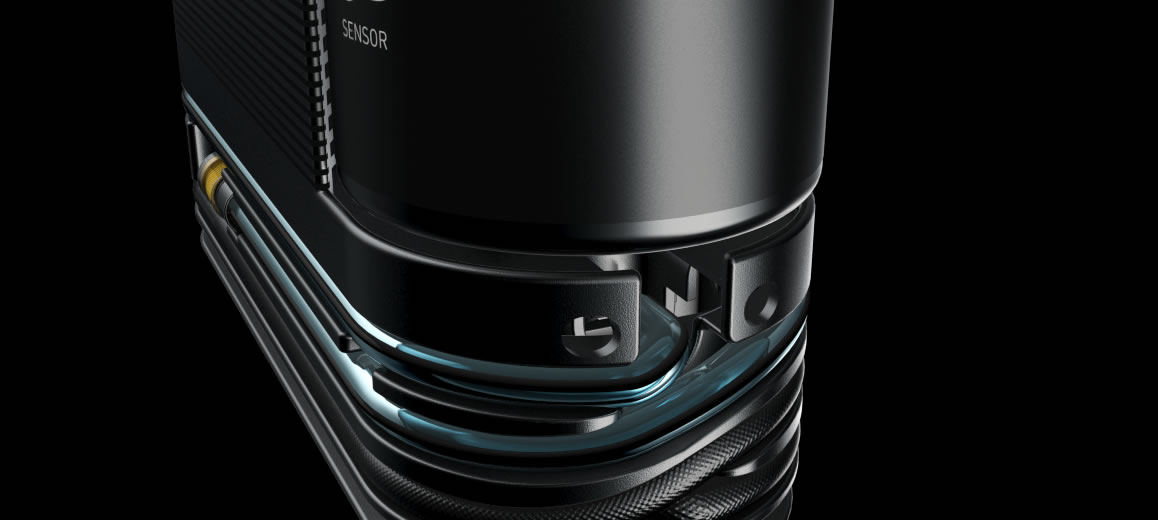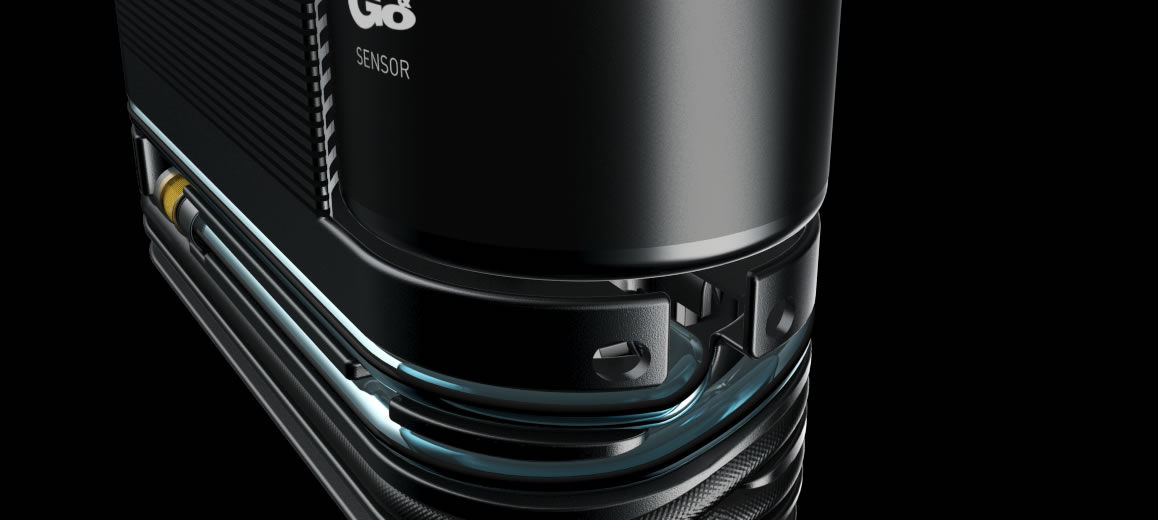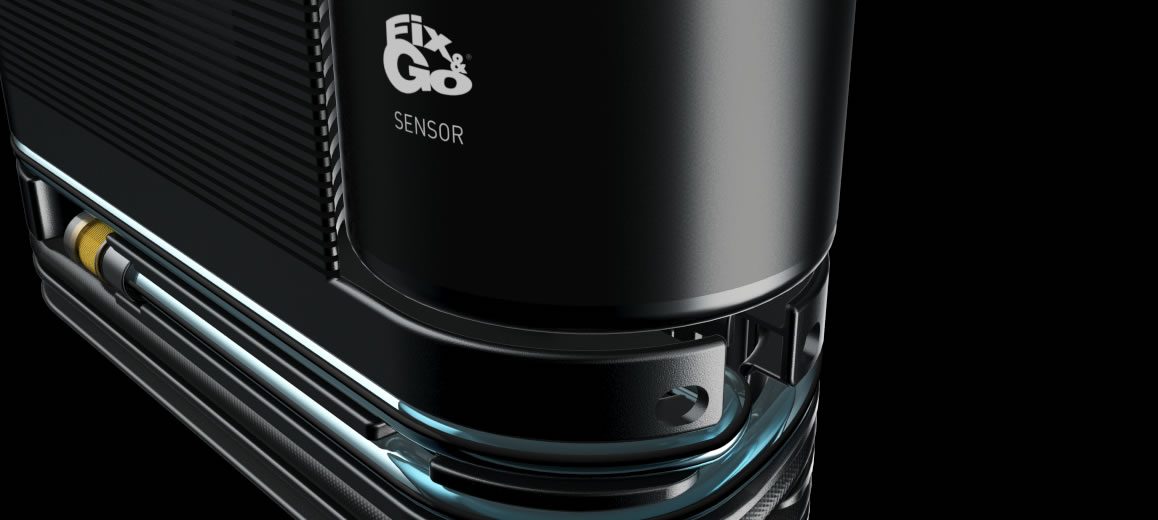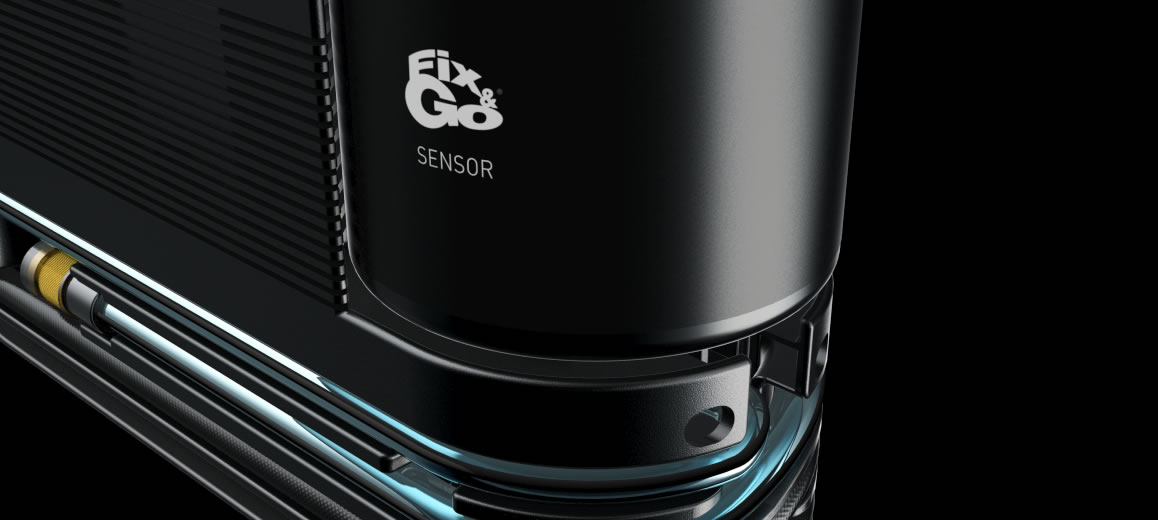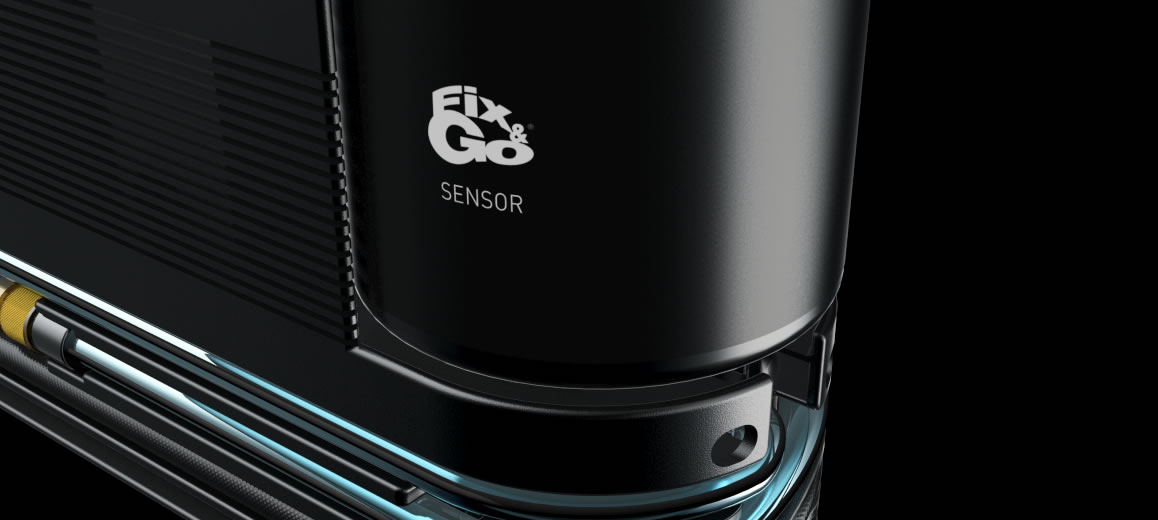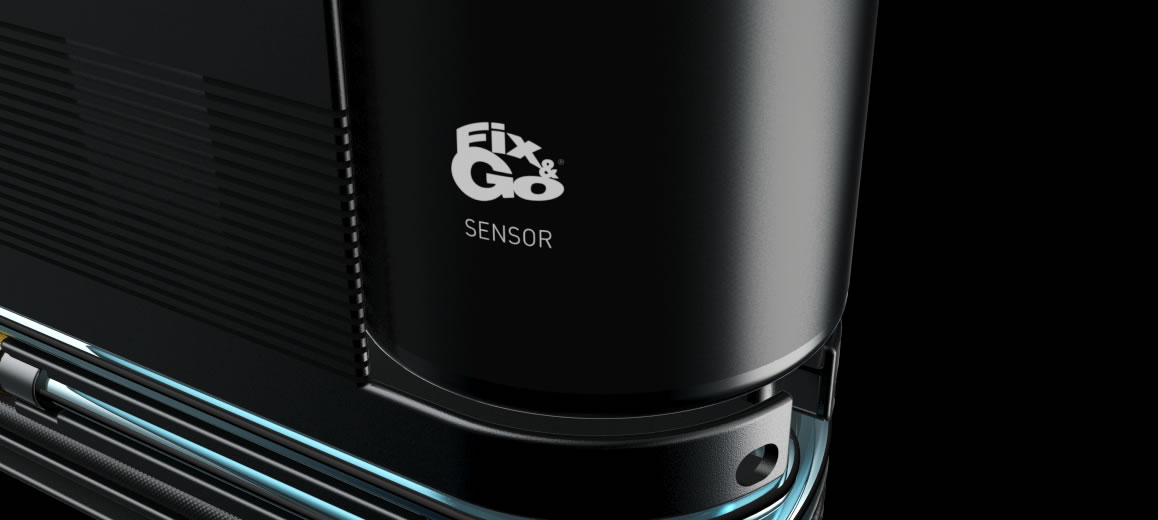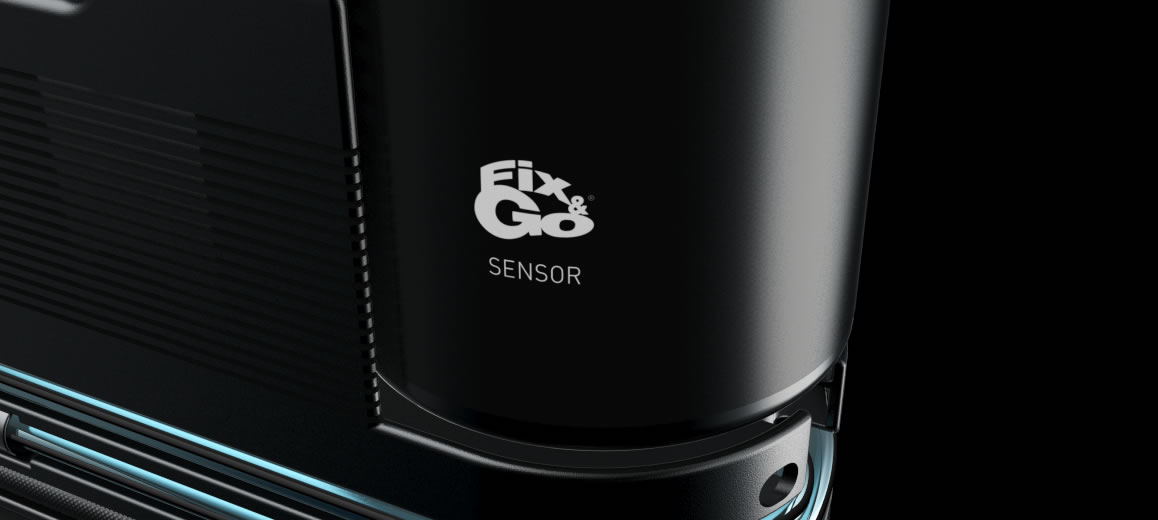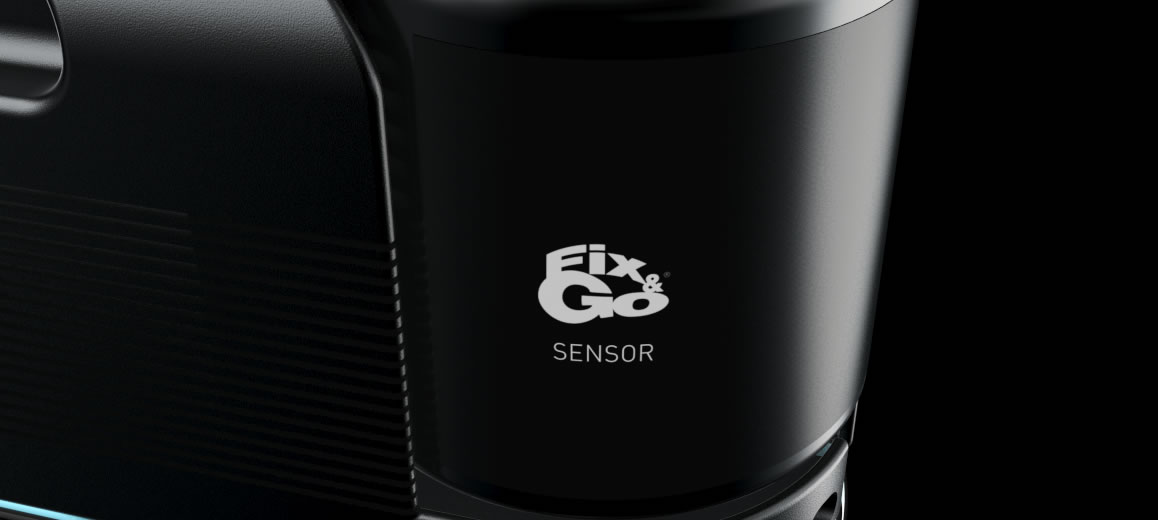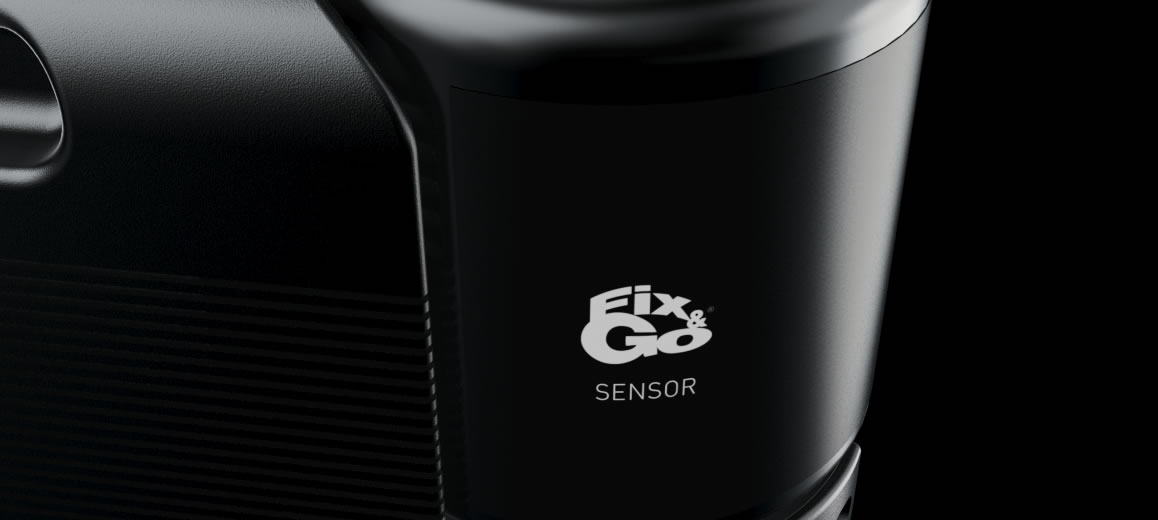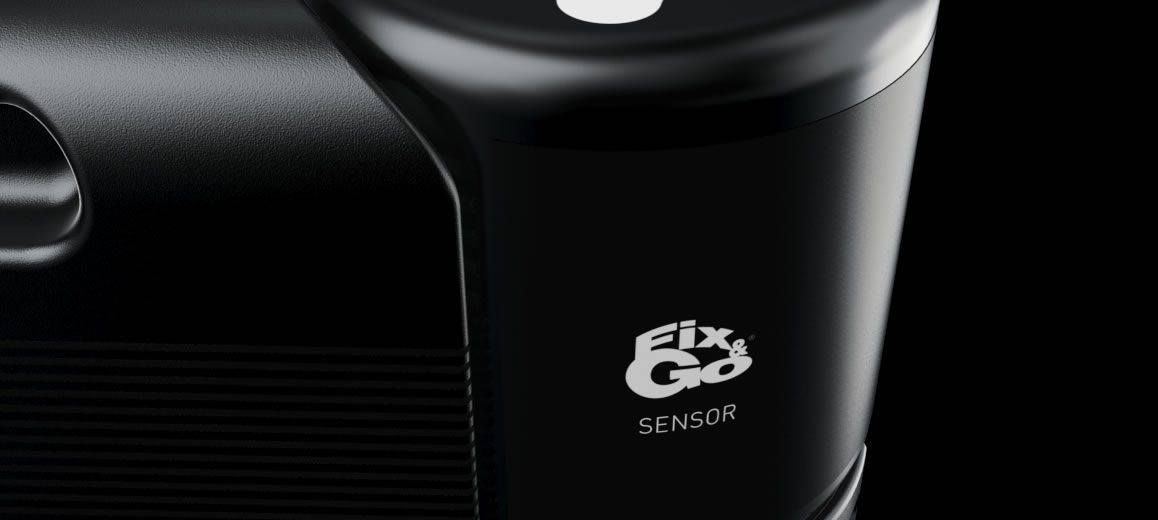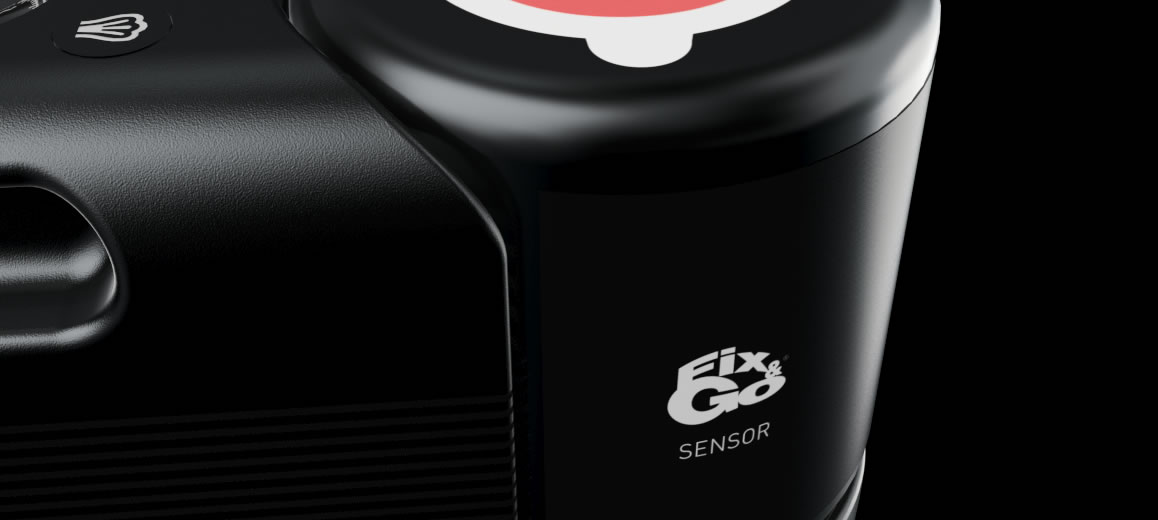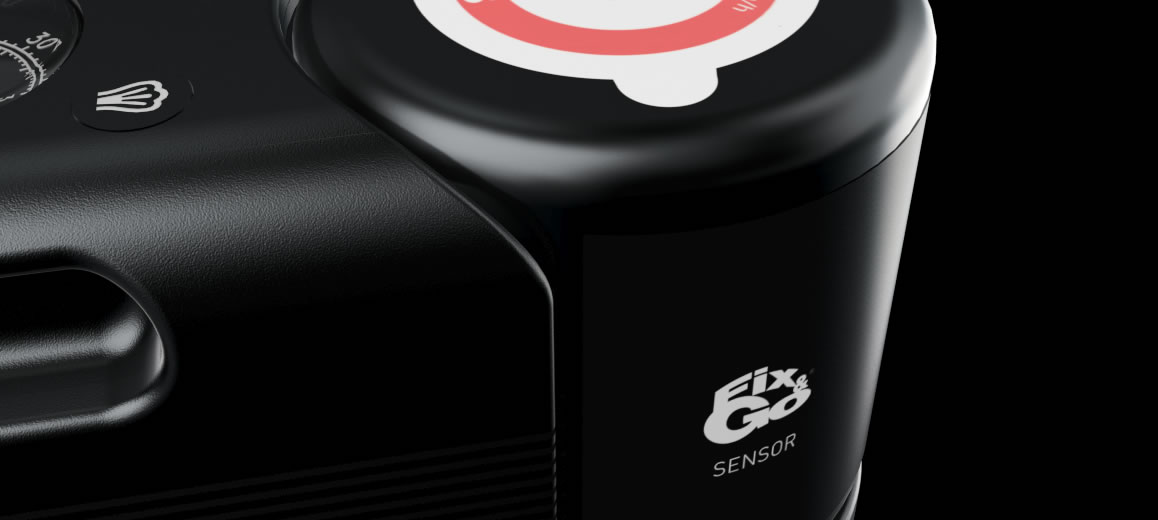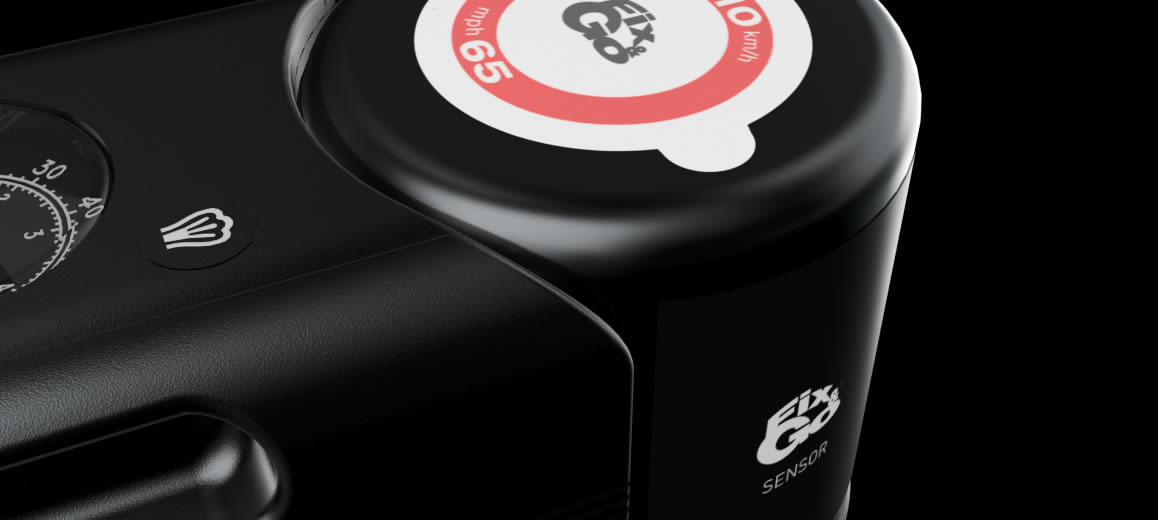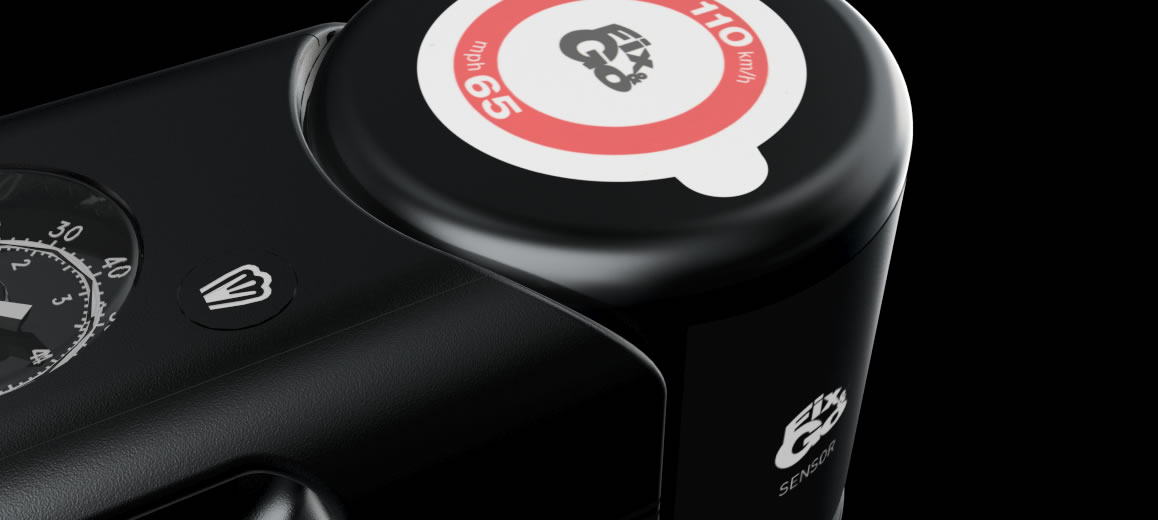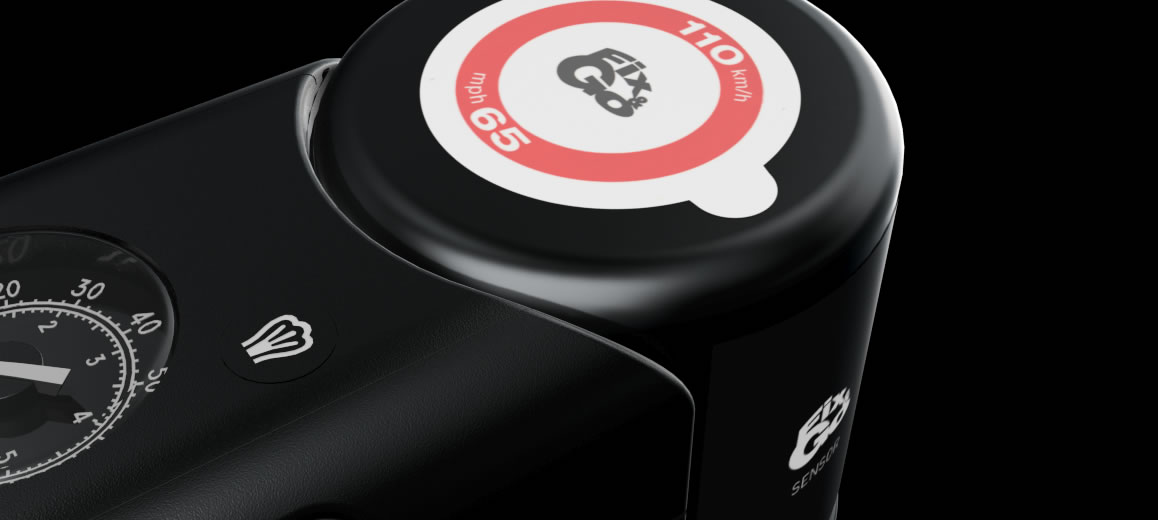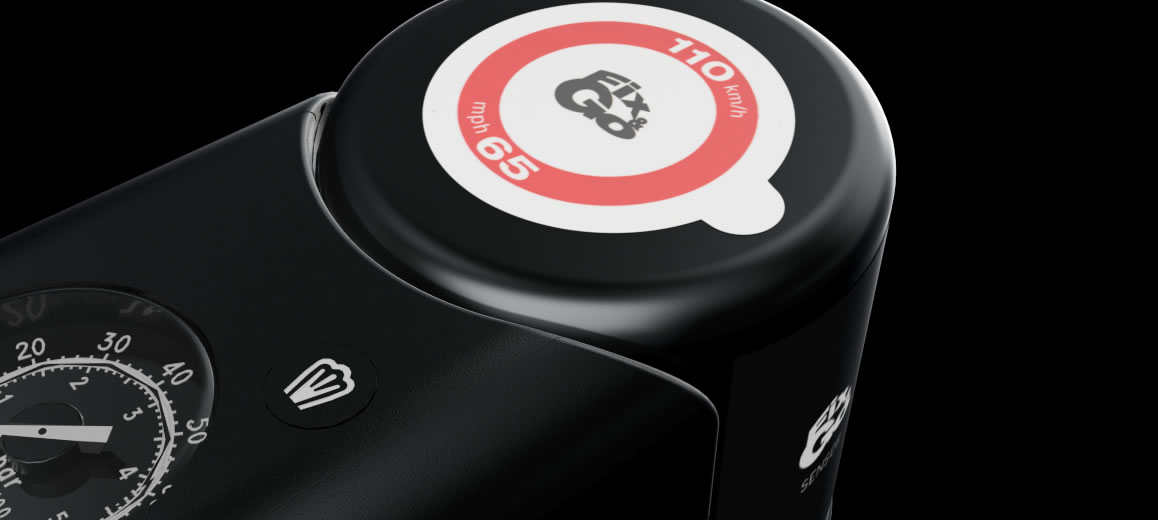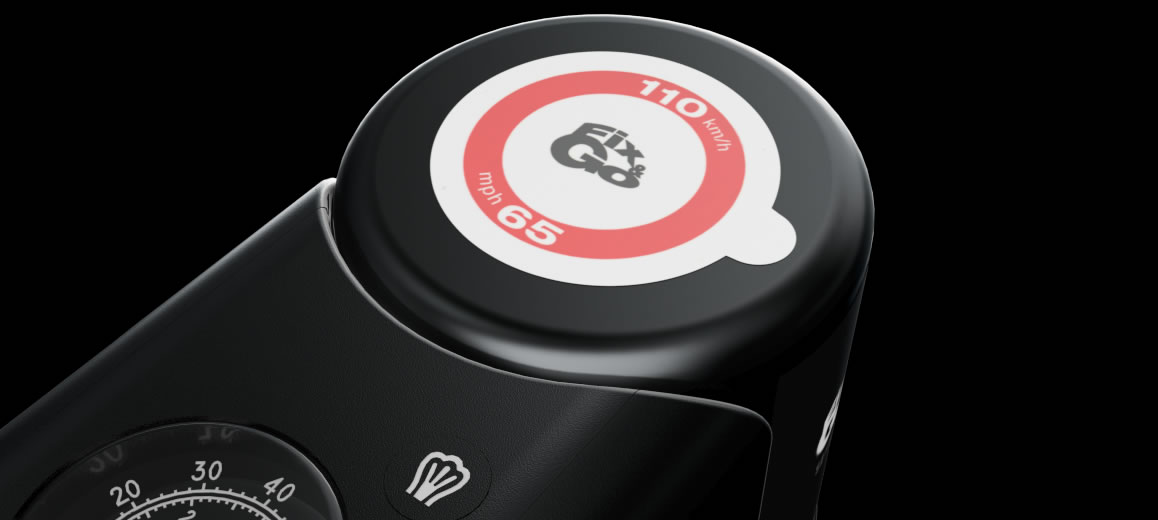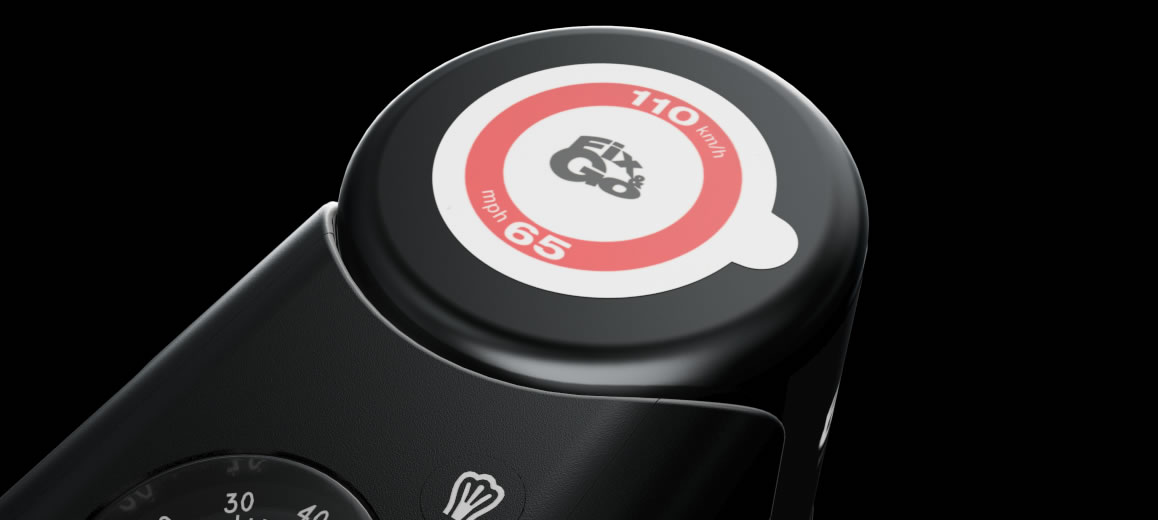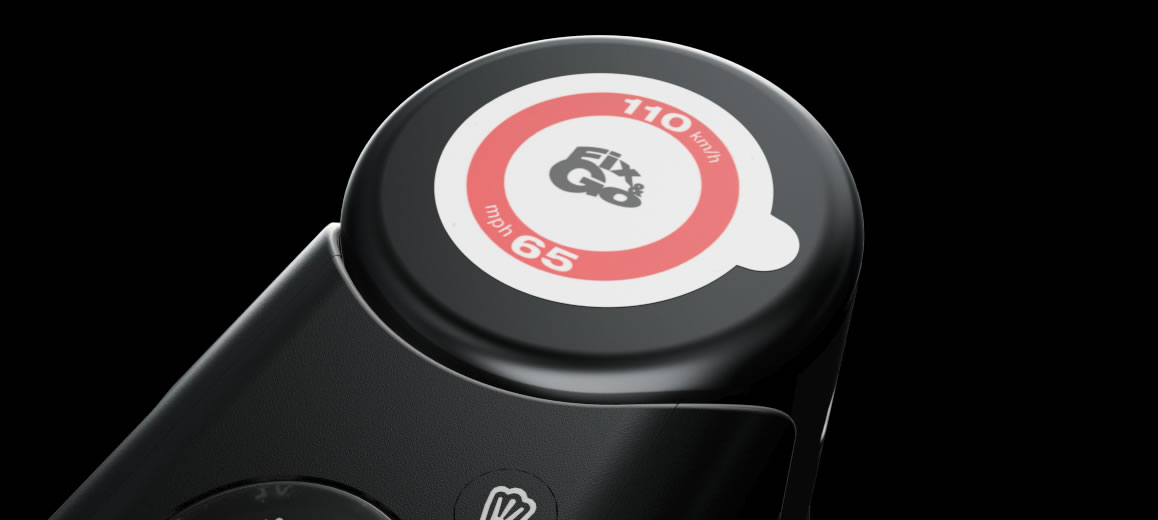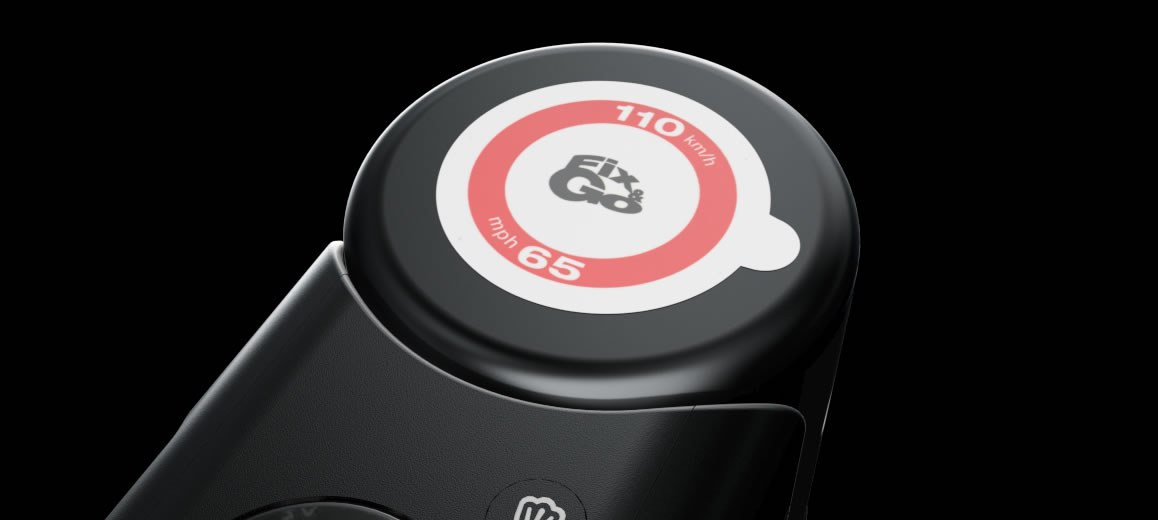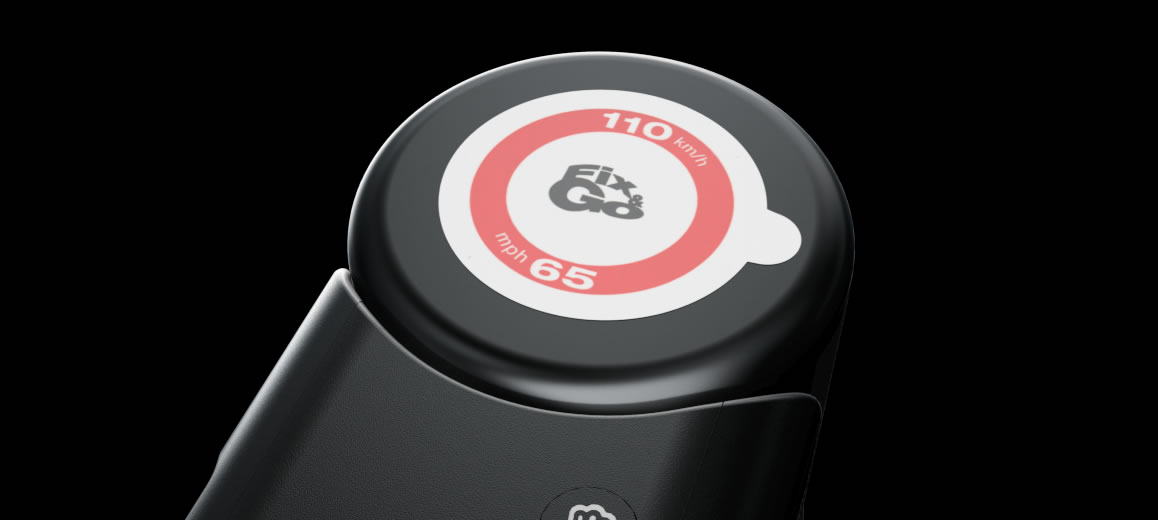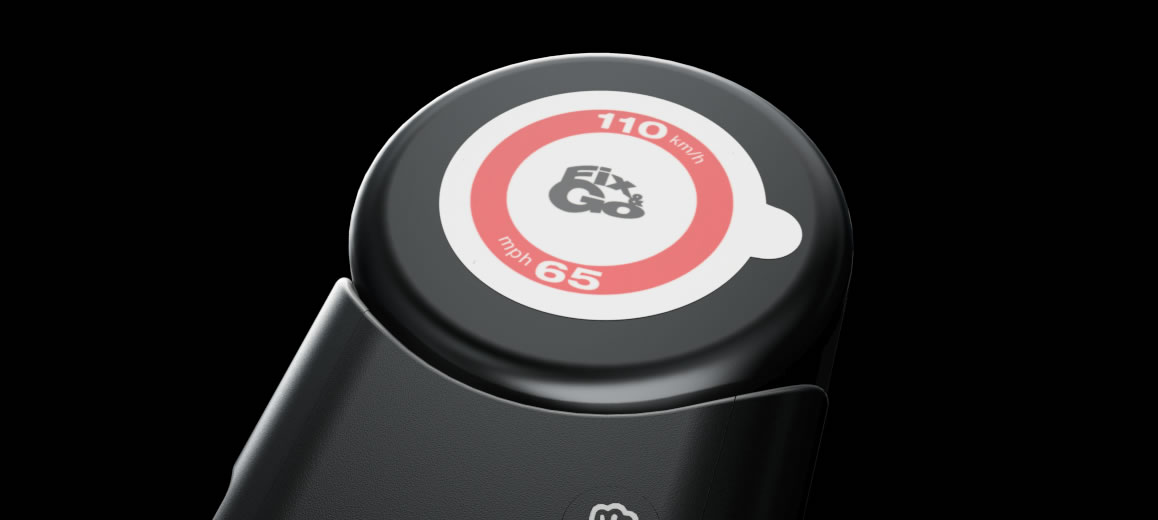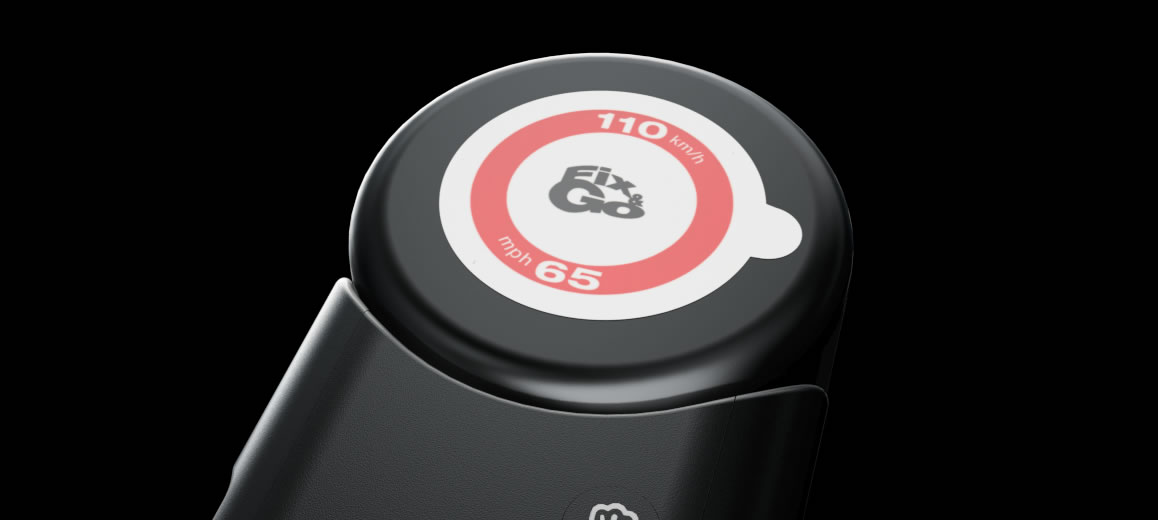 SAFETY
Pre, during and post repair
SENSOR also assists after repairing a flat tire: remove the Fix&Go sticker
and place it on the dashboard to always keep in mind the maximum speed to be respected.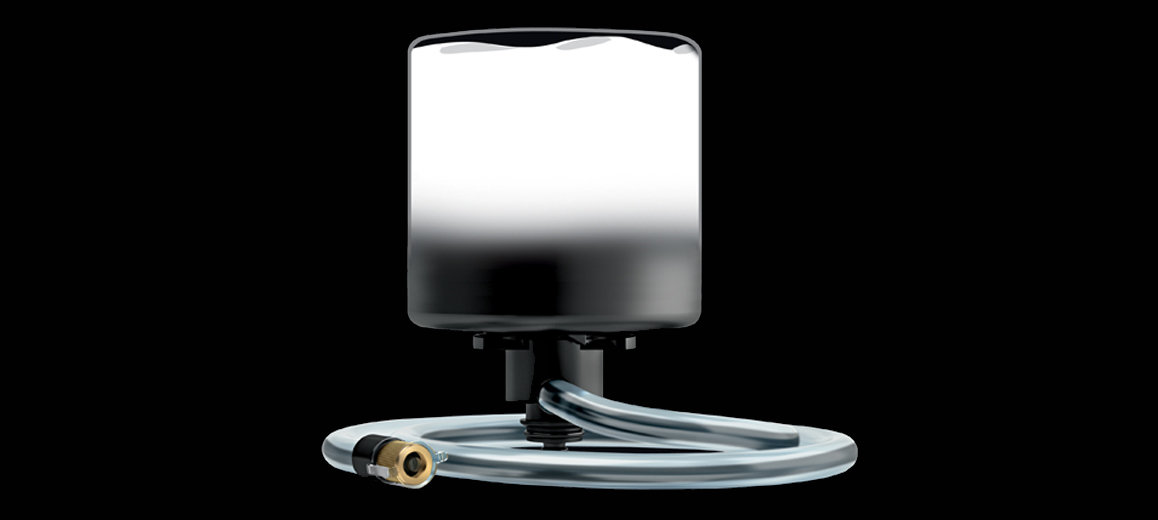 LIQUID SEALANT
Environmentally friendly and natural latex-based
Fix&Go has worked for many years to develop a natural latex-based sealant that complies
with the most rigorous international standards, in addition the sealant formula
won't damage the tire after use or the TPMS system of the vehicle.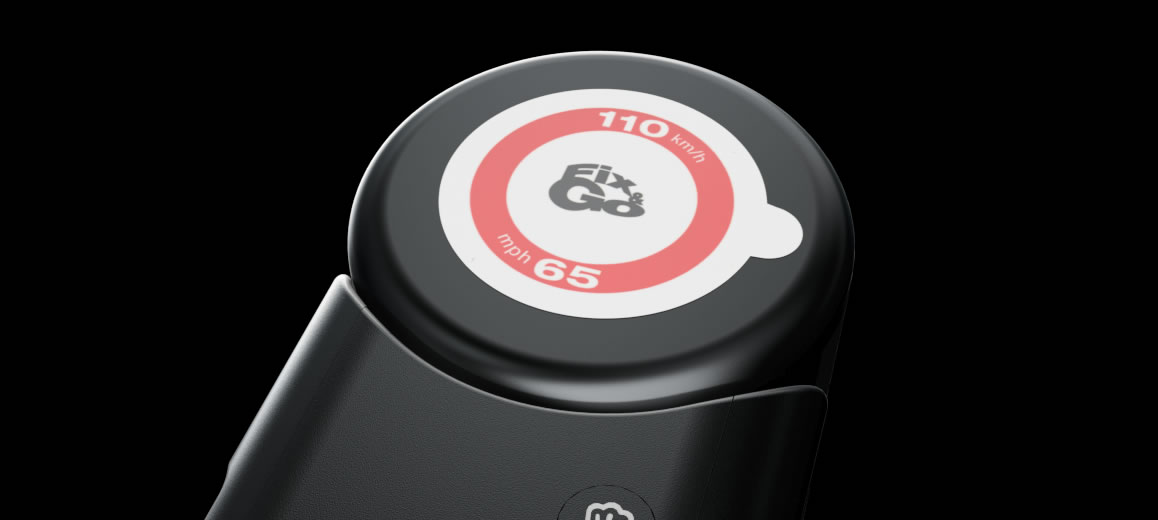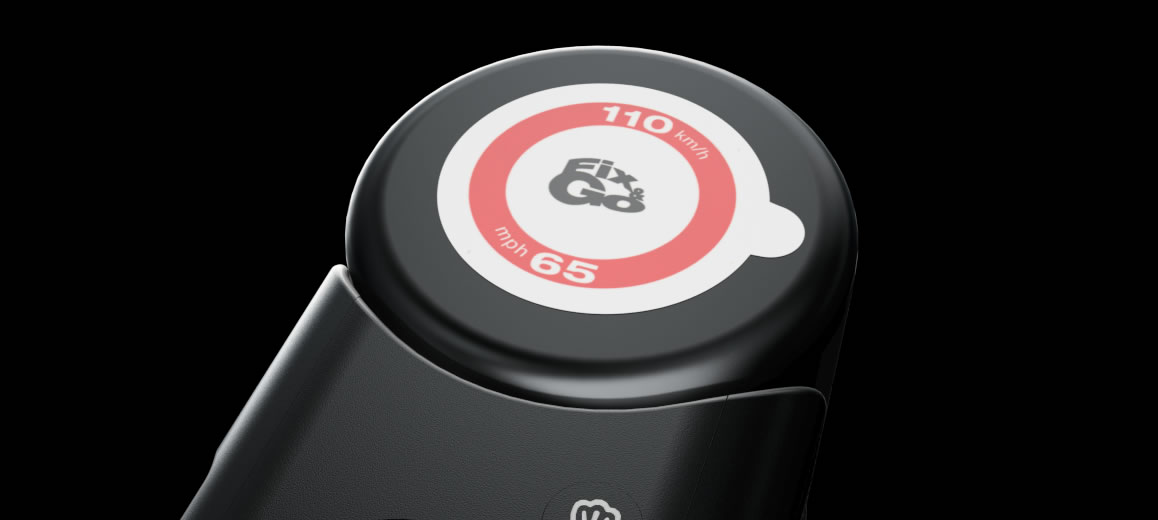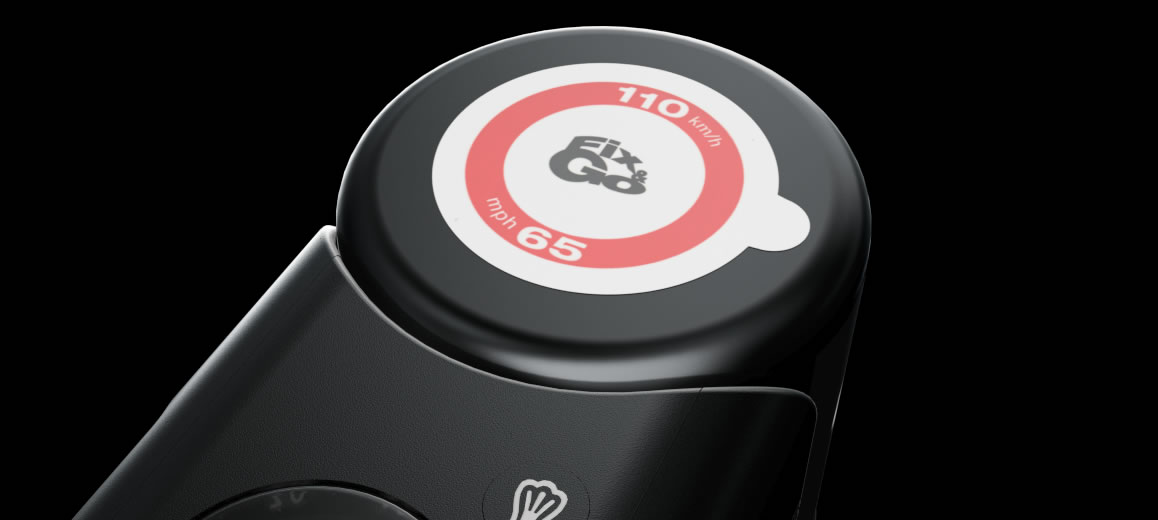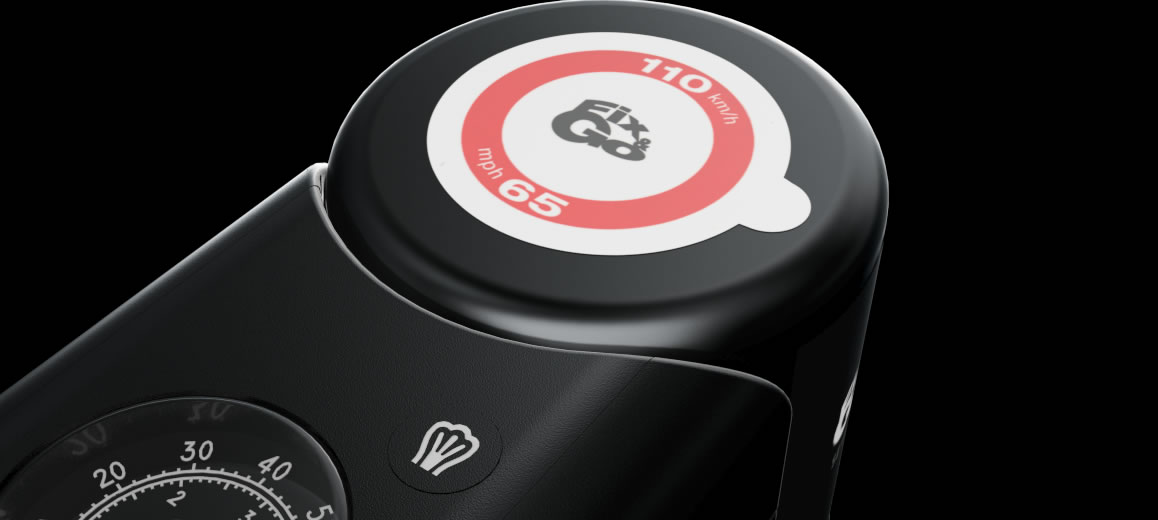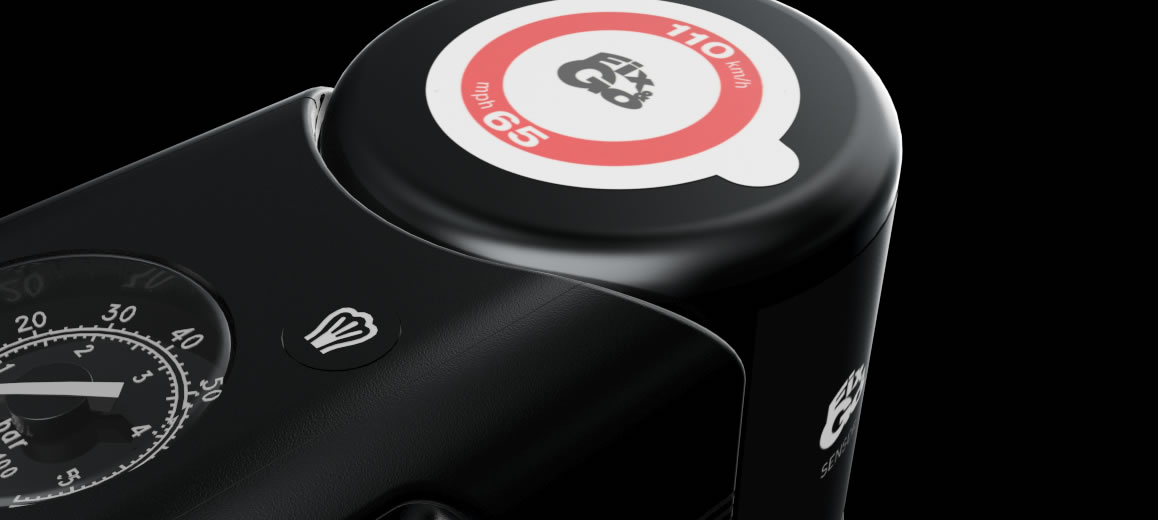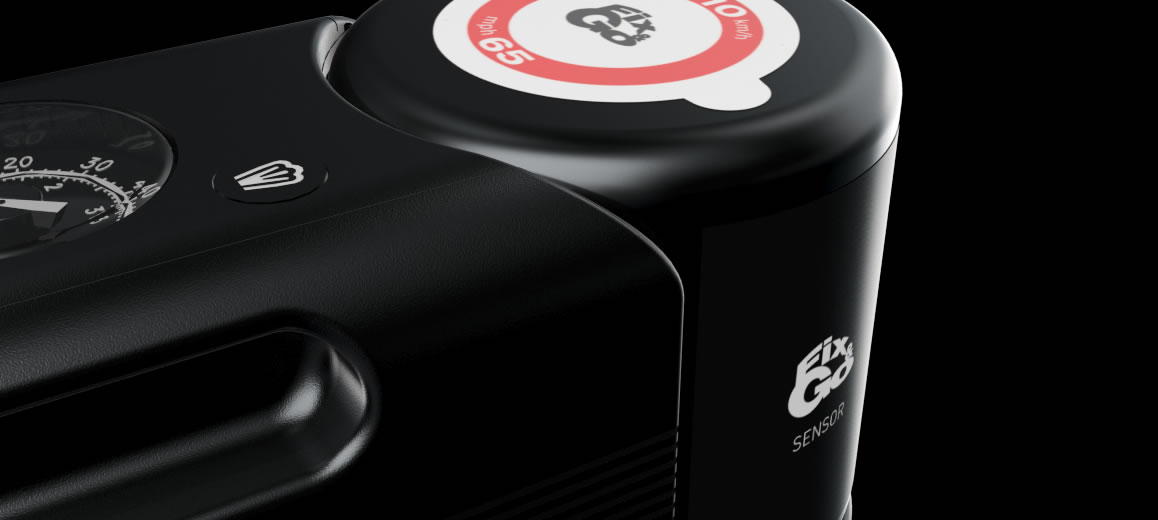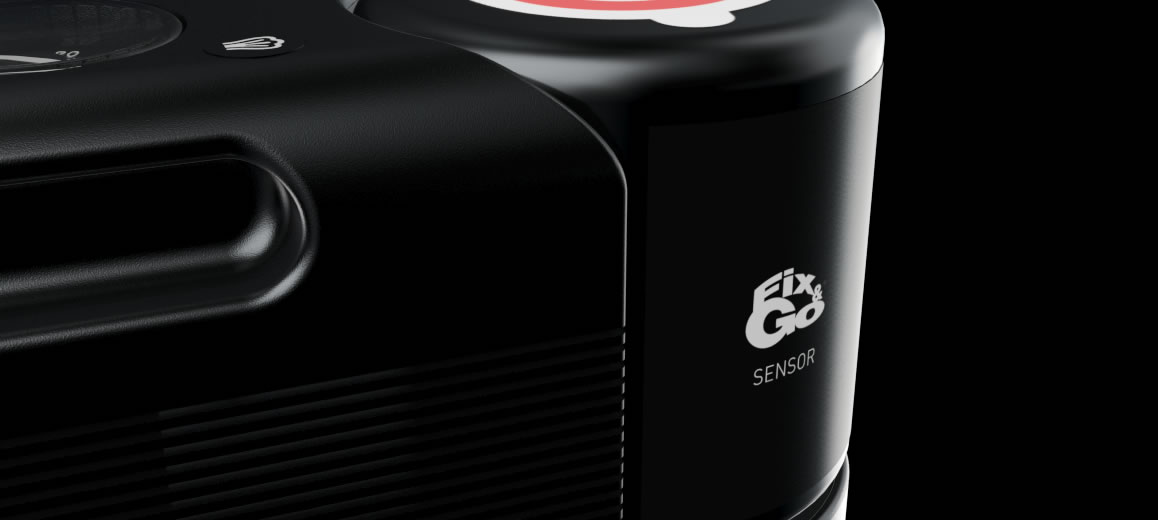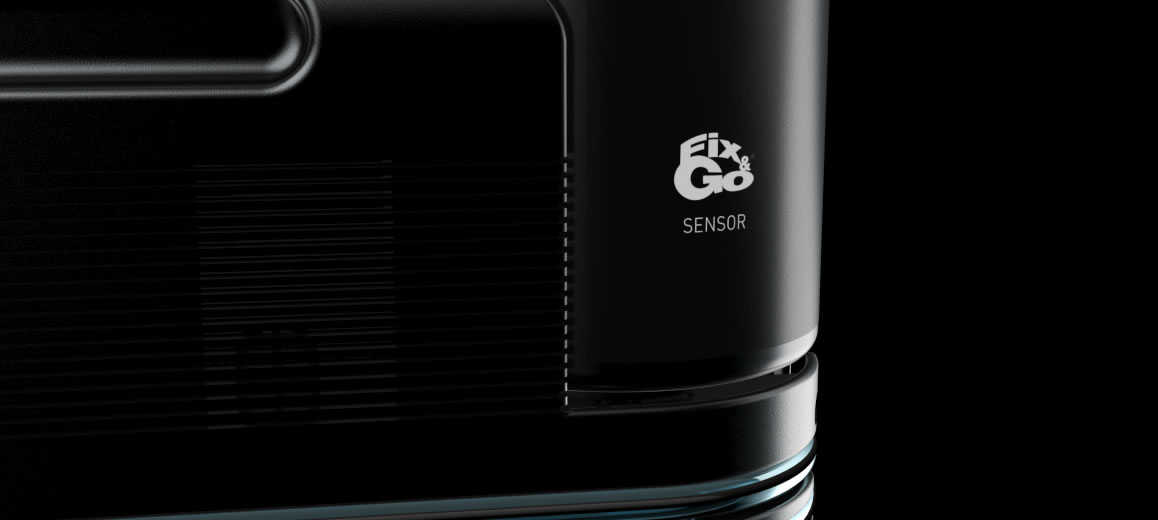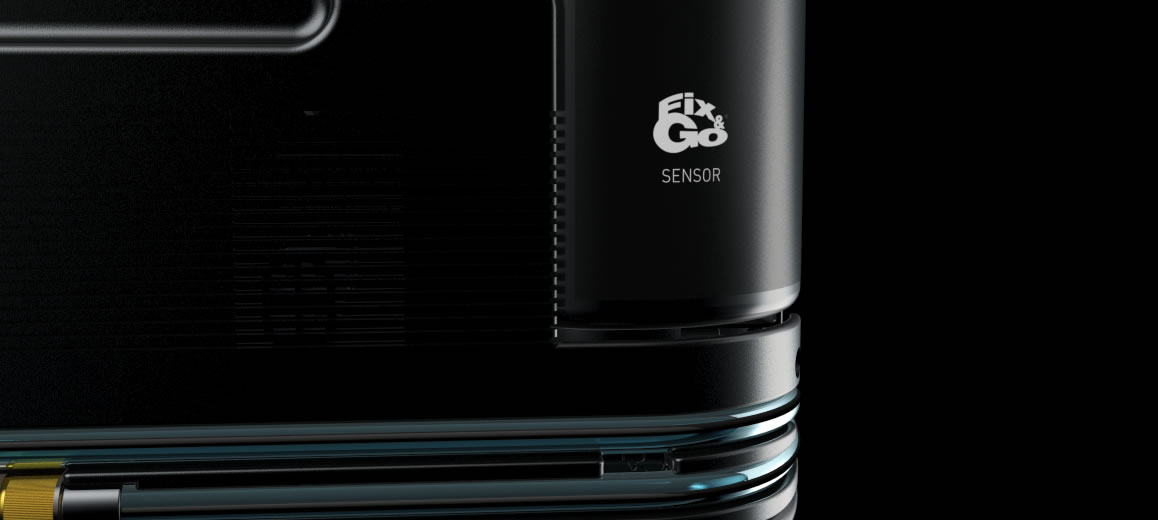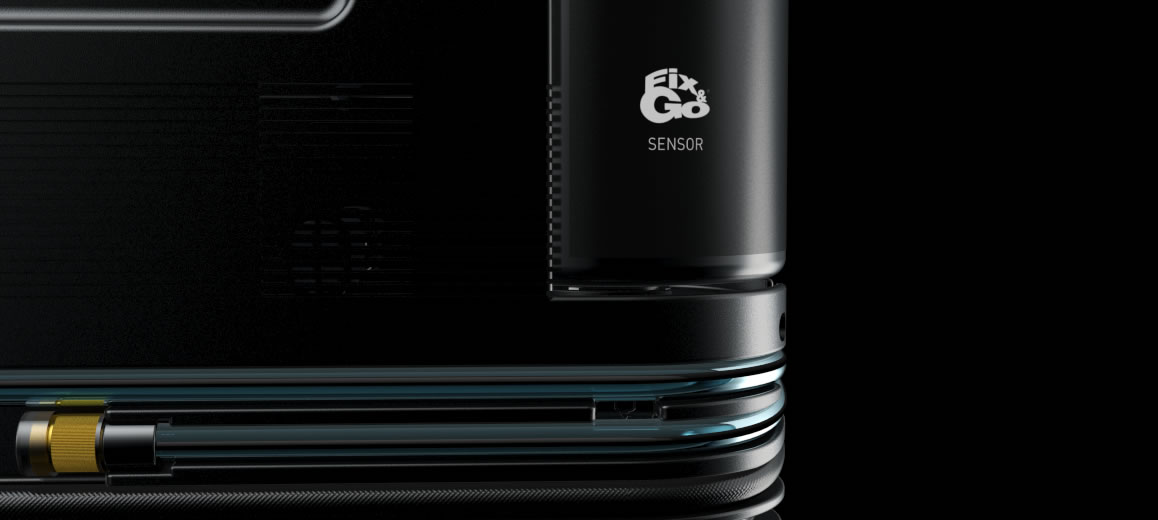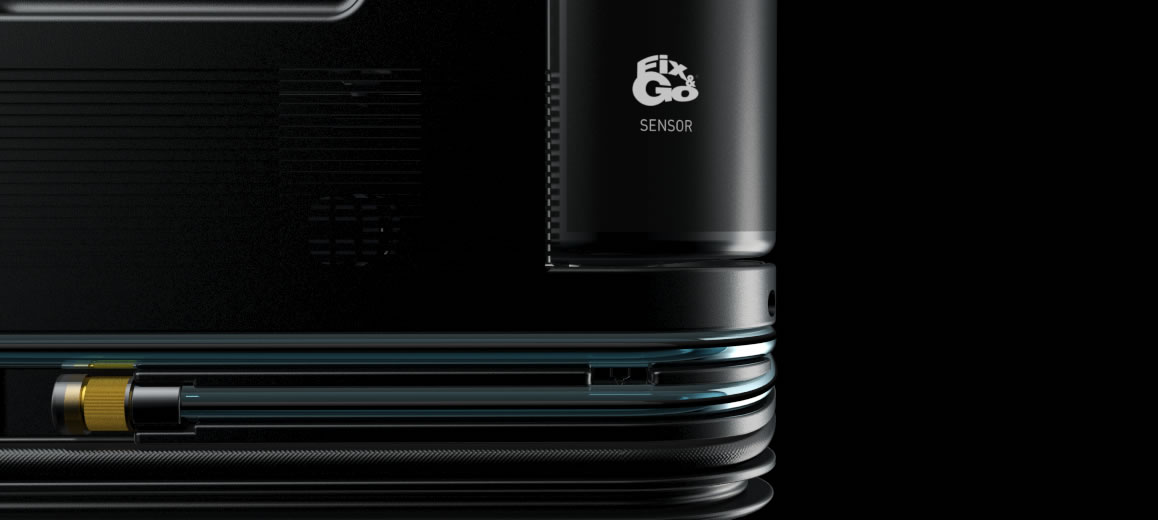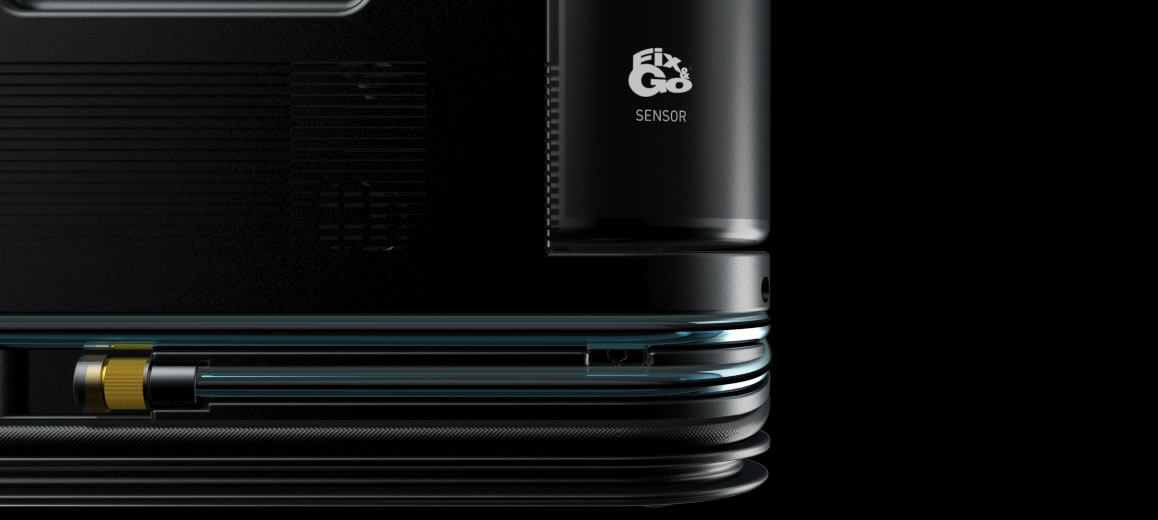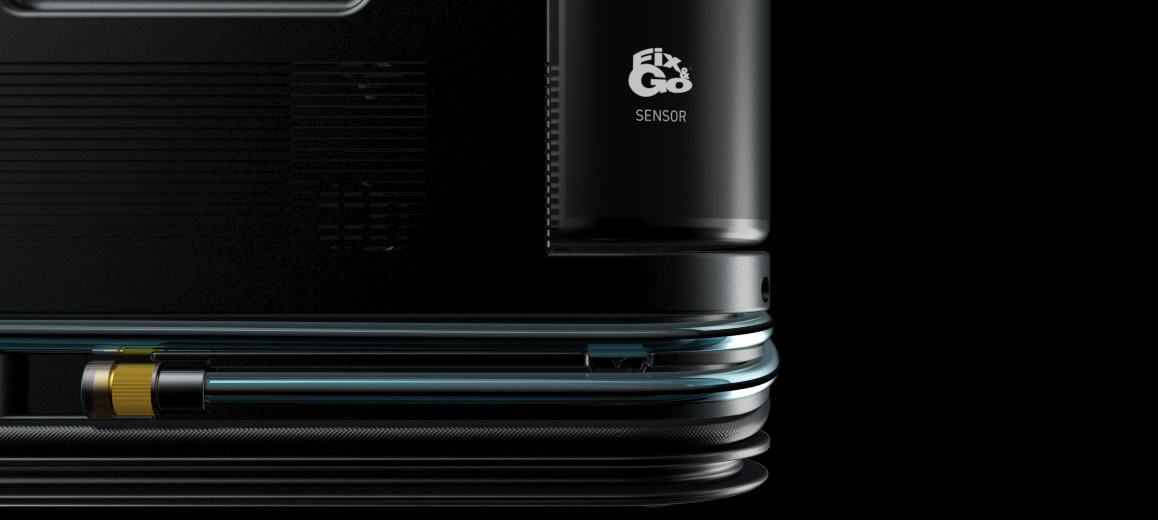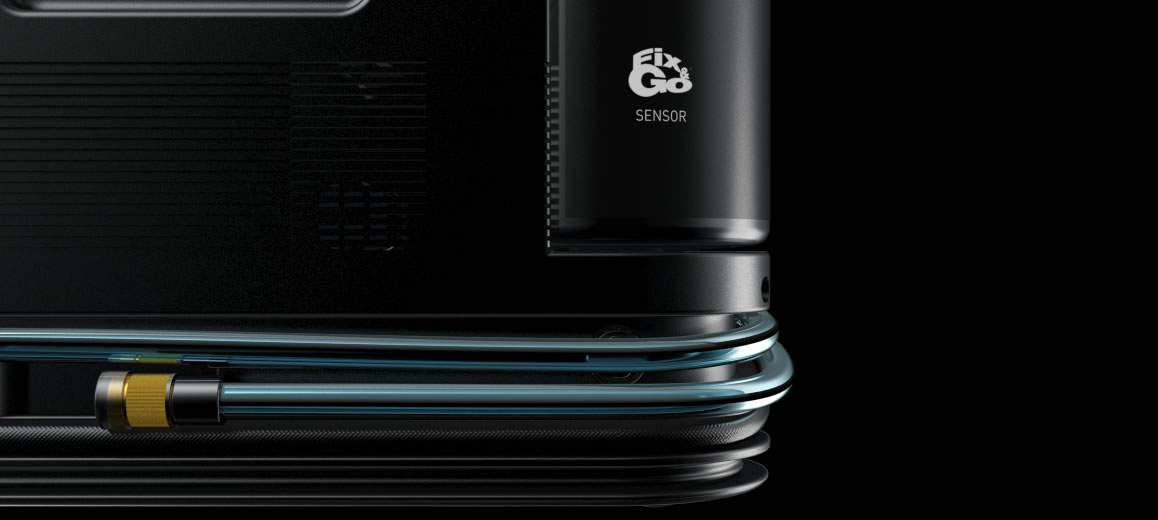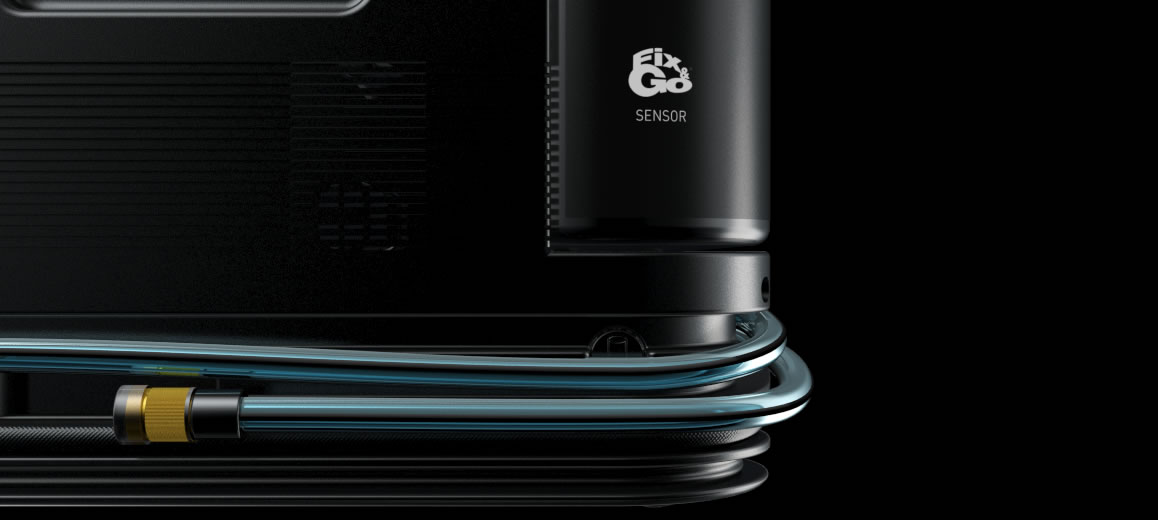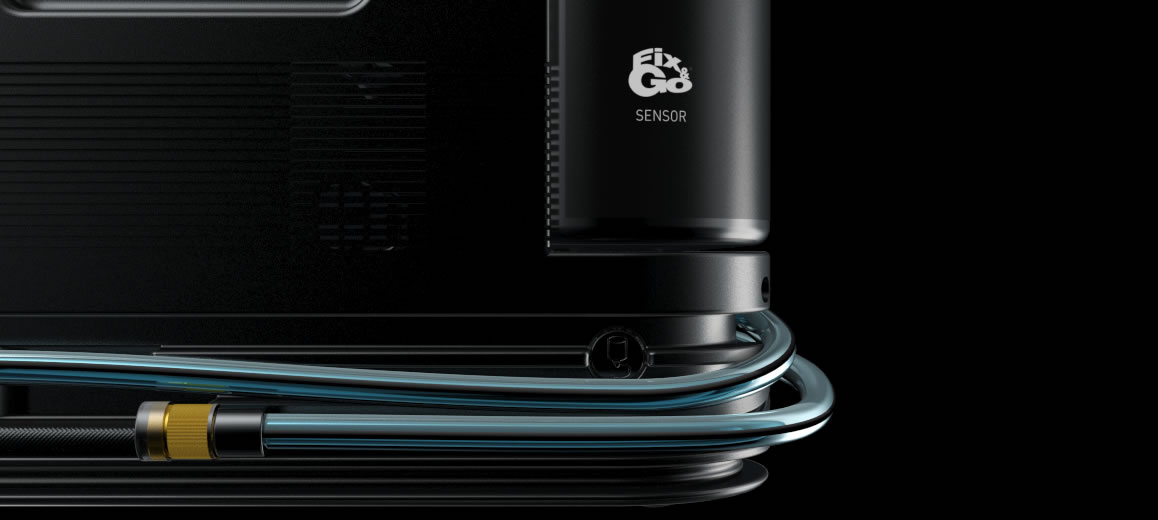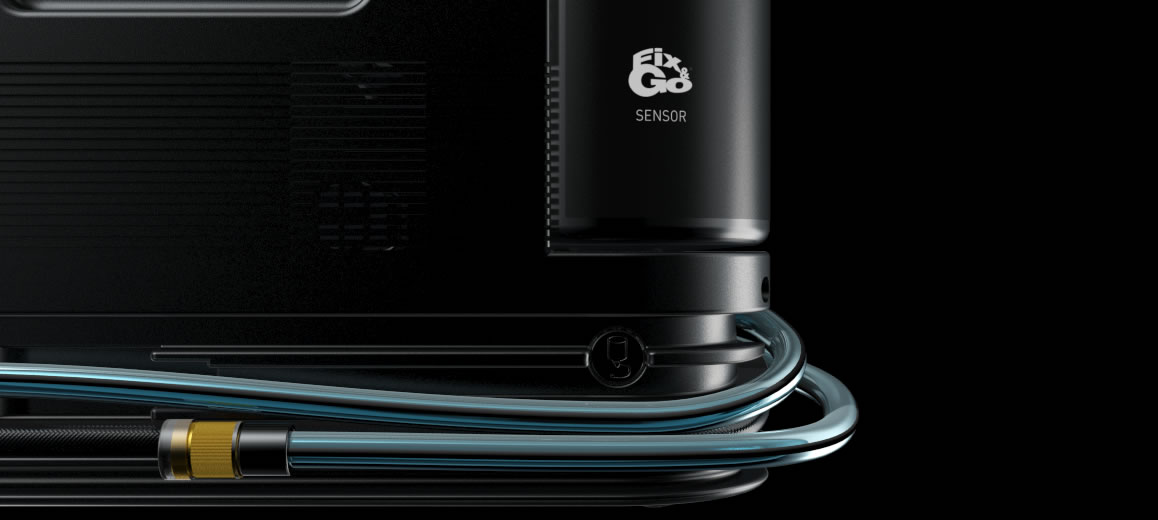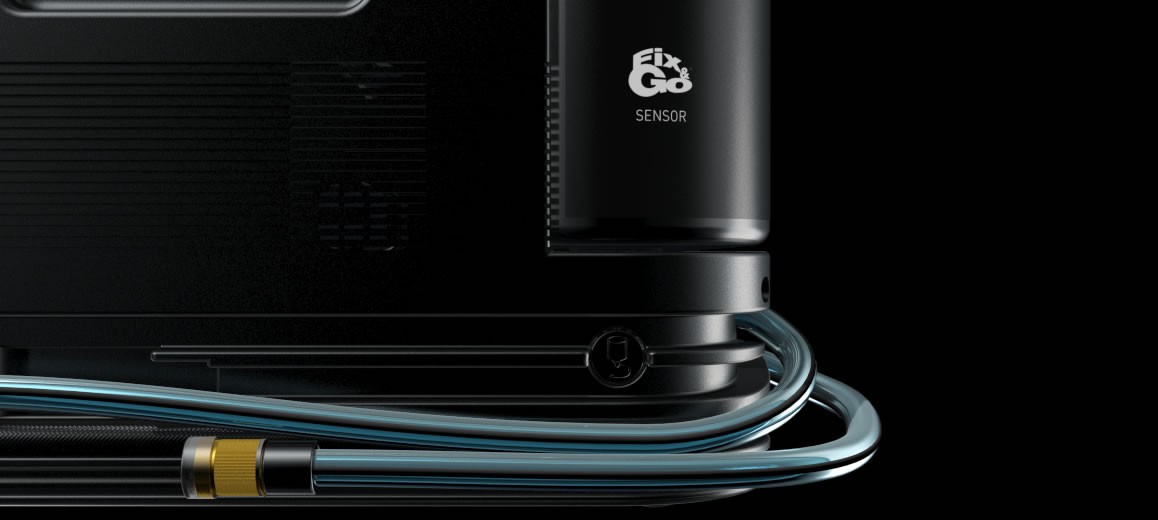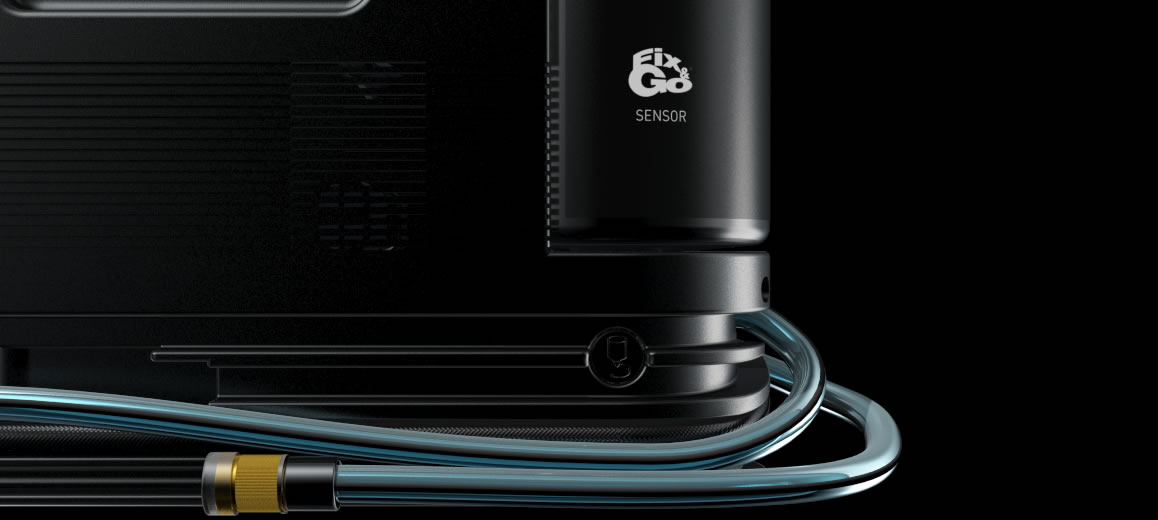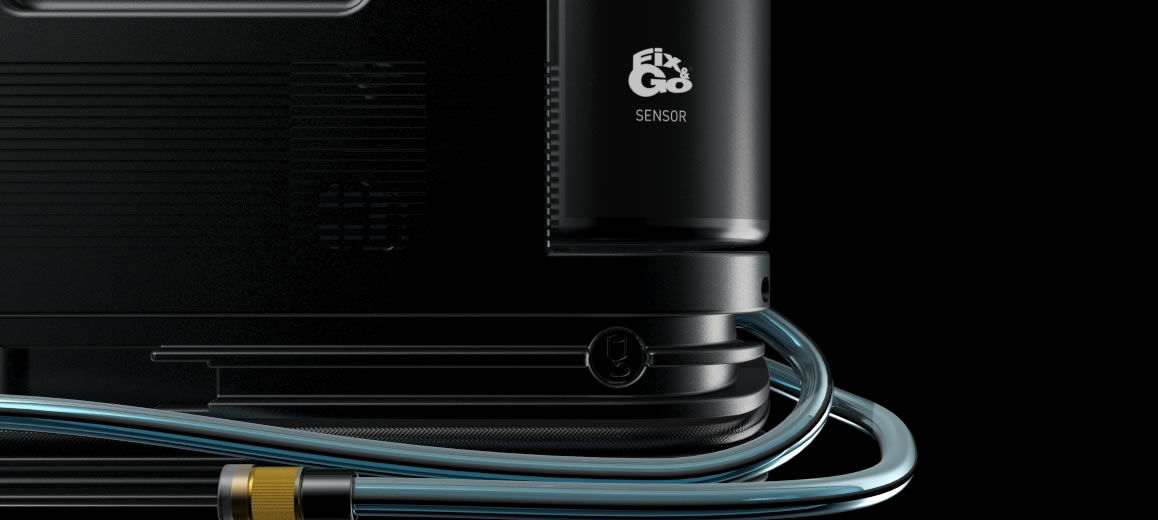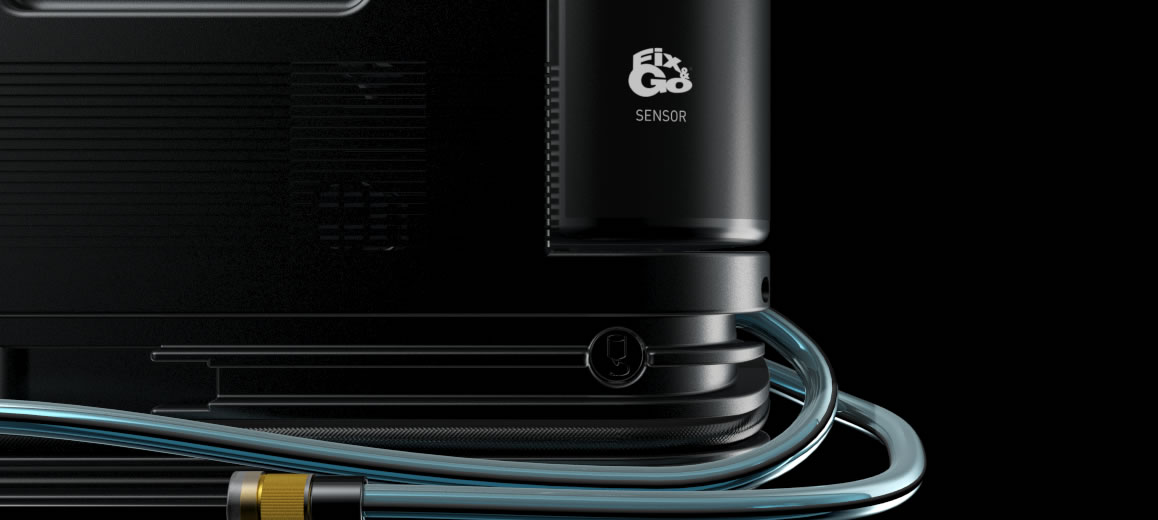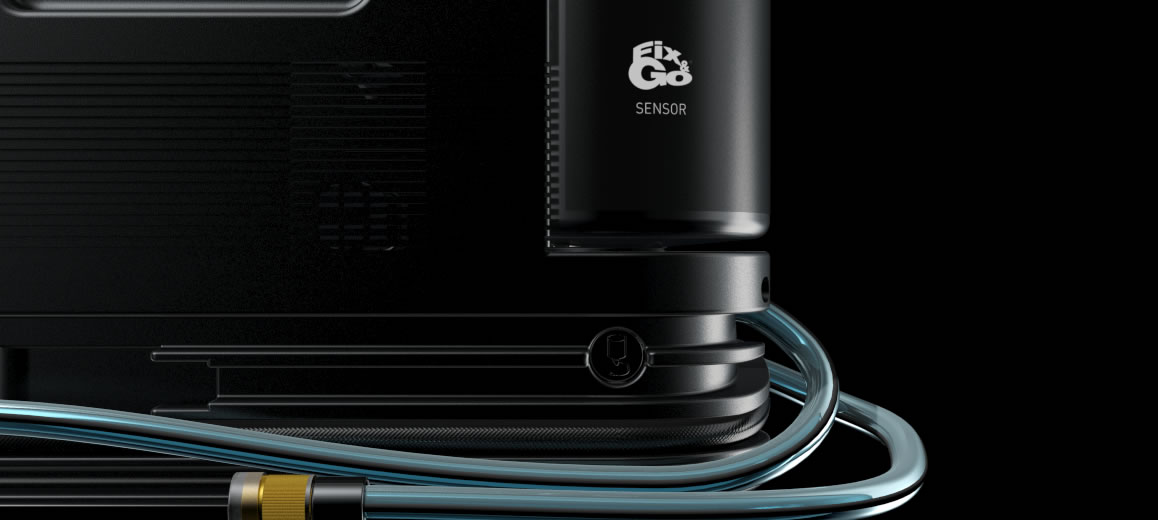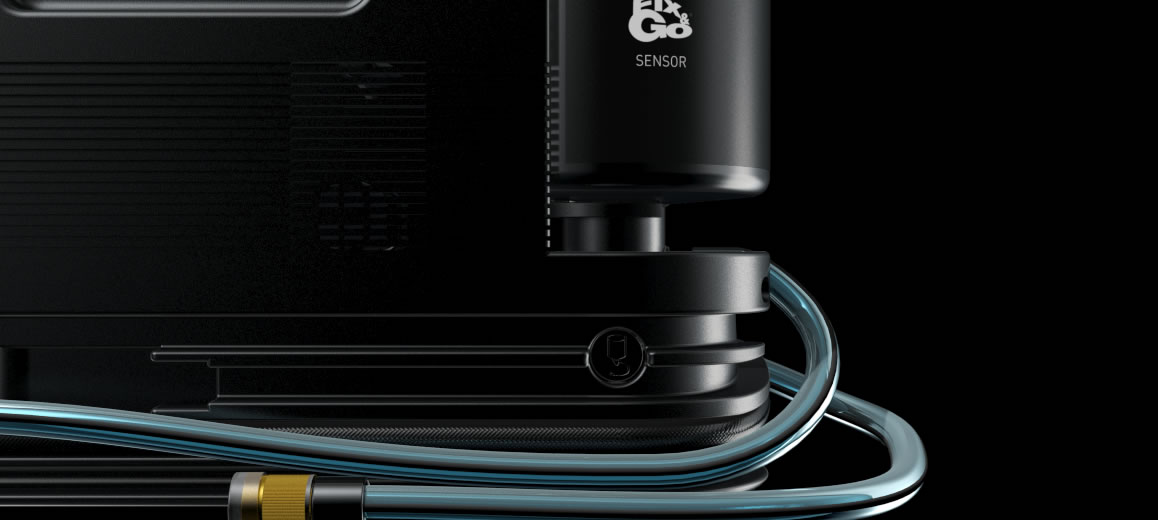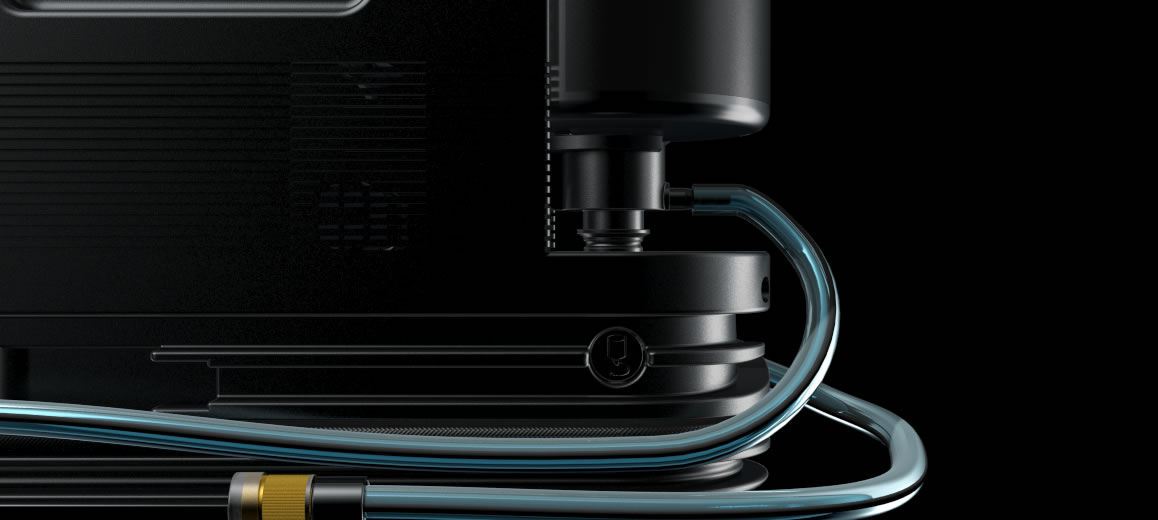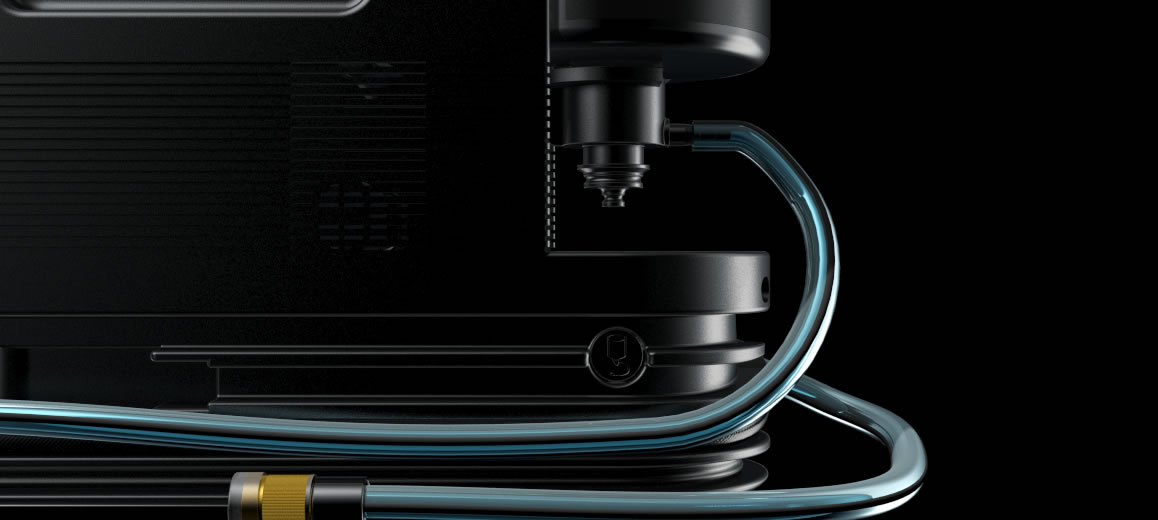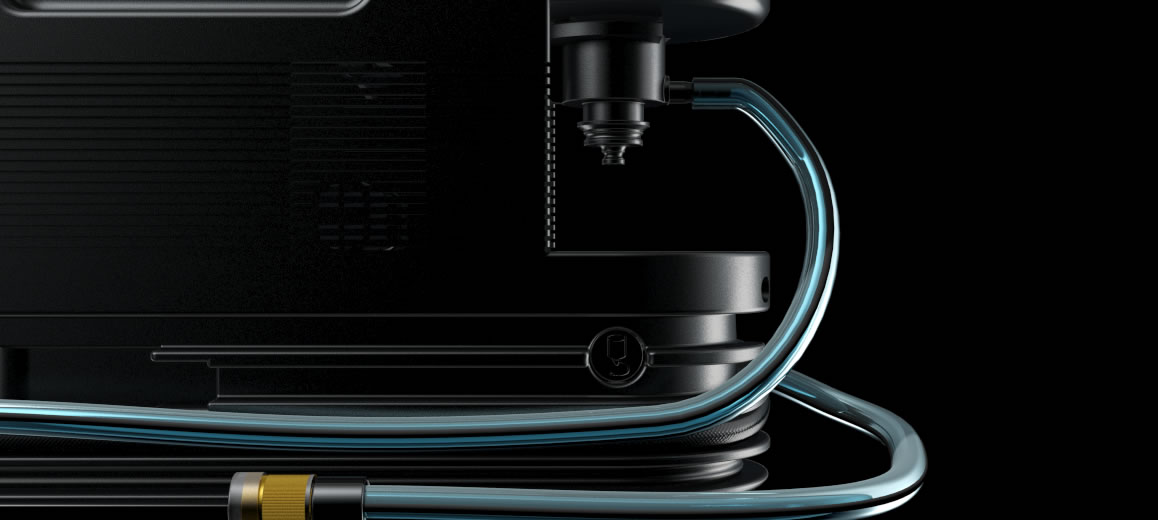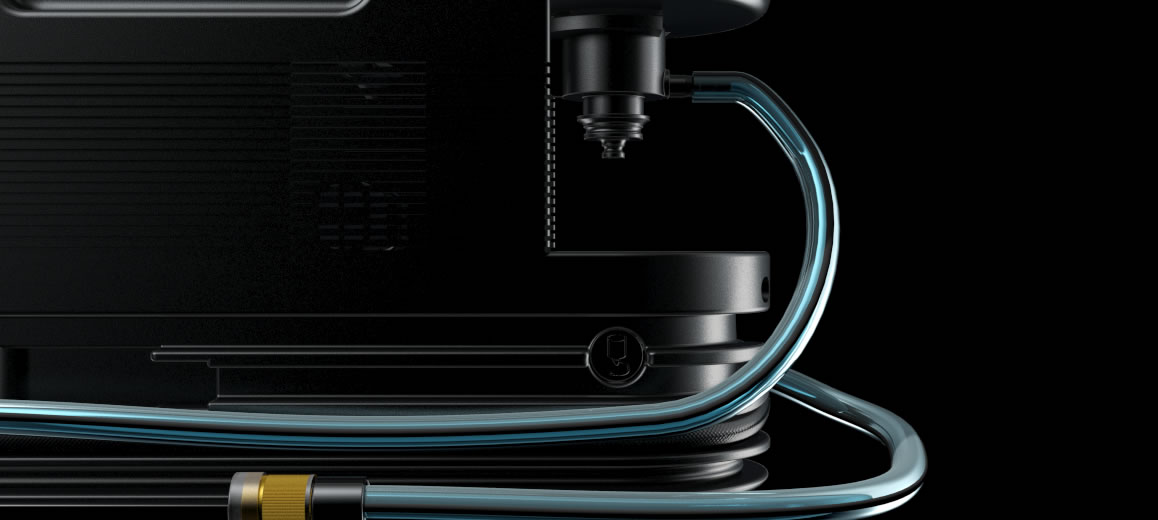 CANISTER REPLACEMENT
Practical and fast
The canister containing the liquid sealant is disposable.
After repairing the wheel, simply press the release button,
remove the canister and purchase a new one on store.fixandgo.com.